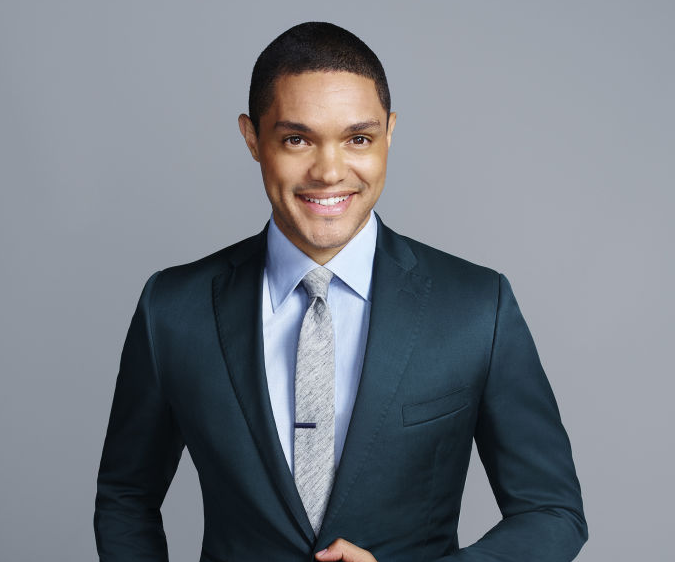 In less than two weeks, Trevor Noah will step into Jon Stewart's well-worn shoes and bring a new spin to that gold-standard institution of satire news, The Daily Show.
And then he'll do it again the next night, and the next night, and so on for weeks, months and perhaps another 16 years.
The 31-year-old South African comedian is oddly calm on the eve of the biggest gig he's ever imagined for himself. "I'm doing everything to prepare right now," he says. "We're basically creating fake shows every day, getting into the real news cycle, seeing what that's like and then working on the new relationships with the writers." Noah doesn't guarantee that you'll like him, but he does guarantee that you won't be wasting your time by tuning in for his first week at the helm of the show, which premieres September 28.
We chatted with the soon-to-be host about the advice he's gotten from Stewart, the ever-pertinent topic of diversity in late-night comedy and why he's not sorry for those old tweets in his closet.
We're about two weeks away from your debut on The Daily Show. What can you share about the first show?
It's going to be a taste test. I think of the first week as a four-part miniseries of what we hope the future of The Daily Show to be. I know most people watch the first week of shows, and they try and ascertain what's coming from there. So really, the first show is the first step. It's us introducing the new show to the audience, both old and new, and really starting the ship moving in the direction that we intend to go in.
Have you been in touch with Stewart during the transition process?
Yeah, I have. Jon is always open to me, which is great. At the same time, I try and be fair to him. I know why he left the show. He was very vocal about it, and that is he wanted to spend time with the family, and he was tired. My thing is, I know he's there for me. But I don't want to rob him of that time. I don't want to abuse that. So in my head, I go: Solve the problem. Figure out what's going on, and if and only if you cannot figure it out with all your might, then call on Jon Stewart.
Has he given you any advice?
He gave me advice from the very beginning, from when people were suggesting my name. Jon's been wonderful in that way. He's like a Jewish Yoda. But the biggest advice he told me was to trust my instincts. It's easy advice, but it's very difficult to actually put into action. That's what I've been working on the most, trusting my instincts and going with what I believe.
What's one thing you loved about the show under Stewart's leadership that you want to keep?
I loved the correspondents and the chat pieces. I loved the fake crossings to different places. That's always fun. And then I love the wacky moments, the raw comedy moments in the show. Even in and around tough issues, Jon was able to bring comedy into it and really lighten the mood in the room. That's something that I've always been a fan of that I hope to keep on the show.
Are you going to continue to eviscerate, destroy and obliterate things, as the headlines like to say?
[Laughs] Oh, the headlines can be so extreme. They really can. No, I'm not an eviscerator by nature. That's not who I am. I come from a very different place. I like to poke and prod. I have fun with things. I like to analyze them. But no, eviscerate is not something that you would find in my résumé.
What are you going to bring from the South African comedy scene that Americans haven't seen? Is there anything you take away from that comedy underground?
I think a certain level of rawness. Our comedy scene isn't as evolved. I think there's a beautiful thing in that we haven't seen the mass commercialization of comedy in South Africa, so we still operate from a place of passion. Obviously, that's changing every day. In America, there have been a few comedy bubbles. They burst. But you know where you could not watch a sitcom without seeing a stand-up comedian being the face of that, and so on? Stand-up comedy was always seen as a platform to get you to another level of stardom. Whereas I come from a world where stand-up comedy is the platform to a place of truth.
You're also one of the first non-white late-night hosts here in America. You have a different perspective to bring when tackling issues of race in the news.
I think [that] can only be a wonderful thing. It gives us a different angle. It gives us a different voice. It gives us a different ability to play with different things that maybe couldn't have been played with as easily before. It's the same reason I'm glad to have, let's say for instance, Jessica Williams and Desi Lydic because...I do believe there's always value in having strong voices from the affected groups of people speaking to those topics. Comedians can try all they want, and so can writers and politicians and so on, but often having the person who is most affected to state their case adds a different element, a different level of truth to the argument that's really going to be fun to play with.
Diversity in late-night comedy has been a major issue, and it's been talked about a lot recently. Just today, Vanity Fair unveiled this feature where it interviewed the "titans of late-night comedy," and the picture is all men. There are no women hosts. That's been getting a lot of attention on Twitter.
Well, first of all, I don't agree with the notion that there are no women in comedy. I believe that right now, some of the most powerful—I would even argue that women are more powerful than men in comedy right now. If you look at the top comedy actors—Melissa McCarthy by far is killing most of the numbers of other actors. You look at Amy Schumer right now. I would argue that there is no more preeminent voice in comedy. Tina Fey, Amy Poehler, their movies coming out...
I understand that there's always room for growth, and that is something that I will never dispute. Samantha Bee is going to be taking over her show on TBS. Yes, that Vanity Fair cover is all men, which is what it is. But I guess what we need to look at is how is that evolving? So the first step in that is you go, OK, there's two men of color—that's a big jump. Pretty soon, there will be a woman that'll be added to that. And there will probably be more women, which is gonna be fantastic. And over time, that'll happen. It's a conversation that we need to continue having. Not just in late-night but in everything.
You know, we always have to address the shortcomings of any era that we are living in. I think we also sometimes need to take a beat to realize the progress that is being made. It's tough to find that balance. As human beings, it's often easier for us to just focus on the negative instead of looking at any kind of progress that's being made.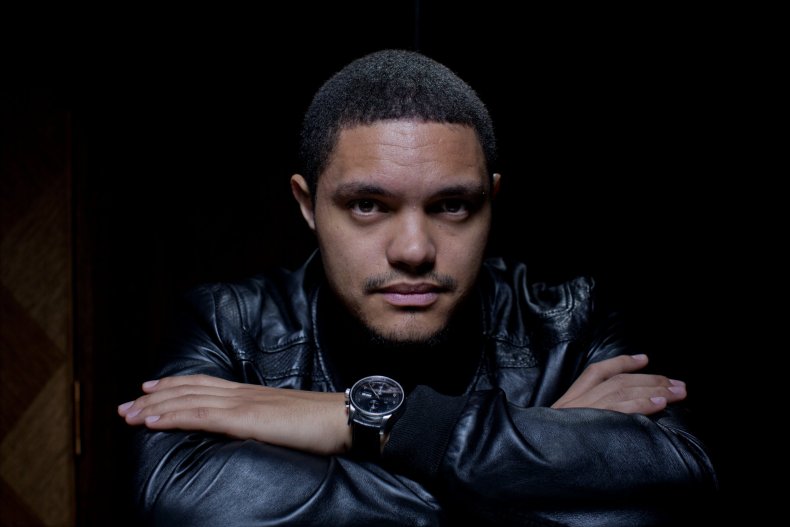 What was it like when they first told you that you got the job?
It was insane. I'll never forget. I was in Dubai at the time. I was doing some shows. On that day, when they phoned me, I was driving back from a show. I knew I was in the running. But I knew they were many other people that were in the running. For instance, ironically, going to your previous question, overtures had been made to Amy Poehler by Comedy Central. Same with Amy Schumer. Both of them had said they weren't interested in it. That's kind of an ironic part of the whole thing. People will point out, "Oh, late-night TV, why aren't there more women?" Well, maybe you need to ask some of them, I guess, why they didn't take it. Amy Schumer said, "Because I didn't see myself doing this every single day. I wanted to go on and be a movie star." And she's doing a great job of that, so I guess we can't begrudge her.
When I found this out, it was huge for me. Having my name in the hat was already way beyond what I thought I would experience in my life. It wasn't even information I could process at the time of the call.
Within a day or two of you being announced, there was a lot of attention drawn to old tweets of yours from years past. What was up with that backlash?
I think it's natural. You're finding out someone's taking over a show that's an institution, and this person in your world is a nobody that you've never heard of. You try as quickly as possible to define that person.
I knew there would be backlash to something. I just didn't know what the backlash would be. So people find their thing, and we've seen this repeatedly in different ways. New cast members of SNL. It's a part of the world we live in now. There was a time when it was only reserved for politicians, and even then, in some of the instances, it was a bit extreme—people going back to the politician in high school to determine whether or not he'd be a valid candidate in his 50s or 60s. That's the nature of the beast, and I understand that.
Did you apologize for some of those old tweets?
Oh, no no no. I didn't apologize. No, no, no. I did express that I do understand where people are coming from. That is always the case. With all comedy, there is always room for somebody to be offended. I'm not sorry for making a mistake. I'm not sorry for making a bad joke. Those are things I will never be sorry for, because my intention wasn't to do that. You cannot apologize for falling or stumbling. What I would apologize for is not changing, not evolving.
If you said to me, "Trevor, you did something in 2009," and then you tell me I need to change that in 2015, I will point out that the fact you're telling me about 2009 and now 2015 illustrates the point that change has happened. It's a strange place to be in, but I understand the culture of faux outrage that we live in now. I acknowledge that.
What's one guest that you'd really like to bring to the show?
A few weeks ago, it would've been Donald Trump, but now I feel like we're Trumped out. One guest that I would love to bring to the show? Probably Oprah Winfrey.
Is there anything else that you'd like to say to viewers before the first show airs?
Whether they like me or the show or not is not a guarantee I'm making. I will make that clear now. But I guarantee they will not be wasting their time.