Trevor Noah Condemns Joe Rogan's 'O.G. Racism' Over 'Planet of Apes' Remark
Trevor Noah has condemned Joe Rogan's repeated use of the N-word following the controversial podcast host's latest apology.
Videos of The Joe Rogan Experience host saying the N-word on his show multiple times went viral over the weekend amid the fallout regarding the ongoing controversy over COVID-19 misinformation on the Spotify podcast.
"If there's ever a video of you saying the 'N-word' that many times," Noah said in his Monday monologue, "you'd better pray one of two things. Either you're a Black person or you're a dead person from history. Because then the worst thing they can do is take your statue down and move it into a museum."
Rogan said in his apology that the compilation was "the most regretful and shameful thing that I've ever had to talk about publicly."
He said the clips were "taken out of context" and that he "hadn't said [the N-word] in years."
Noah focused on Rogan's Planet of the Apes remarks.
In a viral video shared by singer-songwriter India.Arie, Rogan told a story about going to see the movie Planet of the Apes in a Black neighborhood.
"We walked into Planet of the Apes, we walked into Africa," he says in the clip.
Noah labeled this comment "O.G. racism" and added: "That video's so bad it actually made me miss the 'N-word' video."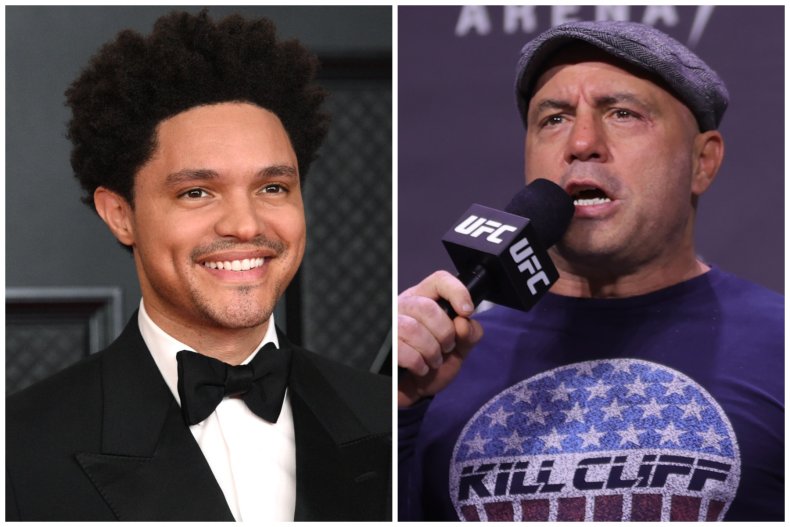 Rogan addressed these remarks in his apology and said he was "trying to make the story entertaining and I said: 'We got out, and it was like we were in Africa, like we were in Planet of the Apes.'
"I did not, nor would I ever, say that black people are apes, but it sure f*****& sounded like that. And I immediately afterwards said: 'That's a racist thing to say.'"
Noah went in on this apology, telling his audience: "I'm not going to lie. I have a few issues with this part of the video. First of all, he says he would never say Black people are apes but he said that. That's literally what he said.
"If you said you walked into a Black place and it was Planet of the Apes then you've said that. You did say it, which is racist, right?
Noah added: "And it's not just racist. Let's be honest, that's like O.G. racism. That's like the original old school. That's on the Mount Rushmore of racism. Black people are apes. It's right next to burning crosses and every Bugs Bunny cartoon from the 1940s."
Rogan has deleted the podcast episode that contained this anecdote and conceded it was "an idiotic thing to say," adding: "I was just trying to be entertaining. I certainly wasn't trying to be racist, and I certainly would never want to offend someone for entertainment with something as stupid as racism."
He added: "My sincere and humble apologies. I wish there was more that I could say."
Noah's latest comments about Rogan come just weeks after the host of The Daily Show slammed the podcaster who suggested that only "100 percent African" people should be called Black.
Despite "strongly condemning" Rogan's comments, Spotify CEO Daniel Ek told staff that he does "not believe that silencing Joe is the answer" and that "canceling voices is a slippery slope."