Trevor Noah Speaks Out on Kanye West's Grammy Ban After Racial Slur Post
Trevor Noah has spoken out following the news that Kanye West has been barred from performing at next month's Grammy Awards.
West, who has legally changed his name to Ye, was hit with a 24-hour ban from Instagram on March 16 after he directed a post containing a racial slur at Noah, who had accused him of "harassing" his ex-wife, Kim Kardashian.
In the continued fallout from West's social media activity, Variety reported over the weekend that the rapper will not be permitted to take the stage at next month's Grammys due to "concerning online behavior," his representatives confirmed.
However, while Noah—who will be hosting the awards ceremony—has criticized West's recent behavior, he also appeared to suggest that the decision to block the star from taking to the stage was a step in the wrong direction.
Taking to his Twitter account on Sunday morning, The Daily Show host, 38, wrote of West, 44: "I said counsel Kanye not cancel Kanye."
According to The Blast, West—who is this year nominated for five Grammy Awards and was not announced in the first batch of upcoming performers—was blocked from being a part of the show, in part, because Noah is presenting.
A petition has also been launched calling for West to be pulled from the line-up of performers at next month's Coachella music festival.
On Tuesday, March 15, Noah spoke on his Comedy Central show about the slew of Instagram posts West has directed at Kardashian and her partner, Pete Davidson.
Describing the situation as "terrifying to watch," the TV personality said: "There's an element of a woman saying to her ex, 'Hey, please leave me alone.'
"It touches on something that is more sensitive and more serious than people would like to admit. I see a woman who wants to live her life without being harassed by an ex-boyfriend or an ex-husband or an ex-anything.
"You may not feel sorry for Kim because she's rich and famous," Noah said. "But what she's going through is terrifying to watch. And it shines a spotlight on what so many women go through when they choose to leave.
"What we're seeing here is one of the most powerful, one of the richest women in the world unable to get her ex to stop texting her, to stop chasing after her, to stop harassing her."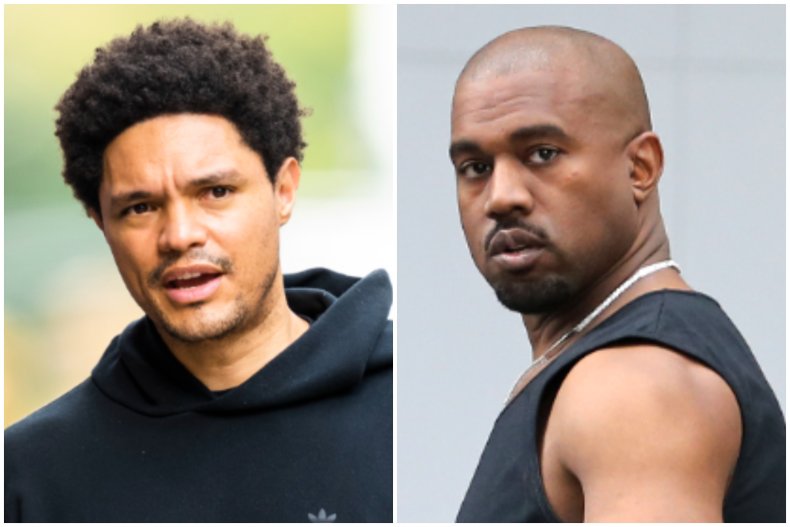 Rapper and designer West responded by taking aim at Noah in an Instagram in a since-deleted post, where he rewrote the lyrics to the African American spiritual "Kumbaya" to include a racial slur used against Black people.
Noah commented on West's post, writing that "it breaks my heart to see you like this. I don't care if you support Trump and I don't care if you roast Pete. I do however care when I see you on a path that's dangerously close to peril and pain."
He said of the racial slur: "Clearly some people graduate but we still stupid. Don't ever forget, the biggest trick racists ever played on Black people was teaching us to strip each other of our blackness whenever we disagree. Tricking us into dividing ourselves up into splinters so that we would never unite into a powerful rod."
Kardashian, 41, filed for divorce from West in February 2021 after almost seven years of marriage. She was declared legally single earlier this month.
West in February posted screenshots of messages in which Kardashian warned him that he was creating a "dangerous and scary environment" for her and Davidson, 28, through his Instagram posts aimed at the Saturday Night Live star.
After sharing the screenshots in question, West apologized as he conceded that his accounts could well be perceived as "harassing" the reality star, with whom he shares four children.
He wrote on Instagram: "I'm working on my communication. I can benefit from a team of creative professionals, organizers, mobilizers and community leaders. Thank everybody for supporting me.
"I know sharing screen shots was jarring and came off as harassing Kim. I take accountability. I'm still learning in real time. I don't have all the answers. To be good leader is to be a good listener."
In her own Instagram post in February, Kardashian spoke out against West's "constant attacks on me in interviews and on social media."
"Divorce is difficult enough on our children and Kanye's obsession with trying to control and manipulate our situation so negatively and publicly is only causing further pain for all," she added.
A text exchange purportedly between Davidson and West was shared last week, depicting the comedian telling the rapper that he was "in bed with your wife," and suggesting the two meet privately to discuss their differences. The messages were leaked by Davidson's friend, writer Dave Sirus.