Trevor Reed's Family Says He May Die in Russian Prison Without Biden's Help
The family of Trevor Reed, a former U.S. Marine serving a nine-year prison sentence in Russia, warned Monday that he may soon die in prison if President Joe Biden's administration doesn't interfere.
Reed's parents, Joey and Paula Reed, have repeatedly accused Russian prison officials of mistreating him during his imprisonment. Last week, the family announced that Reed had begun a hunger strike in protest of being placed in solitary confinement and not receiving adequate medical care after he was reportedly exposed to tuberculosis.
On Monday, Reed's family again accused Russia of failing to provide their son with medical treatment and urged the Biden administration to "act with urgency" to help him.
"Our son continues to experience symptoms consistent with active tuberculosis. As a result of his hunger strike, Trevor lost seven pounds in five days, his health continues to deteriorate by the day, and we remain terrified that Trevor will become the next Otto Warmbier if the Administration doesn't act urgently to bring him home," Reed's parents said in a statement shared with Newsweek. Otto Warmbier was a 22-year-old American student who died in 2017 after being imprisoned in North Korea.
In their statement, Reed's parents added that untreated tuberculosis has a mortality rate as high as 70 percent, and said their son has lost a significant amount of weight since being detained. The family said that Reed was first exposed to an inmate with active tuberculosis in December.
"When we dropped our then 28-year-old off at the airport before he left for Russia, he was in excellent health and weighed about 160 pounds. Recently, at the prison 'hospital' he weighed 136 pounds," his parents said. "We urge the Administration to act with urgency. Our son is out of time."
Reed, a 30-year-old from Texas, was sentenced in July 2020 after he was convicted of assaulting two police officers while drunk in Moscow during an August 2019 incident. Reed and his family have denied the charges against him, claiming they were unfairly motivated by Russian-U.S. politics.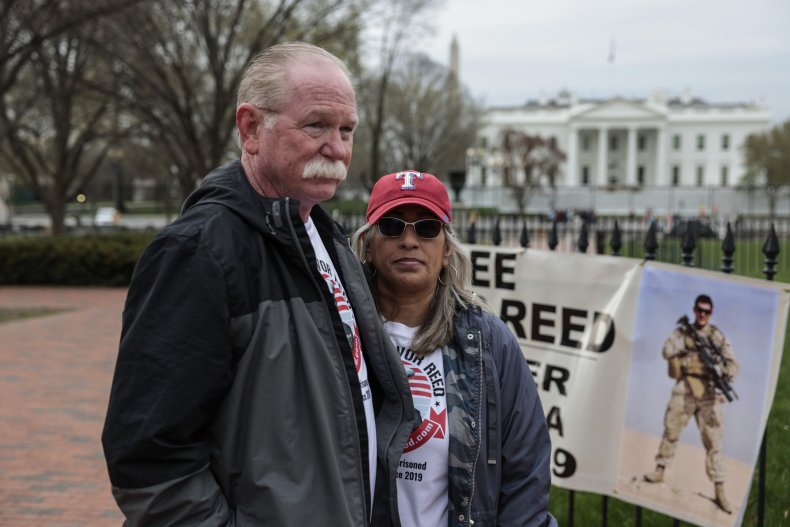 Reed's parents previously told Newsweek that they fear they will never see their son again due to souring relations between the U.S. and Russia amid the ongoing war in Ukraine.
"The United States just isn't negotiating with Russia and that's our problem. They could have traded for our son and possibly Paul Whelan years ago and they have completely blown that," Joey Reed told Newsweek late last month.
Russia has denied claims that Reed is being mistreated. The Federal Penitentiary Service said in a statement this week that "On Friday, April 1, the convict Reed ended his hunger strike and began to receive food. On the same day, at his request, he was sent to the medical facility," according to Reuters.
Russian prison officials have denied that Reed was ever exposed to, or tested positive, for tuberculosis.
In response, U.S. State Department spokesperson Ned Price said Monday that the Biden administration had seen the statement from Russia, and that it remains concerned for Reed's health, Reuters reported.
"We continue to call on Russian officials to provide adequate medical care immediately or otherwise to release him to the United States to receive the care that he needs," Price said.