Troops Head to China-India Border Despite Both Sides Saying Situation Under Control
Additional troops have reportedly arrived at the contested, high-altitude border between China and India, even as both sides downplayed reports of tensions spilling over into violence there.
Asked Monday about Indian Defense Minister Rajnath Singh's promise that New Delhi would not allow its "pride to be hurt" at the disputed boundary between India-controlled Ladakh and China-administered Aksai Chin, Chinese Foreign Ministry spokesperson Zhao Lijian said Beijing has upheld its bilateral obligations and "is committed to safeguarding national territorial sovereignty and security and maintaining peace and stability in the border area between China and India."
"Currently the overall situation along the border is stable and controllable. Between China and India, there are unimpeded channels for border-related communication in diplomatic and military fields," Zhao said. "We believe the issues can be properly resolved after bilateral negotiations and consultations."
In a statement sent to Newsweek, Indian Foreign Ministry spokesperson Anurag Srivastava commended the "very responsible approach towards border management" adopted by his country's troops, whom he said "strictly follow the procedures laid out in various bilateral agreements and protocols with China to resolve any issue that may arise in the border areas."
"The two sides have established mechanisms both at military and diplomatic levels to resolve situations which may arise in border areas peacefully through dialogue and continue to remain engaged through these channels," Srivastava said.
"India is committed to the objective of maintenance of peace and tranquility in the border areas with China and our armed forces scrupulously follow the consensus reached by our leaders and the guidance provided," he added. "At the same time, we remain firm in our resolve to ensuring India's sovereignty and national security."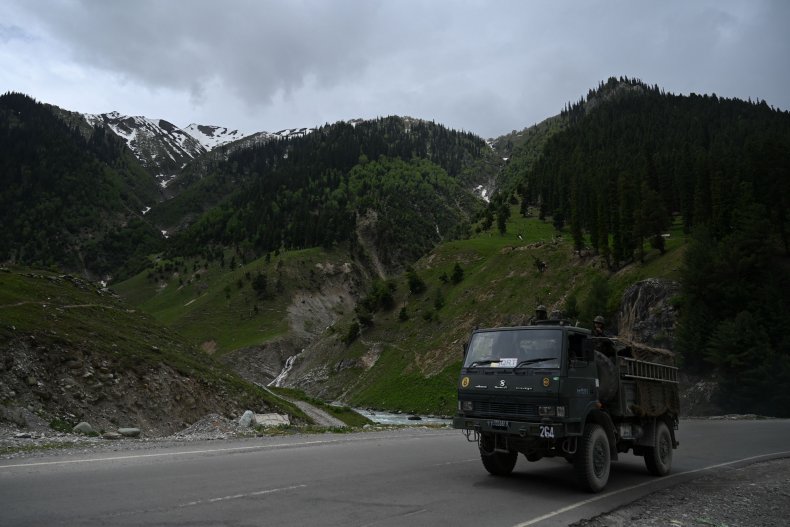 These remarks come amid reports last month of sporadic, unarmed clashes in at least four sites: Pangong, Galwan, Demchok and Daulat Beg Oldie. Officials from Beijing and New Delhi have offered few details about the encounters but media outlets from both sides to continue to report that tensions remain high.
Ruling Chinese Communist Party newspaper Global Times reported Sunday that Chinese border forces arsenal had been expanded to include new weapons and equipment such as the Type 15 tank, Z-20 helicopter and GJ-2 drone to have the upper hand in the event of a conflict, citing Chinese military analysts. Several Indian media outlets reported that up to 5,000 Chinese troops had also arrived at the border, leading New Delhi to boost its own forces and scramble jets in response to Chinese helicopter activity.
The situation has caught the attention of the United States and Secretary of State Mike Pompeo who told an American Enterprise Institute podcast Monday that the U.S. has witnessed "increasing forces of China moved up to the north of India on the line of actual control there on the Indian border."
President Donald Trump offered Wednesday to mediate between the two sides, a proposal both Beijing and New Delhi officials rejected, preferring instead to work through their established bilateral diplomatic lines. After Trump suggested Thursday he had recently discussed the issue with Indian Prime Minister Narendra Modi, the Indian side issued a denial.
"There has been no recent contact between PM Modi and President Trump," an Indian Ministry of External Affairs source told Newsweek. "The last conversation between them was on 4 April 2020 on the subject of hydroxychloroquine. MEA had also made it clear on 28 May 2020 that we are directly in touch with the Chinese through established mechanisms and diplomatic contacts."
The White House declined to comment when contacted by Newsweek and Beijing's embassy in Washington did not immediately respond to a request for comment.
Modi's administration had previously denied Trump's diplomatic overtures last year during another Kashmir-related spat with neighboring Pakistan, a close partner of China. The U.S. leader had said the Indian head of state accepted his offer to act as a middleman between New Delhi and Islamabad but an Indian official disputed this account at the time.
On Friday, Defense Secretary Mark Esper and Indian counterpart Singh "discussed a range of regional security issues and the Secretary expressed his firm commitment to India's leadership across the Indo-Pacific" among other issues during a telephone conversation.