Trump Allies Testifying Because Jan. 6 Probe 'Getting Somewhere': Alksne
Former federal prosecutor Cynthia Alksne said Saturday that she believes that former President Donald Trump's closest allies are reportedly coming forward with testimonies because the January 6 committee investigating last year's Capitol riot is "getting somewhere" with its probe.
Katie Phang, host of MSNBC's The Katie Phang Show, asked Alksne about her thoughts on former Treasury Secretary Steven Mnuchin and former Secretary of State Mike Pompeo engaging with the House select committee without being subpoenaed. "What does it tell you?" Phang asked.
"It tells me that the 1/6 committee is getting somewhere," the former federal prosecutor responded. "They see it and they know it, and so they would rather go voluntarily than be subpoenaed."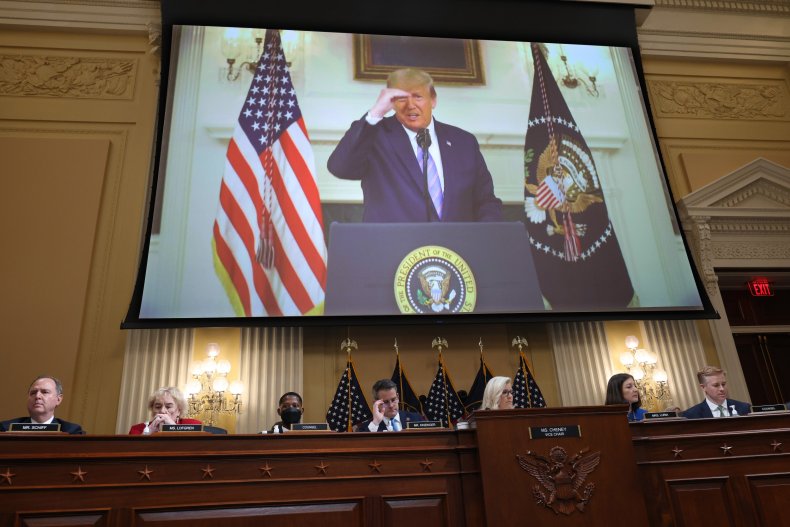 The committee recently interviewed Mnuchin and is about to negotiate further talks with several other Trump allies who worked for his Cabinet at the time, the Associated Press reported on Thursday, citing three unnamed sources familiar with the committee. The panel is also having discussions with Pompeo that haven't been made public yet, ABC News reported Tuesday.
Additionally, former acting chief of staff Mick Mulvaney spoke with the committee on Thursday, and told CNN on Friday that the committee wanted to know about the discussions he had around Election Day in 2020, and the texts and tweets he sent on January 6 of last year, among other topics.
Last week, the House select committee presented evidence revealing Trump's inaction for over three hours after his supporters stormed the Capitol building just 15 minutes after the then-president's "fight like hell" speech in an apparent effort to obstruct the formal certification of President Joe Biden's electoral college victory.
The committee played recorded testimony from Trump's top White House lawyer Pat Cipollone, among other key witnesses, and heard live testimonies from former deputy national security adviser Matt Pottinger and Sarah Matthews, the former deputy press secretary.
In describing the current progress made in the probe so far, Alksne said that the committee has "some momentum."
"What's fascinating about what is also coming up this week is there is a whole collection of emails and lawyers who I cannot wait to hear from, who were hiding what they were doing from the White House lawyers," she said. "A lot of the lawyers involved in the elector scheme, they are also out there sending emails back and forth and the 1/6 committee is finding out about them."
Despite Alksne's optimism about the January 6 investigation, Mary Trump, the former president's niece and his frequent critic, said that it will not impact Trump's behavior.
"The good news too, is that although the country is paying attention and and re-evaluating. Donald's paying attention to January 6, but it's not going to modify his behavior in any way," she said on her podcast while speaking to Bloomberg senior executive editor Tim O'Brien on Thursday.
Newsweek reached out to the House select committee's office for comment.