Trump Arizona Rally Starts 2020 Election 'Decertification Process,' Steve Bannon Claims
Right-wing political strategist Steve Bannon claims that the 2020 election "decertification process" has started after former President Donald Trump held a large rally in Arizona on Saturday.
Trump and his allies—such as Bannon and MyPillow founder Mike Lindell—continue to falsely claim that the last presidential election was "rigged" or "stolen" in favor of President Joe Biden. Bannon, as well as a number of other prominent Trump supporters, also claim that those valid election results will be decertified—which would, in their view, allow for the former president to potentially return to the White House.
Constitutional experts and many prominent Republicans have consistently disputed this possibility, noting that there is not a legal way to decertify Biden's victory. Furthermore, no evidence has come to light substantiating the allegation that the 2020 election was stolen. Numerous election and cybersecurity experts have repeatedly discredited the claim.
Nonetheless, Bannon posted to the social media platform Gettr early Sunday morning, writing: "The Decertification Process now starts; Campaign 2022 now starts." He then added: "100 Seats, 100 Years," meaning that the goal is for pro-Trump candidates to pick up 100 congressional seats in the 2022 midterms and begin a century of political domination in the U.S.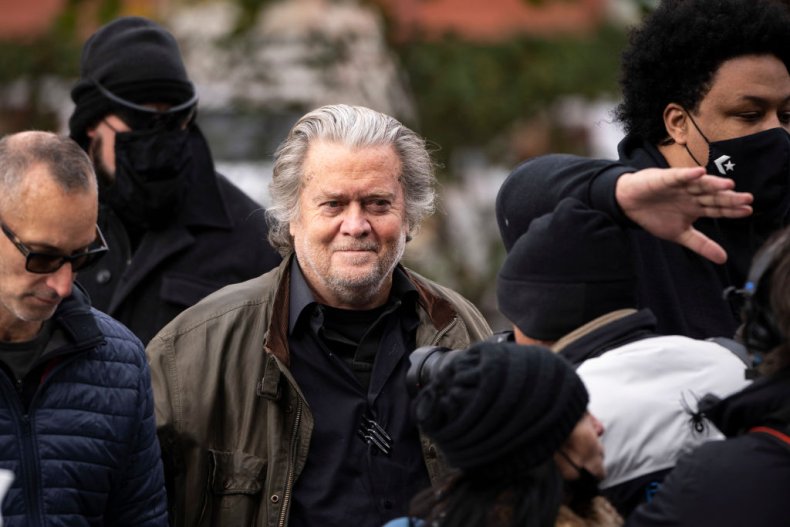 Bannon also shared a link to a Business Insider article highlighting more of his controversial views and claims. The piece reported comments from him including this from an episode of his War Room podcast:
"It's the kickoff of 2022. A huge speech in front of a massive crowd by Donald J. Trump and, of course, they're all melting down about who's on stage with him. They're all people that are going to get to the decertification of the 2020 Biden electors." He added that the "decertification process is really kicking up next week in Arizona in the [state] Assembly."
Bannon served briefly in the Trump administration in 2017 and also was the CEO of the former president's 2016 presidential campaign. In August 2020 he was arrested and charged with fraud over a crowdfunding campaign that he launched in an effort to raise money for Trump's long-promised border wall with Mexico. Right before leaving office in January 2021, Trump issued a formal pardon for Bannon.
Arizona's Governor Doug Ducey, a Republican, rejected the possibility that his state's election results could be overturned in September 2021. "When it comes to the audit, like the three audits that preceded it, it's now over. The outcome stands and the 2020 election in Arizona is over," Ducey wrote in a Twitter thread.
"There will be no decertification of the 2020 election—the audit does not call for one, and even if it had, there is no lawful way to decertify. As we have every step of the way, Arizona will follow the law," the GOP governor asserted.
Trump has attacked Ducey for telling the truth about the 2020 election results. The former president endorsed GOP primary candidate Kari Lake to replace Ducey, who is not legally allowed to seek a third term as governor. Lake has said that she "would not have certified" Biden's victory in Arizona as Ducey did.
Biden only narrowly beat Trump in Arizona by a margin of less than 10,500 votes. That slim victory came after Republican presidential candidates had carried the state in every election going back to 2000. But multiple audits and recounts have reaffirmed the results as accurate. GOP officials in Arizona's most populous region—Maricopa County—have strongly pushed back against allegations that the election was fraudulent as well.
Although Trump and his allies continue to promote the conspiracy theory about the "stolen" election, dozens of election challenge lawsuits they've filed failed in state and federal courts. Even 10 judges appointed by Trump ruled against the legal challenges.
Former Attorney General William Barr, who was widely viewed as one of Trump's most loyal Cabinet members, said in December 2020 that there was "no evidence" to show widespread fraud impacted the election results. That assertion came after he drew criticism for ordering the Justice Department to probe claims of fraud. The Cybersecurity and Infrastructure Security Agency at the Department of Homeland Security, when it was still led by a Trump appointee, described the 2020 election as the "most secure in American history."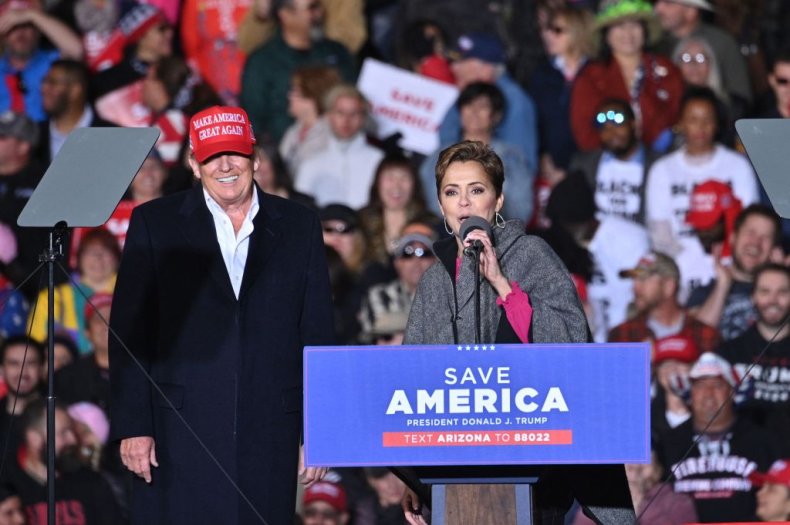 Regardless, polls have repeatedly shown that Trump's election lies have resonated with the majority of GOP voters. Many conservatives across the country do not believe Biden is the legitimate president. During the Arizona rally, the impact of this misinformation was on full display.
"Who won the election?" Arizona GOP chair Kelli Ward asked the crowd of thousands in attendance.
"Trump!" the crowd quickly yelled back in response.
Newsweek reached out to Trump's press office for further comment.