Trump Arrives for Alaska Rally Under Pressure
Former President Donald Trump is set to hold a rally in Alaska on Saturday to support his endorsed candidates in the state as he continues facing legal pressure from the House select committee investigating last year's Capitol riot, and a separate investigation in Georgia about his alleged interference in regards to the results of the 2020 election.
Trump is expected to speak at the Alaska Airlines Center in Anchorage at 4 p.m. local time. The conservative news network Right Side Broadcasting Network will be live streaming the rally on YouTube and Rumble. The venue, where Trump will stump for Senate candidate Kelly Tshibaka, and Sarah Palin for the at-large House race, holds thousands of people.
However, the former president will arrive at the rally facing legal scrutiny, as both investigations into his actions surrounding the 2020 presidential results appear to be closing in on his closest allies.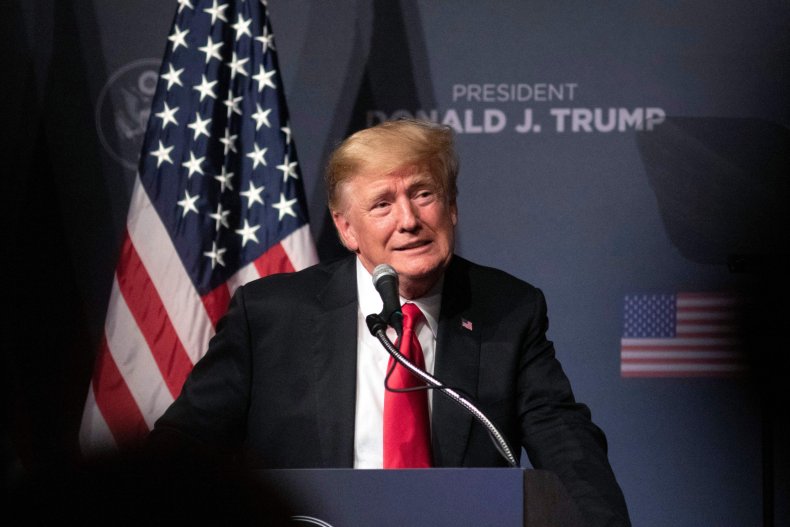 Cipollone Gives January 6 Testimony
Former White House counsel Pat Cipollone testified Friday before the House select committee—potentially bolstering its case against Trump.
His testimony could be key to the lawmakers investigating the deadly riot, who are aiming to show Trump's alleged role in inciting the violence. Last month, ex-White House aide Cassidy Hutchinson revealed several conversations she had with Cipollone, who she said actively tried to fight against Trump's efforts to overturn the election results.
He was allegedly concerned that if Trump marched alongside rioters at the Capitol, he could be charged with "every crime imaginable."
Exact details about his testimony were not known, but Representative Zoe Lofgren, a California Democrat who sits on the committee, said he did not "contradict" any other testimony, even as Trump and his allies have sought to cast Hutchinson as a liar during her testimony.
"He was candid with the committee, he was careful in his answers," Lofgren said, according to the Associated Press. "And I think we did learn a few things, which we will be rolling out in the hearings to come."
Public Hearings See Public Turn Against Trump
Cipollone's testimony adds to a growing number of witnesses who have testified before the committee. Public hearings that began in June have seen witnesses provide damaging testimony, and polls have found a drop in Trump's popularity in recent weeks.
Hutchinson, who served as a top aide to Trump's chief of staff Mark Meadows, alleged that the ex-president wanted armed supporters to bypass security at his speech the morning of the riot, and that he allegedly got into a physical altercation with his security detail when he was not allowed to go to the Capitol.
Trump is also reportedly considering writing a letter waiving his claim of executive privilege against Steve Bannon, opening the door for the former Trump strategist to testify, as experts have doubted the claim applies to Bannon, who left his White House role years before the riot.
Some members of the public have turned against Trump amid the hearings. A Fox News poll conducted after the first hearing saw his approval rating flounder. Meanwhile, a poll from ABC News/Ipsos conducted from June 17 to June 18 found that 58 percent of Americans believe Trump should face criminal charges. This represents an increase from in April, when an ABC News/Washington Post poll found that 52 percent believed he should face charges.
Georgia Investigation Heats Up
Meanwhile, a second investigation in Georgia also appears to be gaining traction. On Tuesday, a Fulton County grand jury issued a subpoena against several Trump allies and ex-attorneys.
Fulton County District Attorney Fani Willis is investigating whether Trump's phone call to Georgia Secretary of State Brad Raffensperger where he allegedly asked him to "find" 11,800 votes after losing the state constituted election interference. Legal experts have also said the investigation could uncover potentially damaging evidence against the former president.
The subpoenas were made against Rudy Giuliani, who served as Trump's personal attorney. Several members of his legal team including Jenna Ellis, Kenneth Cheseboro and Cleta Mitchell—as well as Senator Lindsey Graham, a South Carolina Republican and conservative podcaster Jacki Deason—were also subpoenaed.
Documentary filmmaker Alex Holder is also expected to testify before the Fulton County grand jury on July 12. He created the docuseries Unprecedented, which shows the Trump family during the 2020 campaign, and reportedly shows never-before-seen footage of their reaction to the election results.