Donald Trump Furious With Kevin McCarthy Over Ashli Babbitt Remarks
Donald Trump has lashed out at Kevin McCarthy after the House speaker rejected the suggestion that January 6 rioter Ashli Babbitt was "murdered."
In a post in Truth Social, the former president said he "totally" disagrees with comments McCarthy gave to reporters. The speaker was asked whether he backs Georgia congresswoman Marjorie Taylor Greene's assessment of Babbitt's death.
Babbitt, an Air Force veteran and supporter of the extremist QAnon conspiracy theorists, was shot and killed during the January 6 riot in 2021 by Capitol police officer, Lieutenant Michael Byrd, who faced no criminal charges over the incident.
During a meeting of the House Oversight and Accountability Committee on Tuesday, Greene suggested that Babbitt was "murdered" by the officer and that "no one in this Congress has really addressed that issue."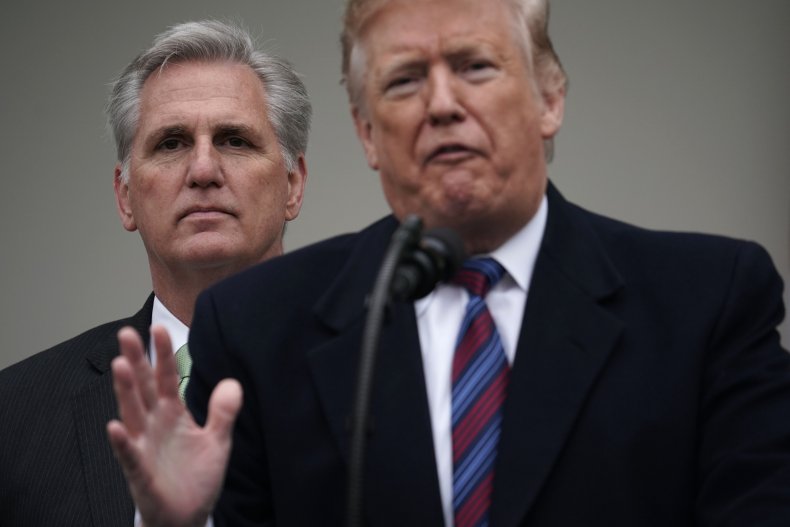 When asked if he agreed with the sentiment shared by Greene, who has formed a key alliance with the House speaker in recent weeks, McCarthy dismissed the idea, adding "I think the police officer [Byrd] did his job."
In a social-media post, Trump has criticized McCarthy for the comments and also launched a series of attacks against Byrd.
"I totally disagree with the Speaker of the House, Kevin McCarthy, in that the Police Officer 'Thug,' who has had a very checkered past to begin with, was not just 'doing his job' when he shot and killed Great Patriot Ashli Babbitt at point blank range," Trump wrote on Truth Social.
"Despite trying to keep him anonymous, shielded, and protected, this MISFIT proudly showed up on NBC Fake Nightly News 'bragging' about the killing. He was not a hero but a COWARD, who wanted to show how tough he was. ASHLI BABBITT WAS MURDERED!!!"
The NBC interview Trump was referring to was broadcast in August 2021, when Byrd spoke publicly about the shooting for the first time.
During an appearance on NBC Nightly News, Byrd said he tried to "wait as long as I could" before firing at Babbitt. She was trying to break through a glass door separating a hallway from the Speaker's Lobby and Chamber on January 6 during the riot.
"I hoped and prayed no one tried to enter through those doors. But their failure to comply required me to take the appropriate action to save the lives of members of Congress and myself and my fellow officers," Byrd said.
In April 2021, the Department of Justice announced it would not be seeking criminal charges against Byrd, while acknowledging the "tragic loss of life" of Babbitt.
"The investigation revealed no evidence to establish that, at the time the officer fired a single shot at Ms. Babbitt, the officer did not reasonably believe that it was necessary to do so in self-defense or in defense of the Members of Congress and others evacuating the House Chamber," the DoJ said.
Newsweek has contacted McCarthy for comment.