Trump Asked Mo Brooks to Remove Biden From Office, Hold 'Special Election'
Representative Mo Brooks, an Alabama Republican, said in a Wednesday statement that former President Donald Trump once asked him to try to remove President Joe Biden from the White House.
Earlier on Wednesday, Trump announced he had pulled his endorsement from Brooks, who is running for the U.S. Senate in Alabama. In a statement, Trump said he came to his most recent decision because Brooks "made a horrible mistake recently when he went 'woke'" and advised people to move past the 2020 presidential election.
Brooks claimed Trump's endorsement revocation was due to manipulation by Senate Republican leader Mitch McConnell.
"I am the only candidate who fought voter fraud and election theft when it counted, between November 3 and January 6," Brooks said in his statement. "I repeat what has prompted President Trump's ire. The only legal way America can prevent 2020's election debacle is for patriotic Americans to focus on and win the 2022 and 2024 elections so that we have the power to enact laws that give us honest and accurate elections."
He added: "President Trump asked me to rescind the 2020 elections, immediately remove Joe Biden from the White House, immediately put President Trump back in the White House, and hold a new special election for the presidency. As a lawyer, I've repeatedly advised President Trump that January 6 was the final election contest verdict and neither the U.S. Constitution nor the U.S. Code permit what President Trump asks. Period."
Brooks also said that he knew that telling Trump his stance regarding the election might result in the endorsement getting pulled, but he did so because he "took a sworn oath to defend and protect the U.S. Constitution."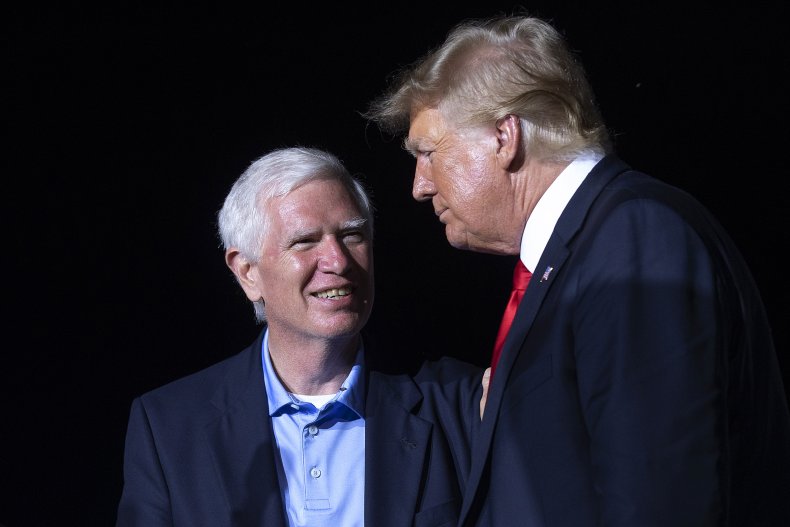 A recent poll found Brooks in third place for the GOP nomination in the Alabama Senate race. According to the survey conducted by McLaughlin & Associates and released on March 14, Brooks had support from 17.6 percent of likely primary voters, falling behind opponents Katie Britt and Mike Durant. Britt came in second place with 32 percent from likely voters, while Durant lead the pack with 33.8 percent support.
Brooks had been an avid supporter of Trump's baseless claims that rampant voter fraud occurred during the 2020 election. On January 6, 2021, he was one of 147 Republican lawmakers who voted to overturn Biden's Electoral College victory. Earlier on that day, he spoke at the "Stop the Steal" rally that occurred before a violent mob besieged the U.S. Capitol.
On March 17, Brooks released an advertisement that touted the fact that he spoke at the rally on January 6. The ad, seen below on Brook's YouTube channel, also highlighted Trump's endorsement.
Newsweek reached out to Brooks and Trump for comment but did not hear back in time for publication.
Update 03/23/22 2:40 p.m. ET: This story has been updated to include more background information on Brooks.