Trump Attacks McConnell for Advancing Gun Measures He Previously Supported
Donald Trump took aim Wednesday at Senate Minority Leader Mitch McConnell for helping to advance a bipartisan gun safety bill, even though the legislation includes measures the former president has backed in the past.
McConnell, a Kentucky Republican, was one of 14 GOP senators who voted Tuesday night to open debate on the Bipartisan Safer Communities Act. In a post on his Truth Social page, Trump sounded alarm bells on the proposed legislation while citing McConnell and another Republican senator who helped lead the bipartisan talks behind the bill.
"The deal on 'Gun Control' currently being structured and pushed in the Senate by Radical Left Democrats, with the help of Mitch McConnell, RINO Senator John Cornyn of Texas, and others, will go down in history as the first step in the movement to TAKE YOUR GUNS AWAY. Republicans, be careful what you wish for!!!" Trump wrote.
The term "RINO" stands for Republican in Name Only.
The Bipartisan Safer Communities Act, which was set into motion after the mass shooting at a Texas elementary school late last month, would toughen background checks for gun purchasers under 21, create grants to fund mental health programs and close the "boyfriend loophole" to prevent people convicted of domestic abuse from owning firearms. It would also provide funds to states for "crisis intervention programs," which include red flag laws in some states.
Though Trump condemned the legislation as an attempt to take guns away from Americans, he has previously signaled support for several of its provisions.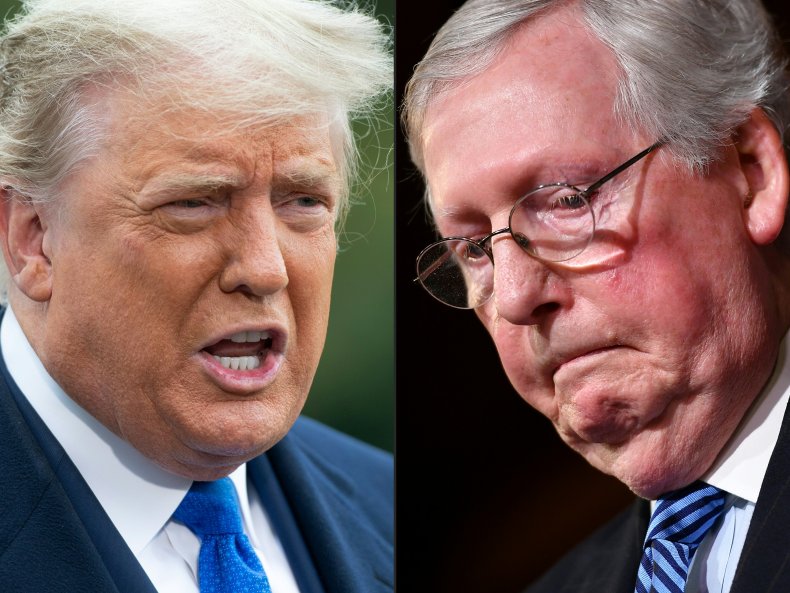 Following the 2018 mass shooting at Marjory Stoneman Douglas High School in Parkland, Florida, and also in the summer of 2019, Trump publicly voiced support for expanded federal background checks for gun purchasers, The New York Times reported.
After two deadly mass shootings in El Paso, Texas, and Dayton, Ohio, in 2019, Trump said he backed red flag laws, which allow authorities to temporarily remove firearms from people they believe are a danger to themselves and others.
"We must make sure that those judged to pose a grave risk to public safety do not have access to firearms and that, if they do, those firearms can be taken by rapid due process," he said at the time, according to The Journal News. "That is why I have called for red flag laws, also known as extreme risk protection orders."
The Bipartisan Safer Communities Act could be the first gun violence legislation to pass in Congress in decades. Speaking on the Senate floor Wednesday, McConnell said Tuesday's vote to advance the bill was "a big step toward an important bipartisan bill to prevent mass murders make schools safer and protect the Second Amendment rights of law-abiding citizens."
Newsweek reached out to spokespeople for Trump and McConnell for comment.