Trump-Backed Candidate Slammed by Rock Star for Using His Song at Rally
Kari Lake, who is seeking to win the Republican nomination for Arizona governor in Tuesday's primary, has become involved in an unlikely feud with heavy-metal singer Dee Snider.
Snider was the frontman of Twisted Sister, a group that enjoyed massive success in the 1980s. Lake is a former television journalist endorsed by former President Donald Trump in Arizona's race. She has spoken out against abortion and has promoted fraudulent claims pushed by Trump about the 2020 presidential election results.
Snider and Lake share little in common in terms of political opinions, which became apparent after Lake's campaign used Twisted Sister's anti-authority anthem "We're Not Gonna Take It" during a recent campaign rally.
Footage of Lake using the song, which was written by Snider, was shared on social media last week. Snider took note and tweeted on Thursday that "[w]hile I abhor what this ignoramus @KariLake stands for and the deplorables (yup, Hillary Clinton had it right) she represents, I can NOT legally or morally stop her from using or singing my song. I wrote it for everyone...cherry picking who uses it is censorship."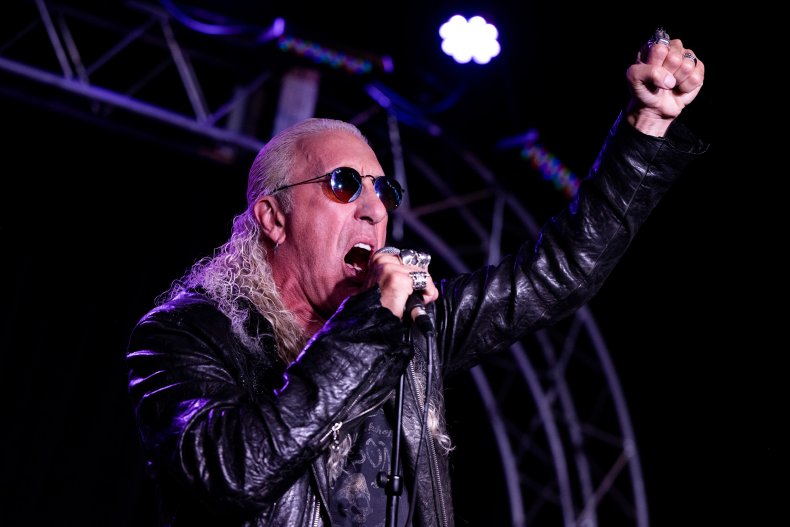 Not content that Snider said he was not going fight Lake's use of the track, the candidate's campaign Twitter account tweeted out lyrics from the song and tagged Snider. The move ignited a fiery response from the singer.
"HEY IDIOTS! READ THE 1ST LINE," Snider wrote. "'We've got the right to CHOOSE!' This is a PRO-CHOICE anthem you or [sic] co-opting. It was NEVER intended for you fascist morons! As the songwriter & singer I DENOUNCE EVERYTHING @KariLake STANDS FOR! Write your own damn song!"
Lake's campaign didn't stop there. Its Twitter account shared a picture of Snider testifying at a 1985 Senate hearing in which he spoke against parental warnings being placed on albums.
"Remember when you were anti-establishment?" Lake's campaign wrote.
"Remember when you didn't read my testimony?" Snider replied. "I stand for what I have always stood for. Anti right wing, anti fascist, anti a**hole. Pretty much your candidate in a nutshell."
Lake's campaign also wrote, "The subtext in your song is very clear to us, @deesnider. We've got the right to choose to vote for @KariLake. It's a timeless song."
That tweet drew a response from a social media user who wrote, "You're literally trying to explain subtext to the person who wrote it? On brand."
Snider has continued lashing out at Lake and the Trump wing of the Republican Party in subsequent messages.
"Vote for anyone who does not support Trump or the magat agenda. Let's start cleaning house this November!" he tweeted.
Since the online skirmish with Lake's campaign, Snider has tweeted that he has voted for Republicans in the past and that he is Christian. He also reiterated his support of abortion rights.
"I'm all about pro choice. Your choice. I have four children. My choice. If someone doesn't want children, it's their choice. Freedom of choice. Not 'you have to do what we want you to do'. That's no choice," he wrote.
When reached for comment, a representative from Snider sent Newsweek a statement from the singer.
"Kari Lake is an echo of MAGA days past, right down to her using 'We're Not Gonna Take It' (a pro-choice anthem) as her confused battlecry. Winning a small majority in a Republican primary only shows how weak the MAGA movement has become. The true majority of Americans are now fully aware of the Trump political model, will steamroll over her and others like her in November...and I will be there singing 'We're Not Gonna Take It' as she walks out the door crying, 'The election was stolen!'" Snider wrote. "Slowly but surely, real America will drive all these extremists and their followers back into the shadows and under the rocks from where they came. This time we will never forget they are there, always waiting for a chance to rear their 'deplorable' heads. But we're not gonna take it."
Newsweek contacted Lake for comment.
Update 08/03/22 5:00 p.m. ET: This story has been updated to include a statement from Dee Snider.