Trump-Backed Candidate Volunteers to Round Up 'Every Illegal'
Georgia GOP congressional candidate Vernon Jones, who has been endorsed by former President Donald Trump, said Monday he would round up illegal migrants himself to get them out of the country.
"Every illegal must go. EVERY," Jones wrote in a provocative statement posted on his official Twitter account.
Jones previously served in the Georgia House of Representatives as a Democrat. He announced his switch to the Republican Party during a pro-Trump demonstration organized by Women for America First and held in Washington, D.C., hours before the U.S. Capitol riot on January 6, 2021.
After mounting a campaign to become Georgia's next governor, Jones abandoned the plan to instead run for Congress in the state's 10th District. Trump issued his endorsement soon after Jones announced his run in early February.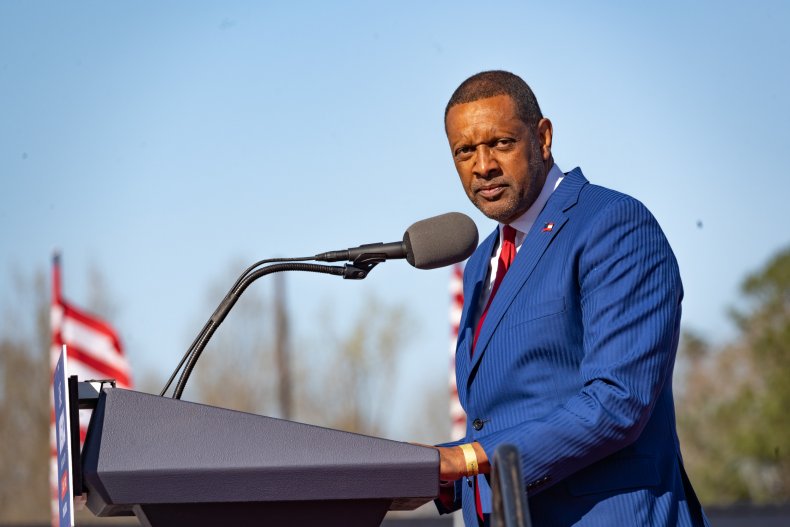 In his Twitter message about illegal migrants, Jones mentioned two prominent progressive Democrats, Representatives Ilhan Omar of Minnesota and Alexandria Ocasio-Cortez of New York, as well as President Joe Biden.
He said he would "send" the illegal migrants he collected to Omar and Ocasio-Cortez "at no extra charge. Just reimburse me for gas, @JoeBiden."
Jones included a photo of himself with two armed men in his Twitter post.
In the post's comments section, some people expressed support for Jones' message, while many others derided him. Among the criticisms were questions about where the photo was taken, with writers pointing out that Georgia does not share a border with Mexico.
Last week, Jones was among those at Trump's Mar-a-Lago resort in Florida to watch a screening of the controversial 2020 election documentary 2,000 Mules. The film, made by Dinesh D'Souza, pushes debunked conspiracy theories that maintain the election was rigged.
Also in attendance were former Trump attorney Rudy Giuliani, MyPillow CEO Mike Lindell, Georgia Representative Marjorie Taylor Greene and Kenosha, Wisconsin, shooter Kyle Rittenhouse.
Jones shared a picture of himself at the screening on Twitter. In it, he posed with Michael Flynn, a former national security adviser under Trump who has since become a leading figure in the radical QAnon movement.
Jones also made news in March after he reportedly left an event in Jackson County, Georgia, following an angry tirade over the speaking order. In a video uploaded to Twitter by Atlanta Journal-Constitution reporter Greg Bluestein, Jones could be seen expressing frustration after being informed he would be speaking before his GOP competitor, Mike Collins.
Contacted by Newsweek for comment, Jones replied with an emailed statement.
"My tweet speaks for itself. What's happening on our border is a crisis. A crisis that is killing people and it's Joe Biden's fault," Jones wrote. "If he won't round up the illegals, I will! My Silverado has enough space."
Update 5/11/22, 9:10 a.m. ET: This story has been updated to include a statement from Vernon Jones.