Trump-Backed Joe Kent Calls Putin's Demands in Ukraine 'Very Reasonable'
During a conservative political conference to address the ongoing war in Ukraine this week, Trump-backed congressional candidate Joe Kent claimed that Russian President Vladimir Putin's demands appear to be "very reasonable."
Kent, who is running for Congress in Washington state, made the comments at an event titled Up From Chaos, a self-described emergency meeting of Republicans to discuss the ongoing war.
"We must be pragmatic," Kent said while addressing the conference via video on Thursday, according to Politico. "Putin has laid out what he wants in Ukraine—a decent starting point," adding that his demand to take over the highly disputed Donetsk and Luhansk regions are "very reasonable."
"The neocons on the right," he later added, "are power drunk, bloodthirsty and cannot be trusted. Biden is sleepwalking to war."
Others echoed the same sentiments as Kent, with Ohio Senate candidate J.D. Vance adding that "using American power to do the dirty work of Europe is a pretty bad idea," according to Politico. Meanwhile, Montana Representative Matt Rosendale said during the conference that the real "invasion" is not taking place in Ukraine, but on the U.S. southern border.
Kent's remarks did not mark the first time he's made controversial statements regarding the war in Ukraine. Last month, he backed up remarks from Republican Representative Madison Cawthorn, who came under criticism from both parties for calling Ukrainian President Volodymyr Zelensky a "thug."
"Zelenskyy was installed via a US backed color revaluation, his goal is to move his county west so he virtue signals in woke ideology while using nazi battalions to crush his enemies," Kent wrote on Twitter. "He was also smart enough to cut our elite in on the graft," he said, while adding that Cawthorn "nailed it."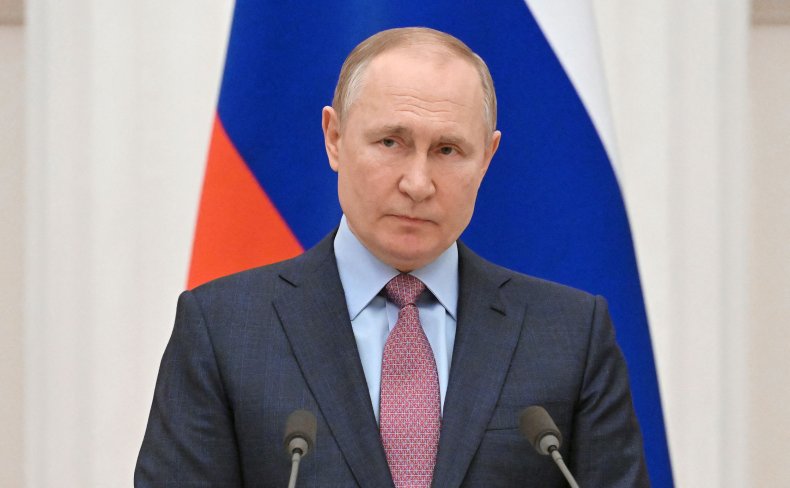 Early into his campaign, Kent received an endorsement from former President Donald Trump to run against incumbent congresswoman Jaime Herrera Beutler. Beutler was one of 10 House Republicans who voted to impeach Trump following the January 6, 2021, Capitol riot.
In announcing his support for Kent, Trump described him as a candidate who is "strong on Crime and the Border, loves our Military and our Vets, and will protect our Second Amendment, which is under siege."
Aside from his comments on Ukraine, Kent has come under heavy fire for appearing to espouse "white replacement theory," which is a conspiracy claiming that white people are being replaced around the world by non-white immigrants. The theory is considered a cornerstone to white nationalist rhetoric and has led to several instances of violent white nationalist extremism, according to the Anti-Defamation League (ADL).
He has also been accused of violating federal law by failing to publicly disclose his personal finances for months, according to an investigation by Insider.
Kent's latest comments came as Russia and Ukraine have reached more than a month of fighting. So far, the United Nations has reported that more than 1,200 Ukrainian civilians have died in the war while roughly 10 percent of the population has been forced to flee the country.
Newsweek contacted Kent's campaign for additional comment, but did not hear back in time for publication.