Representative Michael McCaul, a Texas Republican, responded on Sunday to the proposed plan shared within former President Donald Trump's White House to seize voting machines in the wake of the 2020 presidential election.
The House select committee investigating the January 6, 2021 attack against the U.S. Capitol this week received hundreds of pages of Trump administration documents after the Supreme Court allowed for their release, despite the former president's lawyers arguing that they were protected by executive privilege. Politico on Friday published a draft of a never-issued executive order from Trump that called for the secretary of defense to seize voting machines, citing misinformation that the 2020 election results were compromised.
During a Sunday interview with CBS News' Face the Nation, McCaul was asked about the proposed plan to seize the voting machines.
"It was a dark day, Jan. 6, I want the truth to come out. I think this committee has been somewhat politicized. But the truth should come out, and I think the Department of Justice has been conducting an investigation. I worked at the DOJ for almost 15 years, and I trust their investigation," said the Republican, who has been endorsed for re-election by Trump. "I in fact called upon them to investigate this, so I'm hopeful that the truth will come out on this. The allegations are very serious."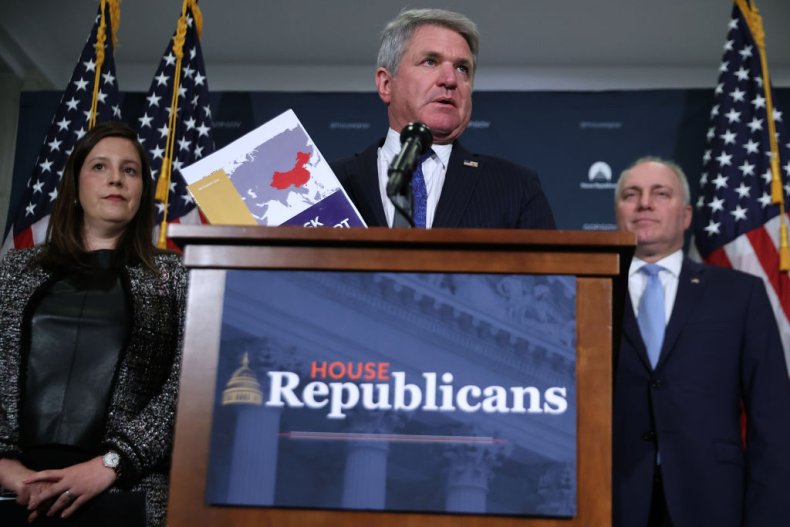 McCaul noted that he didn't believe the executive order was ever signed. However, he again asserted that the truth "should come out."
Earlier on Face the Nation, Representative Bennie Thompson, a Mississippi Democrat who chairs the House select committee, raised alarms over the proposed plan regarding voting machines.
"To be honest with you, we've had conversations with the former attorney general [William Barr] already. We have talked to Department of Defense individuals. We are concerned that our military was part of this big lie on promoting that the election was false," Thompson said. "So, if you are using the military to potentially seize voting machines, even though it's a discussion, the public needs to know, we've never had that before."
The never-issued executive order, in addition to calling for the secretary of defense to seize the voting machines, would have established a special counsel to investigate the 2020 election results.
"Effective immediately, the Secretary of Defense shall seize, collect, retain and analyze all machines, equipment, electronically stored information, and material records required for retention," said the draft order, which was dated December 16, 2020.
It went on to say that the special counsel would "oversee this operation and institute all criminal and civil proceedings as appropriate based on the evidence collected and [be] provided all resources necessary to carry out her duties consistent with federal laws and the Constitution."
Although Trump and his allies continue to claim that the 2020 election was "rigged" or "stolen" in favor of President Joe Biden, no evidence has emerged substantiating the allegation. More than 60 election challenge lawsuits brought by Trump and his allies failed in state and federal courts. Audits and recounts across the country have consistently reaffirmed Biden's victory.
Trump's election lies were the key motivator for the hundreds of Trump supporters who stormed the U.S. Capitol a little more than a year ago. They carried out the assault shortly after the then president urged them to walk to the legislative building and "fight like hell." The attack was an apparent effort to disrupt the formal certification of Biden's Electoral College victory.
Notably, McCaul strongly criticized Trump in the wake of the January 6, 2021 attack against the U.S. Capitol.
"Let me start by saying I strongly condemn the president's rhetoric and his behavior. I understand, having witnessed these events first-hand, that emotions are high; but this decision must be based on facts and evidence," the Texas Republican said in a January 13 statement.
"Let me also say, there very well may have been impeachable offenses committed leading up to, and on, that tragic day," he added.
McCaul declined to vote in favor of Trump's impeachment, however, saying not enough time had been taken to investigate what had happened before lawmakers were required to make their decision.
Newsweek reached out to Trump's spokesperson for comment on McCaul's remarks but did not immediately receive a response.