How Cher, Chris Evans and Others Reacted to Trump's White House Balcony Stunt
Donald Trump's appearance without a mask on the White House balcony has been compared to Evita and Mussolini in a move that is being highly scrutinized by the media as the President continues to downplay the severity of his coronavirus diagnosis.
The President removed his mask and posed on a White House balcony overlooking the South Lawn Monday night after he was discharged from Walter Reed National Military Medical Center—and it has certainly not gone unnoticed by some of Trump's most fervent famous critics.
Trump is facing criticism for tweeting: "Don't be afraid of COVID. Don't let it dominate your life."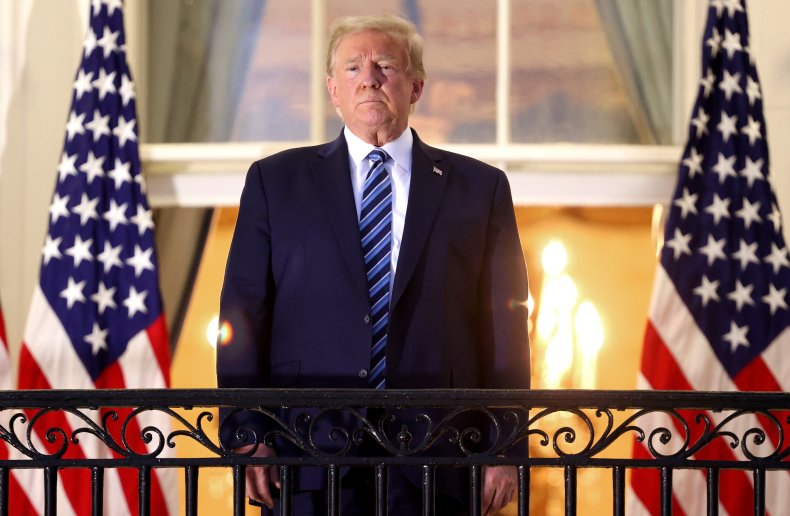 Meanwhile, White House physician Sean Conley said: "Though he may not entirely be out of the woods yet, the team and I agree that all of our evaluations, and most importantly, his clinical status, support the president's safe return home."
"A gargantuan a**hole," frequent Trump critic Bette Midler said, saying the balcony photo opportunity "takes the cake."
The Hocus Pocus actress tweeted: "TAKES THE CAKE. A gargantuan a**hole. He re-shot his entrance into the WH. When arrived at the White House it looked like his breathing was very labored. But, in his defense, he had just faced his most feared enemy...stairs."
Musical icon Cher commented on reports that the President was struggling to breath during the spectacle, tweeting: "trump was standing on balcony at White House,GASPING 4 AIR.dont know bout you,but im brimming over with CONFIDENCE."
Filmmaker Michael Moore equally did not mince words, deeming the photo op "disgustingly staged."
He wrote: "After watching that disgustingly staged return to the White House, complete with staircase ascension to the Mussolini balcony, mask removed in disdain, ready to infect again, Trump the Killer. And then came the Biden Town Hall. And we realized, take nothing, nothing for granted."
Avengers star Chris Evans retweeted Trump, criticizing him for downplaying the severity of the virus.
"Don't be afraid of COVID?!" he questioned. "You've been under round-the-clock care by the best doctors using the best drugs. Do you really think everyone has access to that?! Sadly, I'm sure you're aware of that disparity, you just don't care. This is reckless to a shocking degree, even for you."
Mandy Moore of This Is Us fame called the President cruel. She tweeted: "Don't be afraid of COVID? Tell that to the 210,000 families who have lost loved ones. To the Black, Brown and Indigenous folks disproportionately affected. With tens of millions of jobs lost and the economy tanked. Many of us isolated for months. You're the cruelest. #votehimout."
Other celebrities to comment on Trump's balcony spectacle include Zach Braff, Colin Hanks, Josh Gad and more.
Since Trump tested positive, several members of the Senate have reportedly gone on to test positive for the virus, including GOP Senators Thom Tillis, Mike Lee, and Ron Johnson, as well as a few key figures within the Trump administration.
White House adviser Hope Hicks, former Trump adviser Kellyanne Conway, former New Jersey Governor Chris Christie and First Lady Melania Trump have also tested positive.