Trump Attacks Rivals, Biden Defends Voters in Contrasting Election Statements
President Donald Trump's combative press conference on Thursday, in which he outlined unsubstantiated claims of a Democrat plot to steal the election, contrasted with his rival Joe Biden's concise remarks focused on the right of voters to decide its outcome.
Throughout his latest press conference, the Republican incumbent rallied against Biden and the Democrats. Trump directly referring to the Democratic party and its members on 13 occasions, and mentioned Biden by name seven times. The president later continued his accusations in an early morning tweet Friday.
In contrast, Biden did not make a single reference to Trump or the Republicans in his latest press conference earlier on Thursday.
He instead focused on the sanctitude of the vote in America, as he called for all ballots to be counted.
"In America, the vote is sacred. It's how people of this nation express their will, and it is the will of the voters, no one, not anything else, that chooses the President of the United States of America," he said.
"So each ballot must be counted and that's what we're going to see going through now, and that's how it should be."
He has spoken of being confident of victory though has stopped short of saying he believes it is already secured. In contrast Trump has made unfounded claims of victory.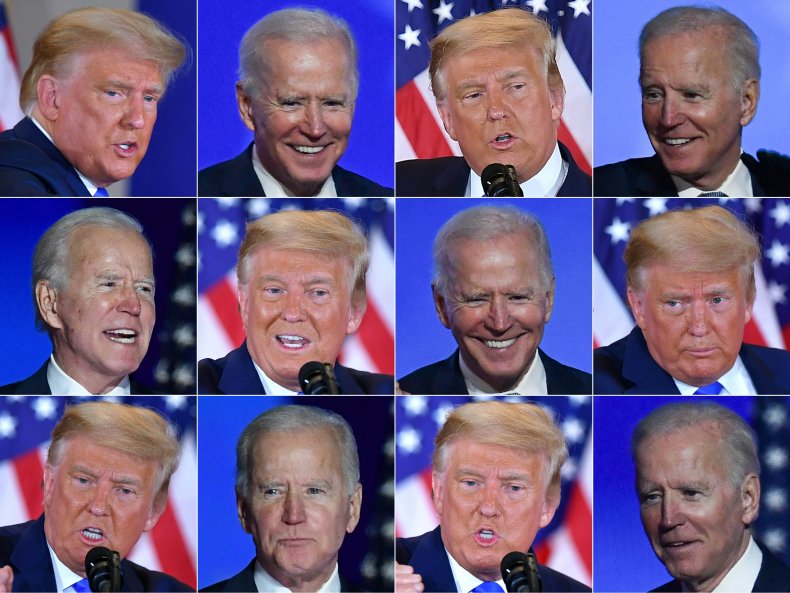 "We have no doubt that when the count is finished, Senator Harris and I will be declared the winners," Biden said. "So, I ask everyone to stay calm—all the people to stay calm. The process is working. The count is being completed and we'll know very soon."
It comes as Biden appears to be edging closer to victory, according to recent calls. The Associated Press puts the Democrat on 264, with potentially just one state able to take him over the coveted 270 electoral college vote threshold. However, the call of Arizona to Biden has been disputed. Without Arizona, Biden has 253 electoral college votes.
The Trump campaign has launched a string of legal battles in a bid to stop certain states counting, though such lawsuits have been rejected in Michigan and Georgia, while the president is also calling for a recount in Wisconsin. Historically, recounts have rarely altered the initial count's outcome significantly.
Newsweek has contacted the Trump and Biden campaigns for comment.
Currently 270 electoral college votes are needed to win the race for the White House. The graphic below, from Statista, shows the tightest presidential elections based on electoral votes since 1896.