Trump Claims He Has 'Easily' Won, Previews Supreme Court Election Argument
President Donald Trump has again prematurely suggested he is set for re-election, while outlining in part his argument for a potential Supreme Court clash over votes.
The president has frequently cried foul since Election Day, despite lacking evidence for this, while insisting his victory is secure despite ongoing counts.
Returning to this narrative of wrongdoing surrounding the casting and tabulating of votes, he tweeted in the early hours of Friday: "I easily WIN the Presidency of the United States with LEGAL VOTES CAST."
After this, he went on to expand somewhat on why he deems certain votes to not be legal and his desire for the Supreme Court to weigh in on the matter.
He said: "The OBSERVERS were not allowed, in any way, shape, or form, to do their job and therefore, votes accepted during this period must be determined to be ILLEGAL VOTES. U.S. Supreme Court should decide!"
His tweet has since been marked by Twitter, which said its content "is disputed and might be misleading."
Trump mentioned "the legal vote" and the "illegal votes" in a White House press conference Thursday night, in which he claimed without evidence the election is somehow being stolen by the Democrats.
It comes with his campaign having filed several lawsuits to try and halt vote counts, while also requesting a recount in Wisconsin. Calls for counts to stop in Michigan and Georgia have been rejected by judges in the states.
Amid his claims of victory, Trump has faced a major backlash from rivals while even some supportive of him winning a second term have questioned his early declarations of victory despite votes still being tallied.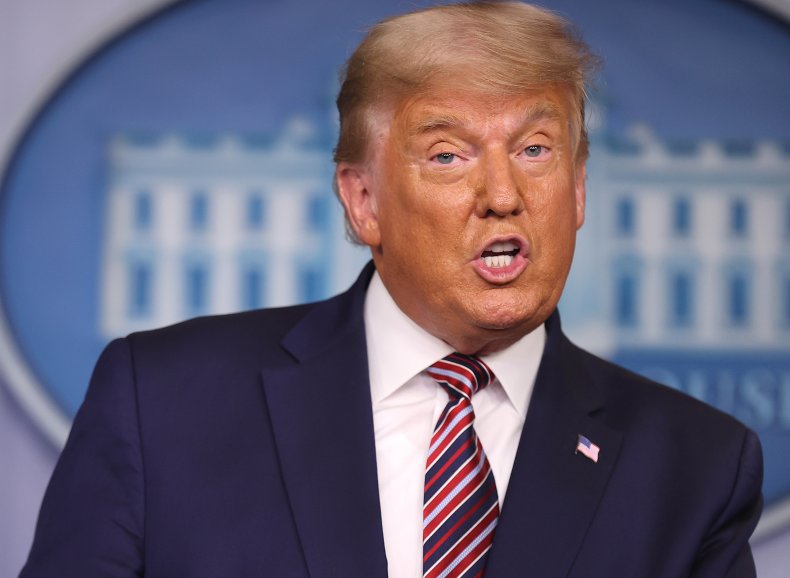 In contrast to Trump, Democratic presidential candidate Joe Biden has insisted all votes must be counted.
"In America, the vote is sacred. It's how people of this nation express their will," he said in a press conference at the Queen Theater in Wilmington, Delaware.
"And it is the will of the voters—no one, not anything else—that chooses the president of the United States of America. So each ballot must be counted."
He has spoken of confidence over securing victory, though stopped short of labeling the race already won.
According to The Associated Press' calls, Biden is on 264 Electoral College Votes while Trump is on 214. This puts the Democrat potentially just one state away from victory.
However, AP has called Arizona, as did Fox News, a decision which has been questioned. Without that state, Biden would be on 253 Electoral College votes going by other calls.
Newsweek has contacted the Trump and Biden campaigns for comment.
As Trump and Biden race to secure 270 Electoral College votes, the graphic below from Statista shows the tightest presidential elections based on electoral votes since 1896.