Who Is Winning the Presidential Election and Which States Are Left to Call?
Joe Biden could be just one battleground state away from securing the coveted 270 electoral college votes he needs to secure a spot in the White House, according to the Associated Press.
AP has called Arizona for Biden, although other news outlets including CNN have not. With the state's 11 electoral college votes, Biden sits on 264—six away from victory. Without Arizona, where votes are still to be counted, Biden would instead be on 253.
President Donald Trump sits on 214, according to the AP's calls.
It comes after AP also called Michigan and Wisconsin for Biden. After a close race, the Trump campaign has called a recount in Wisconsin, a state worth 10 electoral college votes.
Historically, it has been rare—though not unheard of—for such action to overturn a result.
There are just five states left in play, according to the Associated Press—four of which could give Biden the electoral college majority. They are:
Alaska, three electoral college votes
Nevada, six electoral college votes
North Carolina, 15 electoral college votes
Georgia,16 electoral college votes
Pennsylvania, 20 electoral college votes
Securing victory in any of these states, except for Alaska, would seal the election for Biden—based upon the AP calls.
What's happening in Arizona?
Following disputed calls, Arizona could shift the landscape of the presidential election.
Both AP and Fox News called the state for Biden on election night, though Trump and his campaign have pushed against this. Speaking shortly after the calls were made, Arizona's Republican Governor, Doug Ducey, said it was "far too early" to do so.
An error in the state's vote count, first reported by The New York Times onWednesday, at one point made it appear 98 percent of the votes had been counted when in reality it was closer to 86 percent.
If the state were to eventually declare for Trump, its 11 electoral college votes could prove a block to Biden's route to 270.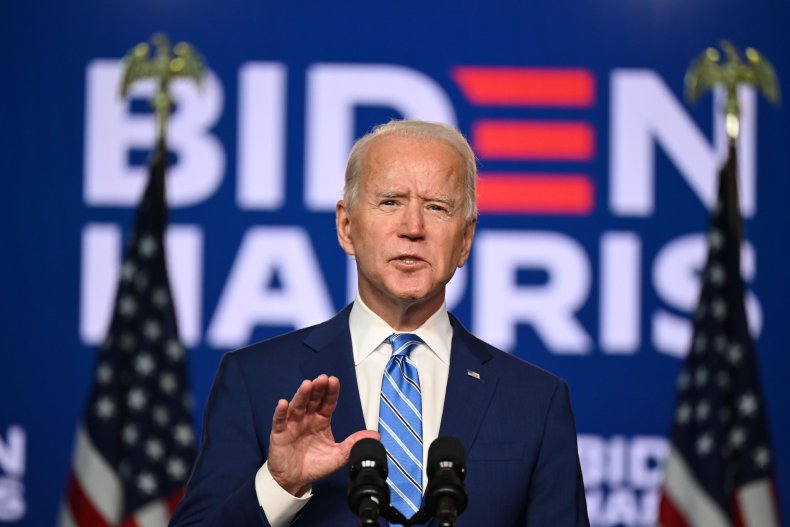 Without Arizona, Biden would be on 253 electoral college votes, giving him less of an advantage over Trump's 214.
This would mean Pennsylvania would be the only singular state which could tip him over 270, otherwise he would need a combination of at least two of the other states in play. For example, taking North Carolina (15) and Nevada (6) would give him a combined 21 extra votes.
How have Trump and Biden reacted?
Trump prematurely declared that he had won in an early hours press conference on Wednesday. While Biden has not gone so far as to declare victory, he has said he expects he will be victorious once all the votes are counted.
Late Wednesday, the Biden campaign sent an email to supporters urging them to "keep the faith." Within this, a message from Biden read: "After a long night and day of counting, it is clear we are winning in enough states to reach the 270 electoral votes needed to win the presidency.
"I am here to report that when the count is finished, I believe I will be the winner."
He went on to address that it was expected results were "going to take a while" due to the amount of early and mail-in voting, adding: "We're going to have to be patient until the hard work of tallying the votes is finished. And it ain't over until every vote is counted, every ballot is counted."
Meanwhile, the Trump campaign has filed lawsuits in several battleground states, calling for vote counts to be halted in Michigan, Pennsylvania and Georgia, in addition to demanding a recount in Wisconsin.
The president himself also pre-emptively declared wins in several states and suggested officials are "finding Biden votes all over the place," continuing his unfounded claims of widespread fraud related to mail-in voting. One Trump campaign insider told Newsweek the legal actions were a "Hail Mary" effort.
Speaking in the East Room of the White House in the early hours of Wednesday, Trump said: "We were getting ready to win this election. Frankly, we did win this election."
At the time he spoke of potential legal action and "going to the U.S. Supreme Court."
"We want the law to be used in a proper manner so we'll be going to the U.S. Supreme Court," Trump said. "We want all voting to stop. We don't want them to find any ballots at four o'clock in the morning and add them to the list. This is a very sad moment."
Newsweek has contacted the Biden and Trump campaigns for comment.
As Trump and Biden race to reach 270, the graphic below from Statista shows the tightest election races, according to the Electoral College, since 1896.