Trump Calls Progressive Democrats 'a True Powerhouse,' Predicts AOC Will Challenge Schumer
Former President Donald Trump appeared to tacitly praise progressive Democrats in a Friday statement, referring to the left-wing faction in Congress as "a true powerhouse."
Trump's statement came after progressives successfully postponed a vote on the $1.2 trillion bipartisan infrastructure bill this past week. Progressive lawmakers have for months said they would not back the bipartisan bill, which passed with significant Republican support in the Senate, unless it was approved in conjunction with a larger partisan $3.5 trillion "human infrastructure" budget reconciliation package.
"The Progressives gain far more power with the legislation being currently talked about by failing than if it passes. It makes them a true powerhouse. Next up, AOC running against Chuck Schumer for his US Senate Seat," Trump said in the statement posted to Twitter just before midnight on Friday by his spokesperson, Liz Harrington.
Representative Alexandria Ocasio-Cortez, a New York Democrat often referred to by her initials AOC, has been one of the key progressive lawmakers pushing for the passage of both pieces of legislation in tandem.
"We need to be real: Are we going to deliver universal pre-K to this country or not? Are we going to expand health care to our seniors and include vision and dental or not? Are we going to invest in housing...or not? That's what we need to know," Ocasio-Cortez told reporters on Friday, explaining progressives' efforts to hold up the traditional infrastructure bill.
The Congressional Progressive Caucus—chaired by Democratic Representative Pramila Jayapal of Washington—asserted earlier this year that it would only back the $1.2 trillion package if a separate and much larger reconciliation package was approved by the Senate as well. Jayapal and other progressive leaders have pointed out that the two packages combined would achieve much of President Joe Biden's promised Build Back Better agenda.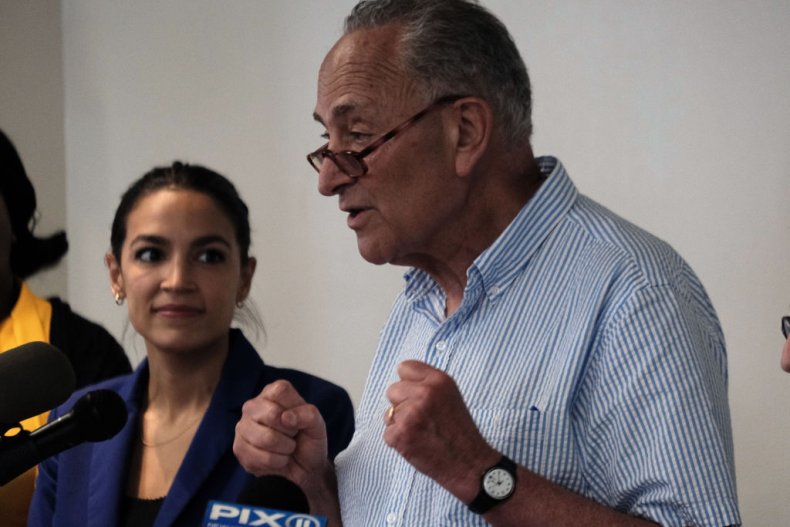 Progressives fear that if they vote for the traditional infrastructure bill before the reconciliation package is approved, that moderate Democrats will then refuse to support the much larger spending bill. This past week, the left-wing faction wielded its power within the Democratic Caucus and refused to vote for the $1.2 trillion bipartisan bill before the budget reconciliation negotiations are completed.
There has long been speculation that Ocasio-Cortez—who was first elected to Congress in 2018—may seek to challenge Senate Majority Leader Chuck Schumer of New York for his Senate seat. Schumer is up for re-election next year.
Ocasio-Cortez has not said she plans to challenge Schumer. Late last year, the congresswoman suggested she has actually considered leaving Washington, D.C. altogether when she was asked by The New York Times if she'd consider a Senate run in the near future.
"I genuinely don't know. I don't even know if I want to be in politics. You know, for real, in the first six months of my term, I didn't even know if I was going to run for re-election this year," the progressive lawmaker responded.
The congresswoman went on to say: "But I'm serious when I tell people the odds of me running for higher office and the odds of me just going off trying to start a homestead somewhere—they're probably the same."
Newsweek reached out to Ocasio-Cortez's press secretary for comment but did not immediately receive a response.