Donald Trump Campaign Hits Omarosa With Arbitration Action, Claiming She Breached NDA With Tell-All Book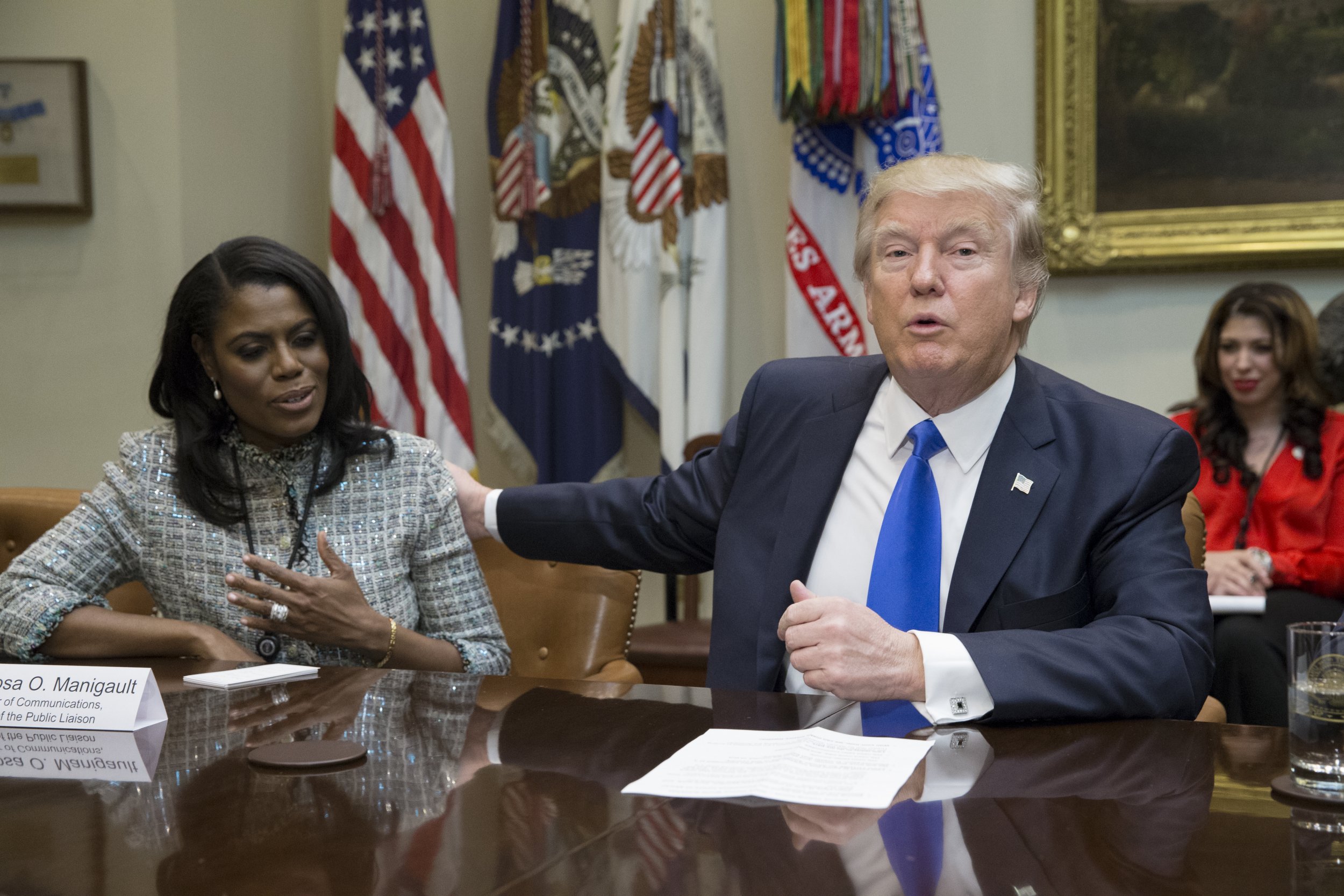 President Donald Trump's campaign filed for arbitration Tuesday against fired White House aide and former Apprentice contestant Omarosa Manigault Newman, whose new tell-all book claims she has tapes of the president using the N-word multiple times.
A Trump campaign official confirmed the arbitration action to Newsweek on Tuesday after it was first reported by the Washington Examiner.
"Donald J. Trump for President, Inc. has filed an arbitration against Omarosa Manigault-Newman, with the American Arbitration Association in New York City, for breach of her 2016 confidentiality agreement with the Trump Campaign," the official said in an email.
Arbitration is a method of resolving disputes between two or more people or groups, often by neutral third-parties considered to be impartial to either side, in an attempt to reach a legally binding agreement.
The Examiner also reported that a campaign official said Trump will seek millions of dollars because of Manigault Newman's "egregious" violations of a nondisclosure agreement (NDA) that she signed during the 2016 campaign, although this could not be confirmed by Newsweek Tuesday.
Manigault Newman, who was fired a year after becoming the president's director of communications for the Office of Public Liaison, has continued to say she did not sign an NDA as part of her official White House duties. But the campaign official said she will be held accountable for the 2016 agreement.
The official also told the Examiner that the campaign might pursue any "ill-gotten profits" she's received from her new book, Unhinged: An Insider's Account of the Trump White House, which came out Tuesday.
Trump has fired back at Manigault Newman several times over her allegations that he is a racist and used the N-word while shooting his former reality-TV show, The Apprentice, including Tuesday morning on Twitter, when he called her a "dog." Calling women by that derogatory term is something the president has a long history of doing.
"When you give a crazed, crying lowlife a break, and give her a job at the White House, I guess it just didn't work out," the president said. "Good work by General Kelly for quickly firing that dog!"
In her book, Manigault Newman claimed she was offered $15,000 a month in hush money by the Trump campaign after she was fired in December 2017. She wrote that Trump's daughter-in-law Lara Trump presented the offer as a diversity outreach adviser position for the campaign. With the job offer came the requirement to sign an NDA, which Manigault Newman said would have prevented her from publicly disclosing anything about the president or his family and Vice President Mike Pence or his family.
"The NDA attached to the email was as harsh and restrictive as any I'd seen in all my years of television," she wrote in her book.
Audio provided to CBS News by Manigault Newman and released Tuesday morning appeared to confirm her past claims that administration officials were aware of a possible tape with Trump using the N-word. The audio is from an October 2016 phone call Manigault Newman recorded with Lynne Patton, then an assistant to Eric Trump; Katrina Pierson, a Trump 2020 campaign spokesperson; and Jason Miller, a 2016 campaign communications director. The conversation was allegedly about how to publicly handle a scenario in which a tape with the president using racial slurs would be unveiled.
"It sounds like she's writing a script for a movie," Pierson told Fox News Monday night in her denial that the call ever took place. Patton denied Monday night the call ever took place in a statement, saying at "no time did I participate in a conference call with Katrina Pierson advising me, Jason Miller and Omarosa Manigault-Newman" about a tape.
In a statement Tuesday, Pierson said the secret recording was one of the "many times" she tried to "move the discussion along because I was weary of [Manigault Newman's] obsession over this alleged tape."