Trump Chips Away at Russia Investigation With Pardons for Five Convicted by Mueller
President Donald Trump's latest batch of pardons highlights his ongoing efforts to chip away at former special counsel Robert Mueller's investigation into Russian interference in the 2016 election.
On Wednesday evening, Trump issued pardons for more than two dozen people—including the father of his son-in-law and several longtime political allies. The action came just one day after the president handed out 15 pardons, bringing the number of people granted clemency in Trump's final weeks in the White House to nearly 50.
The list includes five people convicted in Mueller's probe into the Trump campaign's ties to Russia: former campaign chairman Paul Manafort; former national security adviser Michael Flynn; campaign adviser George Papadopoulous; ally Roger Stone; and attorney Alex van der Zwaan.
The pardons play into Trump's crusade to discredit the findings of the Mueller probe, which he repeatedly refers to as a "witch hunt." The investigation did not establish that the Trump campaign criminally conspired with Russia to influence the election. However, it did detail 10 instances where Trump had possibly attempted to impede the probe.
Mueller's report said it did not exonerate the president.
After the report came out, Trump falsely claimed that the probe found no wrongdoing and criticized Mueller as doing a "horrible job." Later, Trump-appointed Attorney General William Barr appointed special counsel John Durham to investigate the origins of the Russia probe—a move celebrated by Trump.
The first person to be convicted by Mueller's investigation was van der Zwaan, a Dutch lawyer, in 2018. The attorney spent 30 days in prison after pleading guilty to lying to the FBI.
Manafort was also among the first people to be charged in the Russia investigation for conspiracy against the United States and conspiracy to obstruct justice. He was later convicted by a jury for financial crimes related to his political consulting work in Ukraine and sentenced to more than seven years in prison.
In a series of Twitter posts, Manafort thanked Trump for the pardon and heaped praise on the president: "You truly did "Make America Great Again." God Bless you & your family. I wish you a Merry Christmas & many good wishes for the coming years."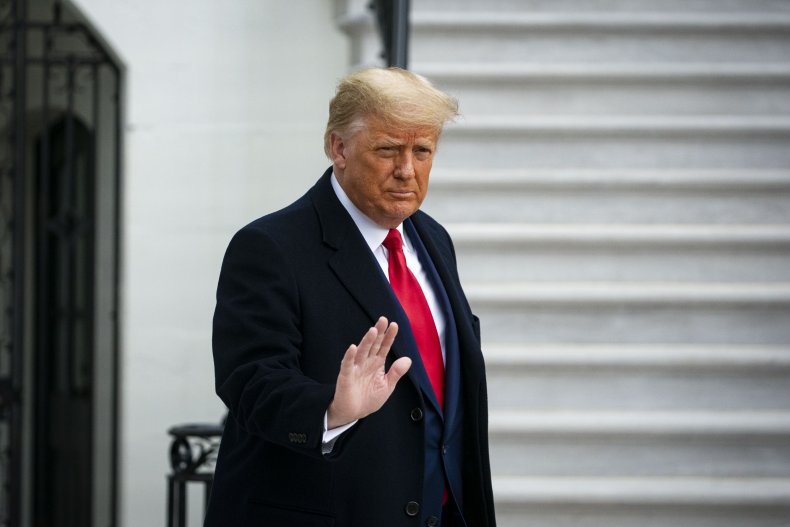 Papadopoulos, a foreign policy adviser on Trump's 2016 campaign, spent two weeks in federal prison and had one year of supervised release for lying to investigators. After he served his time, he wrote a book about the "deep state" and attempted to run for Congress.
In a statement reported by NBC News, Papadopoulous said he was "ecstatic" about the pardon and that he looked "forward to the contents of the Durham probe becoming public which should only reinforce why this decision by the President was sound and with a strong basis."
Stone was sentenced to 40 months in prison for seven counts of lying to Congress, witness tampering and obstruction. The 68-year-old political consultant made headlines during his trial over controversial social media posts and was eventually censured by a judge.
Stone celebrated his pardon in an interview with Fox News host Tucker Carlson, during which he hailed Trump as the "greatest president since Abraham Lincoln."
"I have an enormous debt of gratitude to God almighty for giving the president the strength and courage to recognize that my prosecution was a completely politically motivated witch hunt and that my trial was a Soviet-style show trial in which the judge denied us any powerful line of defense," Stone said.
The first person convicted in the Russia probe to be pardoned by Trump was Flynn, who was granted clemency the day before Thanksgiving. The former national security adviser had twice pleaded guilty to lying to the FBI about his conversations with a Russian diplomat. In a statement, Flynn's family thanked the president "for answering our prayers and the prayers of a nation" by pardoning him.
It's not unusual for an outgoing president to issue a flurry of pardons before leaving office, but Trump's recent actions have raised eyebrows on both sides of the political aisle. Plus, one poll found a majority of voters predicted that the president will use the power for his own benefit rather than for the good of the country.
Representative Adam Schiff (D-CA) tweeted about Manafort's pardon specifically, writing: "Trump's pardon now completes the corrupt scheme. Lawless until the bitter end." Senator Ben Sasse (R-NE) issued a brief statement after Wednesday's pardon that read: "This is rotten to the core."