Trump Is a 'Classified Documents Terrorist,' Should Be Arrested: Kirschner
Former federal prosecutor Glenn Kirschner on Friday called former President Donald Trump a "classified document terrorist" over allegedly mishandling top secret and other classified records—storing them in his Mar-a-Lago resort home in Florida.
The Katie Phang Show host Katie Phang asked Kirschner whether he thinks an indictment could now come more quickly for Trump after recent reports said that the Department of Justice believes the former president is still holding on to more classified documents—which reportedly should have been turned over to the National Archives.
"Katie, how could it not?," the attorney, a legal analyst for MSNBC and NBC News, responded. "The federal government, the National Archives negotiated with Donald Trump [and] I'm gonna call him what he has proven himself to be at this point, he's a classified documents terrorist."
"The government asked for them back; he refused to give it. The government subpoenaed them back; he refused to give them all back. The government got a search warrant and executed it at Mar -a-Lago and got a bunch more documents, and now the reporting is he is still unlawfully retaining and concealing additional documents," Kirschner added.
The legal analyst was referring to a New York Times article, which reported this week that Jay Bratt, who leads the department's counterintelligence operations, recently told Trump's attorneys that the department believed he didn't return all the documents he was supposed to after leaving office.
During his interview with Phang, Kirschner addressed Bratt, who he said was his former colleague, saying "if I could say just one thing to my friend and former colleague, Jay Bratt, it would be arrest the classified documents terrorist and put an end to our long national nightmare."
"The evidence is there tenfold. It's time to... really step up and enforce the laws against Donald Trump the way they would be enforced against any other mere mortal," Kirschner said.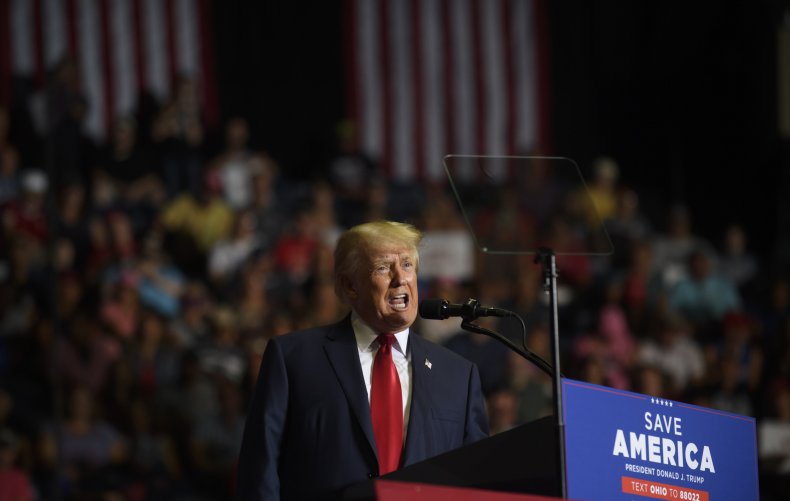 Meanwhile, Harvard law professor and legal scholar Laurence Tribe made similar remarks on Thursday, predicting that the DOJ looks as if it is moving towards possibly indicting Trump in connection to the classified documents probes.
"This looks like a major step toward an indictment of Trump by DOJ for obstruction of justice," Tribe tweeted, sharing the Times article.
However, the Times report mentioned that no details were provided about the potential next steps that the justice department would take to retrieve any documents it thinks are still in Trump's possession. The DOJ declined to comment on the matter when contacted by Newsweek.
It is also not known whether the department has gathered new evidence that could potentially show that Trump still held on to classified materials even after the FBI search of his Florida home in August.
Still, Bratt's outreach caused a divide in Trump's legal team on how to approach the Justice Department, with one side insisting on taking a more adversarial stance when dealing with the department, according to the Times.
FBI agents raided Trump's Mar-a-Lago residence to retrieve White House classified documents after an approval from Attorney General Merrick Garland. That decision came following a tip received by law enforcement from an informant who knew the type of documents Trump kept and where he stored them.
Documents recovered reportedly included sensitive information about "highly classified programs" and nuclear weapons. Authorities also found dozens of empty folders that were marked "classified."
Trump has denied any wrongdoing in handling the documents and said that he had already declassified them to be able to take them to his house. However, many legal analysts, including former Justice Department official Mary McCord, have said that he was not authorized to do so after leaving the White House.
Newsweek reached out to Trump's media office for comment.