Donald Trump Rages at Suggestion He Was Snubbed by Exclusive Event
Former President Donald Trump has hit out at the Club for Growth after the influential conservative club failed to invite him to their recent donor retreat in Florida.
The anti-tax organization held a three-day event from March 2 to March 4 featuring appearances from top GOP figures such as Florida Governor Ron DeSantis and 2024 presidential candidate, former South Carolina Governor Nikki Haley.
However, the former president was not invited to speak at the event, with the Club for Growth indicating they will not support Trump in his latest bid for the White House, and have heavily suggested that DeSantis—who is expected to be Trump's main challenger in the 2024 GOP presidential primary—should be the one to lead the party heading into the next election.
In a post on Truth Social, Trump took issue with reporting from The New York Times that said that the Club for Growth "snubbed" the former president by not inviting him. The Times also reported that the group's board of directors unanimously supported its president David McIntosh's decision not to invite Trump to the retreat.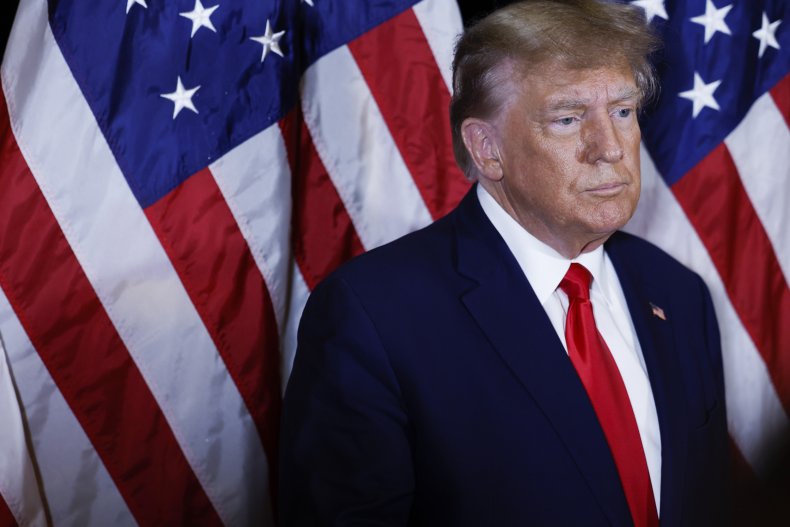 "The Club for No Growth didn't 'snub' me at all, as was reported in the Fake News NYT. It is I that won't deal with them because, like Ron DeSanctus, they are GLOBALISTS who want to cut Social Security and Medicare, and also raise the minimum age for Social Security to at least 70," Trump wrote.
"I am 'America First,' and also want to protect Social Security and Medicare. In other words, don't waste your money on Club for No Growth or DeSanctus, it's just not going to happen!"
It is not the first time that Trump has attacked the Club for Growth, with the former president headlining the Conservative Political Action Conference in Maryland on Saturday at the same time as the donor retreat.
"Club for No Growth is a 'dud.' Nobody interested. Big coverage and crowd at my CPAC Speech. People are tired of RINOS & GLOBALISTS. THEY WANT AMERICA FIRST!" Trump wrote on Truth Social over the weekend.
Speaking to The Palm Beach Post, McIntosh said the three-day retreat was an opportunity to promote "new talent" within the GOP that could share their ideas of "where America should go, or what America would need."
"We wanted to show all of the different talent that was in the Republican Party, thinking about running or being speculated about running," McIntosh said.
He added there was "nothing personal from my end," with regards to not inviting Trump to the event.
During her appearance on Saturday, Haley criticized Trump for his spending record during his time at the White House.
"The last two Republican presidents added more than $10 trillion to the national debt. Think about that. A third of our debt happened under just two Republicans," Haley said, via The Hill.
In a closed door speech to donors, DeSantis also hit out at Republican figures who act "like potted plants," with regards to conservatives' ongoing battle in the culture wars.
"I'm going on offense," DeSantis said, reported Fox News. "Some of these Republicans, they just sit back like potted plants, and they let the media define the terms of the debate. They let the left define the terms of debate. They take all this incoming, because they're not making anything happen. And I said, 'That's not what we're doing.'"