Trump Complains Michael Cohen is Talking About Testimony: 'Not Allowed'
Donald Trump criticized Michael Cohen for speaking to the media after he had finished testifying before a grand jury investigating alleged hush money payments made to adult film star Stormy Daniels on Trump's behalf.
Trump was invited to testify before the grand jury but declined.
Cohen spoke on record with several media outlets, revealing details about the process of being before the grand jury.
Trump took to Truth Social to criticize Cohen, saying that speaking publicly about the testimony was "not allowed".
A day after Michael Cohen finished his testimony before a grand jury, Donald Trump berated his former personal attorney for talking too much.
A grand jury has been investigating the allegations that Cohen paid $130,000 in hush money to porn star Stormy Daniels just before the 2016 election on Trump's behalf. Trump has repeatedly denied the claims, and Cohen was sentenced to three years in prison in 2018 after pleading guilty to campaign finance violations related to the payments. The grand jury's investigation could lead to an indictment for Trump, who faces several other potential indictments, such as for allegedly meddling with the 2020 election.
NBC News reported that Trump had been invited to testify before the grand jury, which the former President declined.
After Cohen finished his testimony, he spoke on record with several media outlets about what he experienced, a move that Trump criticized on his Truth Social platform.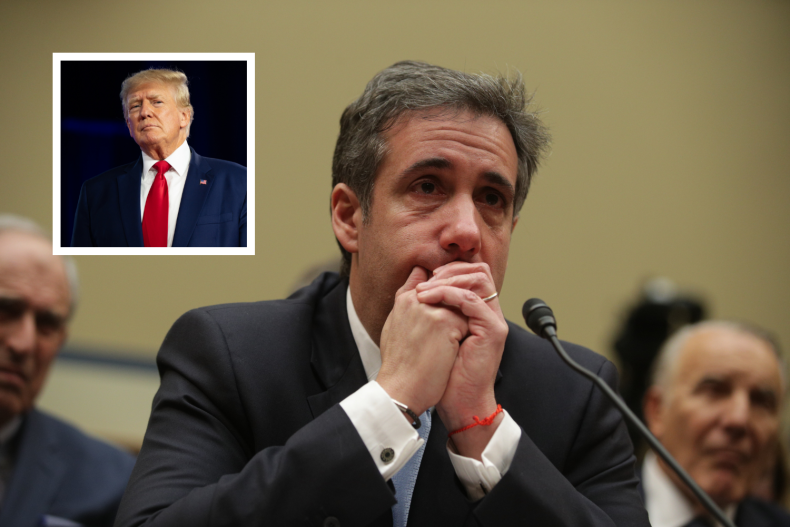 "Does anybody believe that SleazeBag disbarred lawyer Michael Cohen went before a Grand Jury yesterday, and did little but talk about it today? You're not allowed to do that, just like in Georgia where the Juror was severely admonished for 'talking.' Cohen has no credibility at any level - A Total Loser!" Trump posted on Thursday.
Trump was comparing Cohen's actions to grand juror Emily Kohrs. Kohrs served as the grand jury forewoman in the investigation into former Trump's alleged efforts to overturn the 2020 election. In a polarizing move, Kohrs spoke to several media outlets about the details of the grand jury's report detailing some aspects of the special grand jury's report, including indictment recommendations and the names of witnesses who testified.
After his testimony, Cohen appeared on several media outlets, including an in-person appearance with CNN's Don Lemon on Thursday morning and a phone interview with MSNBC's The Reid Out host Joy Reid on Wednesday night.
During the interview with Lemon, Cohen revealed the process of the grand jury and explained why he was cooperating with the grand jury.
"I know it sounds hokey, but my goal is to ensure that truth comes out," Cohen said.
Cohen was careful about the details he revealed, and when Lemon asked him what the prosecutors asked him before the grand jury, Cohen was cryptic in his answer.
"Obviously, you know one of them deals with the hush money payments," he said.
Cohen's testimony has been under scrutiny, as the jury may interpret some of his claims as due to having a "white-hot hatred" for Trump. However, Cohen remained a key witness for the grand jury.
Cohen admitted he believes Trump might be indicted as a result of the investigation and said he didn't want to doll out too many details in case he was called as a witness in a future trial.
"I really do want to respect the process," he said.
Instead, Cohen spoke about the process and compared it to being on trial.
However, the information he revealed was too much for Trump, who took to Truth Social Thursday after seeing Cohen's interviews. The feud between the two remains fiery, with Cohen taking his own shots at Trump on Twitter Thursday. Cohen tweeted a screenshot of a post on Trump's Truth Social page in which Trump again claims he wasn't involved in paying hush money to Stormy Daniels. Trump said the claim was a "false acquisition" from Cohen, but Cohen suggested Trump meant "accusation" instead.
"Dumb*** Donald taking his lies to his failing social media platform. The orange crusted ignoramus is on full display with another incorrect use of the English language...the word isn't acquisition, you possible meant accusation," Cohen tweeted.
When asked if Cohen broke any laws by speaking to media after his testimony, a spokesperson for Trump's campaign told Newsweek that "Michael Cohen is a convicted felon" but did not specify if he broke any laws by speaking about his testimony with the media.