Dr. Fauci Called For Health Emergency Fund Back in 2017, Warned U.S. Would Face a 'Surprise Outbreak'
Dr. Anthony Fauci, a leading health expert and member of President Donald Trump's coronavirus task force, predicted three years ago that the administration would have to deal with a surprise disease outbreak.
The director of the National Institute of Allergy and Infectious Diseases (NIAID) told a Georgetown University event on pandemic preparedness in January 2017 that there was "no doubt" President Trump's team would face "challenges that their predecessors were faced with" over infectious diseases.
He also called for the creation of a "public health emergency fund" aimed at handling situations such as a surprise virus outbreak, adding that waits for funding had been "painful" in the past.
Delivering a keynote speech at the Georgetown University Medical Center event, Dr. Fauci said: "If there's one message that I want to leave with you today... is that there is no question that there will be a challenge to the coming administration in the arena of infectious diseases.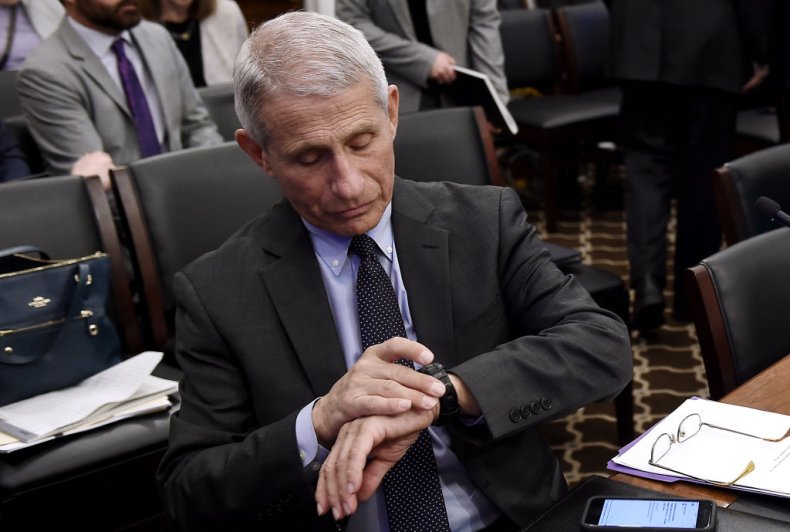 "Both chronic infectious diseases in the sense of already ongoing disease, and we have certainly a large burden of that, but also there will be a surprise outbreak.
"And I hope by the end of my relatively short presentation you will understand why history, the history of the last 32 years that I've been the director of NIAID, will tell the next administration that there's no doubt in anyone's mind that they will be faced with the challenges that their predecessors were faced with."
He went on to note that over his career he had advised several president's on a range of emerging infectious diseases, such as HIV/AIDS and the Zika virus.
Going over the lessons that could be learned from the response to HIV/AIDS when dealing with emerging diseases, Dr. Fauci said: "You have to commit substantial financial and human resources. These things don't get addressed spontaneously by themselves.
"You have to enlist the best and the brightest investigators in both basic and clinical research."
The NIAID director also stressed the importance of involving the community in responding to infectious disease outbreaks.
He later said: "We do need a public health emergency fund. It's tough to get it... but we need it. Because what we had to go through for Zika—it was very, very painful when the president asked for the $1.9 billion in February and we didn't get it until September."
At the end of his keynote speech, Dr. Fauci said: "The administration that is going to come in in the next few days. Will there be a resurgence of Zika? Are we going to see a resurgence or not?
"What about influenza? Are we going to get a new pandemic? And the third bullet is probably the most important: what about things that we're not even thinking about?"
He added that history told society "definitively" that it would happen, adding: "It is a perpetual challenge. It is not going to go away, so the thing we're extraordinarily confident about is that we are going to see this in the next few years."
Newsweek has contacted the NIAID for further comment and will update this article with any response.
In an interview with Fox News on Tuesday night, Dr. Fauci said he believed everyone was doing "really well" with their efforts to combat the spread of COVID-19, and called President Trump's travel restrictions on China "unquestionably the right move."
The commander-in-chief announced further travel restrictions against people traveling from European countries in the Schengen area to the United States on Wednesday night.
President Trump said the ban would last for 30 days, beginning Friday at midnight, and not apply to U.K. citizens or cargo and trade items.
He also said he would be asking Congress to approve emergency economic policies aimed at handling the market impacts of COVID-19, such as his proposed payroll tax cut.
Democrats also unveiled their own economic relief proposals on Wednesday that included small business grants "to help cover the cost of lost business, providing paid sick leave, and more."
"I am instructing the Small Business Administration to exercise available authority to provide capital and liquidity to firms affected by the coronavirus," Trump said at his address later in the day.
"Effective immediately, the SBA will begin providing economic loans in affected states and territories. These low-interest loans will help small businesses overcome temporary economic disruptions caused by the virus."
World Health Organization advice for avoiding spread of coronavirus disease (COVID-19)
Hygiene advice
Clean hands frequently with soap and water, or alcohol-based hand rub.
Wash hands after coughing or sneezing; when caring for the sick; before; during and after food preparation; before eating; after using the toilet; when hands are visibly dirty; and after handling animals or waste.
Maintain at least 1 meter (3 feet) distance from anyone who is coughing or sneezing.
Avoid touching your hands, nose and mouth. Do not spit in public.
Cover your mouth and nose with a tissue or bent elbow when coughing or sneezing. Discard the tissue immediately and clean your hands.
Medical advice
If you feel unwell (fever, cough, difficulty breathing) seek medical care early and call local health authorities in advance.
Stay up to date on COVID-19 developments issued by health authorities and follow their guidance.
Mask usage
Healthy individuals only need to wear a mask if taking care of a sick person.
Wear a mask if you are coughing or sneezing.
Masks are effective when used in combination with frequent hand cleaning.
Do not touch the mask while wearing it. Clean hands if you touch the mask.
Learn how to properly put on, remove and dispose of masks. Clean hands after disposing of mask.
Do not reuse single-use masks.