Trump Coughs Repeatedly in Sean Hannity Fox News Interview, As Questions Mount on COVID Test Results
President Donald Trump broke sentence to cough at least twice during an interview with Fox News' Sean Hannity as he aims to return to physical campaigning despite questions over his COVID-19 test results.
Trump has spoken of feeling "really good" after returning to the White House, having been treated at Walter Reed Military Medical Center.
Speaking with Hannity over the phone, he said he is in "great shape" though did not confirm whether he had yet tested negative for COVID-19.
He said he would have a test on Friday, though said there had been "very little, if any" in recent tests.
"I think I'm the most analyzed human being in the world right now," he said, in regards to treatment he had received following his diagnosis.
Discussing debates, with his rejection of the move for this to be done virtually, he coughed and said "excuse me" as he paused to do so. He did the same while discussing people going out to vote in person.
Several Democratic lawmakers have called for more detail on what his test results have been.
"Show us Trump's negative test before he goes out and holds more rallies and infects more people," Rep. Pramila Jayapal (D-WA) wrote on Twitter.
"And while you're at it, show us the last negative test before the positive test last week. We still don't know the timeline.
"Until then, stay the hell home and save some lives."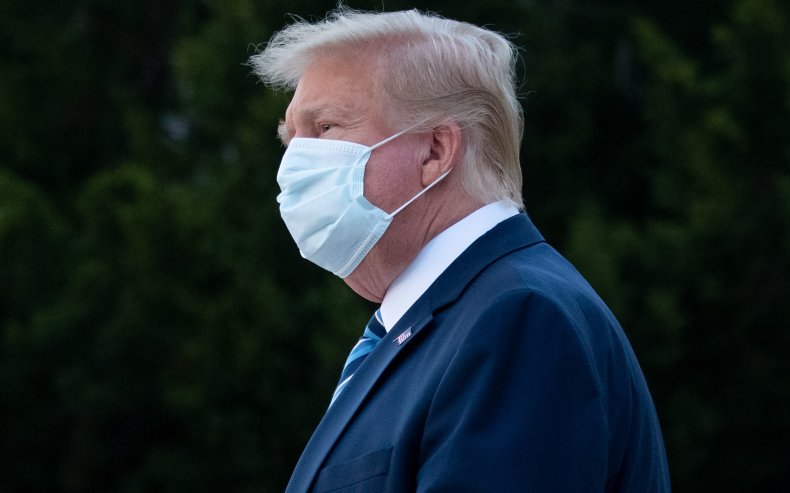 Rep. Gerry Connolly (D-VA) questioned possible reasons for "the White House to cover up the date of Trump's last negative result."
He suggested this could be Trump tested positive pre-debate with Biden, but said he did not. Or alternately, said it could be he did not take a test pre-debate.
Sen. Brian Schatz (D-HI) wrote simply: "When did he last test negative?"
The president's physician, Sean Conley, gave a health update for the commander-in-chief, which was released by the White House on Thursday.
"Since returning home, his physical exam has remained stable and devoid of any indications to suggest progression of illness," he said.
"Overall he's responded extremely well to treatment, without evidence on examination of adverse therapeutic effects. Saturday will be day 10 since Thursday's diagnosis, and based on the trajectory of advanced diagnostics the team has been conducting, I fully anticipate the President's safe return to public engagements at that time."
Newsweek has contacted the White House and the lawmakers mentioned for comment.
Trump tested positive for COVID-19 last week and is not the first world leader to do so.
The below graphic, from Statista, outlines a timeline of leaders having been diagnosed.