Donald Trump's 'Biggest Opportunity' to Hurt Ron DeSantis Revealed
Donald Trump has an ideal chance to attack Ron DeSantis at the Conservative Political Action Conference by noting the recent praise given to the Florida Governor by Jeb Bush, according to a former GOP congressman.
David Jolly, who formally represented Florida's 13th district, told MSNBC's Joy Reid that the former president should use the comments Bush gave to Fox News in support of DeSantis and "hang that around Ron DeSantis' neck" at CPAC.
Trump is set to headline CPAC on March 4. DeSantis, who is widely considered the main challenger to Trump in the GOP presidential primary despite still not confirming he's running for president, won't be present at the event. Instead, he will be attending GOP dinners in Texas and California, as well as a Club for Growth donor retreat in Florida.
Bush, a former Florida governor and 2016 presidential hopeful, recently named DeSantis as a future GOP leader, describing him as a "serious contender" in Republican politics who has "shown that Florida can be a model for the future of our country."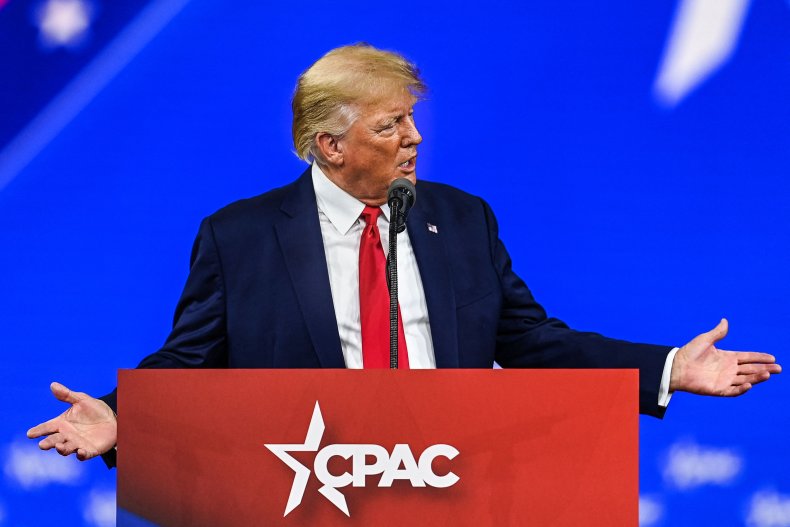 On Wednesday's episode of The ReidOut, Jolly said Trump has an ideal opportunity to attack his potential primary rivals at CPAC in their absence.
"What I'm watching for this is the biggest opportunity Donald Trump has had since he launched his re-election campaign, to do one thing, go after Ron DeSantis, Mike Pence and the establishment Republicans," Jolly said.
"He's attacked David McIntosh, the leader of the Club for Growth. On the eve of CPAC, Ron DeSantis just rolled out the endorsement of Jeb Bush. Now, if Donald Trump is worth his salt as the angry, populist leader of MAGA nation, he is going to hang that around Ron DeSantis's neck and do it at CPAC."
Jolly made the remarks despite DeSantis not having "rolled out" the supportive comments from Bush, and Trump already repeatedly attacking DeSantis on Truth Social.
Bush recently told Fox News' Brian Kilmeade that DeSantis has been a "really effective governor" and believes the GOP is on the "verge of a generational change."
Bush added: "I think it's time for a more forward leaning future oriented conversation or politics as well, which has made him should he choose to run for president, a serious contender in Republican politics, and who better to do it than someone who's been outside of Washington, who's governed effectively, who I think has shown that Florida can be a model for the future of our country."
Bush later told Politico that the comments were merely "praise" rather than an official endorsement of DeSantis.
David B. Cohen, a professor of political science at the University of Akron in Ohio, said that Trump may actually run the risk of being seen as "petty" if he uses his upcoming CPAC appearance to attack those also seeking the GOP presidential nomination.
"If anything, the shade Trump will attempt to throw at former acolytes turned potential rivals like Ron DeSantis and Mike Pence will make him seem small and petty—though most all of his public actions do that already," Cohen told Newsweek.
"Events like CPAC will just serve to remind some conservatives how much they relish the thought of turning the page from Trump to someone else."
Bush was seen as the early frontrunner in the 2016 GOP presidential primary until Trump threw his name into the hat.
Trump repeatedly attacked Bush during the 2016 primary, seeing him as indicative of the apparent failures of the establishment GOP in the preceding years.
Trump also tried to attach Bush to his brother, former President George W. Bush, and what he called the "mistake" of the 2002 invasion of Iraq.