Donald Trump Risks Looking 'Small and Petty' Trying to Stop GOP Rivals
Donald Trump is set to headline this year's CPAC as he continues to argue the case that he is still the one to lead the GOP in 2024.
The former president is expected to appear at the Gaylord National Harbor in Maryland on Saturday to close out the event, which kicks off on Wednesday.
Among some of the other speakers at this year's CPAC are two confirmed GOP 2024 presidential hopefuls—former South Carolina Governor Nikki Haley and entrepreneur Vivek Ramaswamy.
However, two other Republicans who are seen as bigger potential challengers for Trump in the GOP presidential primary—former vice president Mike Pence and Florida Governor Ron DeSantis—will not be present at CPAC, and instead will be appearing at a Club for Growth donor retreat held at the same time.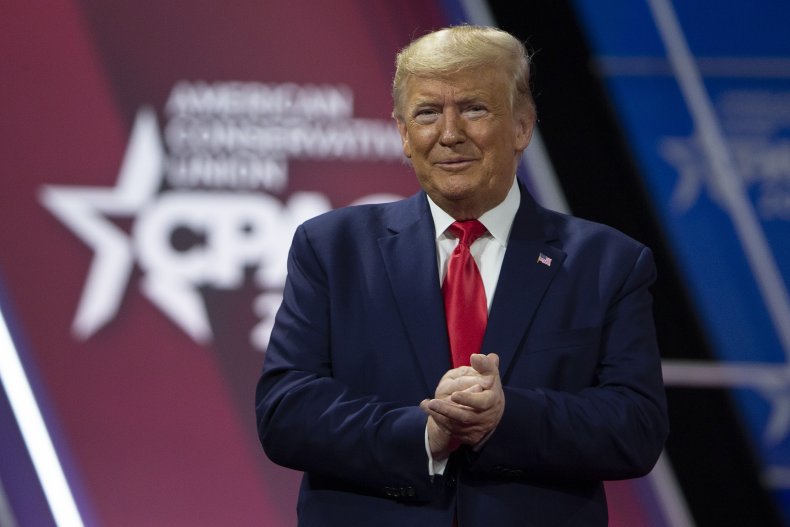 With DeSantis widely seen by many Republicans and top donors as the ideal replacement for Trump in 2024, the former president may see his headline slot at CPAC as a key opportunity to remind those in the party that their still the de-facto leader in the GOP, and fight off any challenge from prospective rivals.
Just like in 2016, Trump is reverting back to his beloved tactic of attacking and insulting his GOP primary candidates, with DeSantis, who has yet to confirm he is running for the White House, the main rivals.
David B. Cohen, professor of political science at the University of Akron in Ohio, suggested that Trump's appearance at this year's CPAC will have "little impact" on the 2024 presidential race given how established he is at this point.
However, the former president may actually hinder his primary chances if he uses his headline slot to merely continue to air out his grievances, or launch insults at those such as DeSantis.
"Trump's been there, done that when it comes to CPAC. It's not as if he's an unknown quantity—in fact, Trump is probably the most well-known person on the planet. He's frankly over-exposed with the amount of attention he has received since 2016 and during his controversial presidency," Cohen told Newsweek.
"The 2024 election is 20 months away—a lifetime in politics. Everything can and will change before now and then so events like CPAC mean nothing.
"If anything, the shade Trump will attempt to throw at former acolytes turned potential rivals like Ron DeSantis and Mike Pence will make him seem small and petty—though most all of his public actions do that already. Events like CPAC will just serve to remind some conservatives how much they relish the thought of turning the page from Trump to someone else," Cohen added.
A majority of Trump's attacks on DeSantis have come via his Truth Social account, where the former president frequently posts GOP primary polls showing him heavily beating the Florida governor. Trump also shared a post that insinuated DeSantis groomed teenage girls when he was a teacher.
DeSantis has yet to retaliate to the attacks or attempt to smear the former president himself.
During an appearance Tuesday on Fox News' Jesse Watters' show, DeSantis evaded a question about whether he is indeed running for president and dismissed the constant insults from Trump.
"He used to say how great of a governor I was. And then I win a big victory and all of a sudden he had different opinions, so you can take that for what it's worth," DeSantis said.
"At the end of the day, one of the reasons I've been successful as governor is I don't really pay attention to a lot of the background noise."