Donald Trump Criticizes Russia For Enabling Syrian Regime's 'Butchery'
Departing from his routine praise of Vladimir Putin, President Donald Trump criticized Russia for its actions in Syria, saying it has "enabled" the regime's "butchery" of civilians.
Trump raised the issue of chemical and biological weapons as he chaired a U.N. Security Council meeting Wednesday during the General Assembly's session. He reiterated accusations that President Bashar al-Assad's government has repeatedly used such weapons against civilians during the seven-year conflict in Syria.
"We must never forget the risk posed by biological and chemical weapons," Trump said, urging international action to address the threat, according to Voice of America. He then cited Russia and Iran.
"The Syrian regime's butchery is enabled by Russia and Iran," the president said.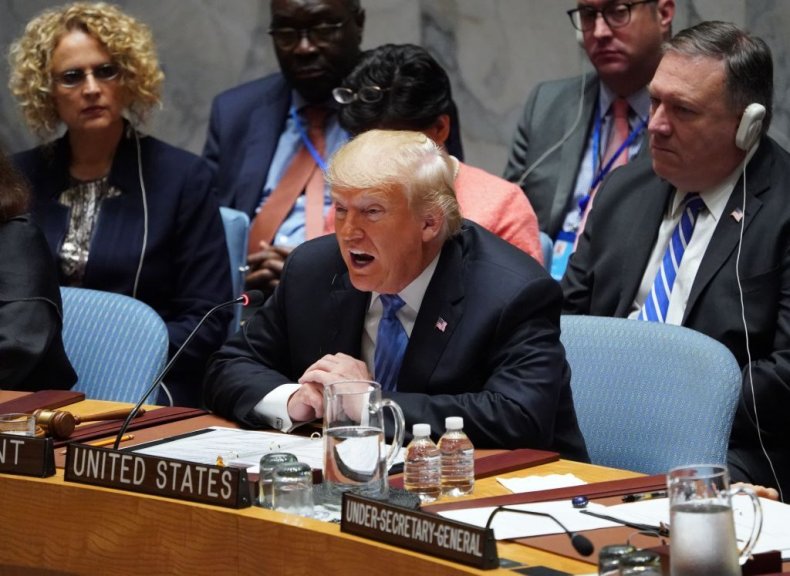 Trump also reminded the council that he has taken action in the wake of reported chemical attacks. Thus far, he has ordered two strikes on Syrian government targets since taking office. The first targeted a military airfield in April 2017, while the second struck three chemical weapons facilities in April of this year.
While Trump criticized Russia and Iran during the Security Council meeting, he also expressed appreciation for the "restraint" both nations have shown in Syria's Idlib province.
"I want to thank Iran, Russia and Syria for, at my very strong urging and request, substantially slowing down their attack on Idlib province and the 3 million people who live there in order to get 35,000 targeted terrorists," the president said, according to The Hill. He then told the three countries to "get the terrorists" but added, "I hope the restraint continues. The world is watching."
Idlib province is one of the last remaining areas under rebel and jihadi control in Syria. Throughout the conflict, Moscow and Tehran have been instrumental in propping up the Assad regime, while Turkey, along with Western powers, has supported opposition groups. Last week, Russia and Turkey struck a deal that has stalled an imminent Syrian military assault on Idlib, but tensions remain high in the region.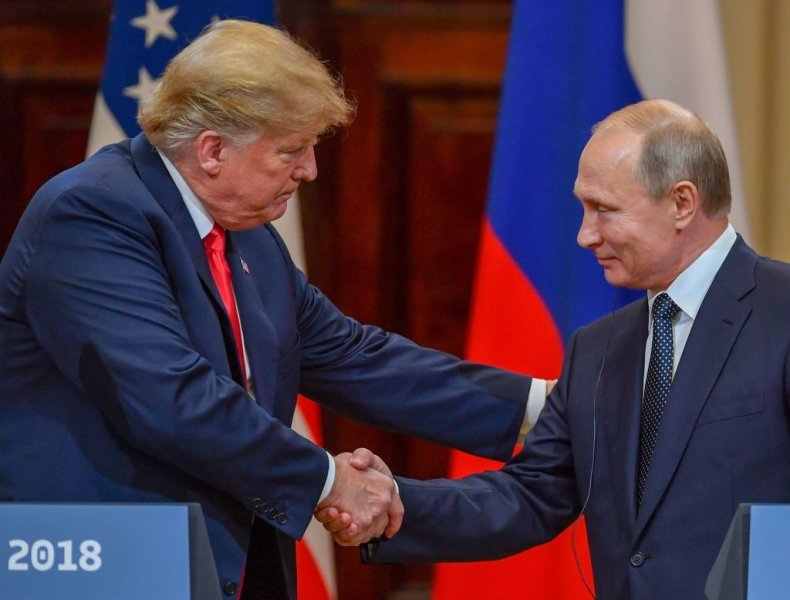 Despite positive sentiments between Trump and Putin, their governments have remained at odds over Syria. However, analysts have suggested that the two leaders agreed to an outlined endgame for the conflict during their controversial July meeting in Helsinki, Finland. The purported plan would see Assad remain in power in exchange for guarantees regarding Israel's security.
Trump's principal concern in Syria has been defeating the Islamic State (ISIS) and similar militant groups. With the battle against ISIS winding down in the region, Trump has suggested pulling the U.S. military out of the conflict, although top advisers and military officials have reportedly pushed back against the idea, fearing a possible jihadi resurgence.