Trump Demands Murdoch Fire Fox Anchors Who Didn't Back His Election Claims
Donald Trump on Thursday once again spoke out against Fox News owner Rupert Murdoch regarding his network's coverage of Trump's debunked claims that the 2020 presidential election was fraudulent.
In a post on his Truth Social platform, Trump wrote that Murdoch should fire Fox News anchors who did not endorse his baseless allegations about the race he lost to Joe Biden.
Court documents from Dominion Voting Systems' $1.6 billion lawsuit against Fox News show that Murdoch admitted during a sworn deposition that some hosts at his network promoted Trump's allegations about the election. Dominion, an electronic voting provider, is suing for defamation.
According to court documents, Fox News argues that it is not liable because it was providing neutral reporting on election fraud allegations and that statements made by its hosts were opinions.
Murdoch said in his deposition that Fox personalities Sean Hannity, Jeanine Pirro and Lou Dobbs endorsed Trump's view of the election, but the former president said he was not happy with the anchors who did not promote his stolen election claims.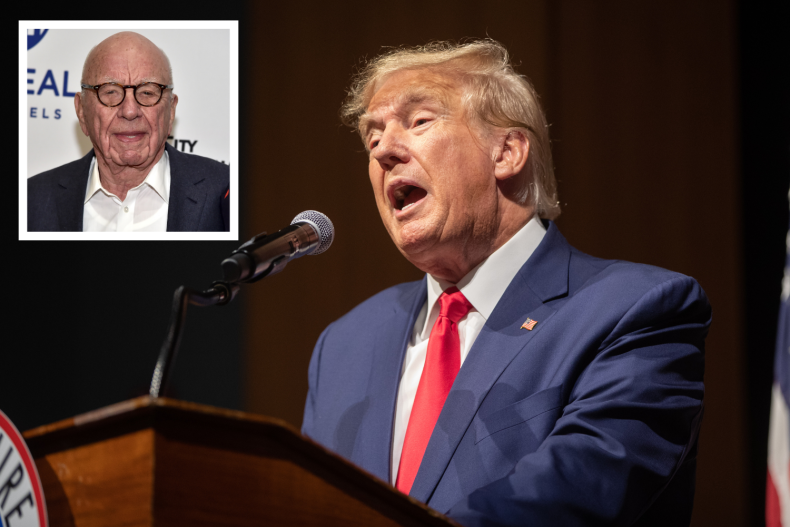 "Rupert Murdoch should apologize to his viewers and readers for his ridiculous defense of the 2020 Presidential Election. How many forms of cheating and rigging does he have to see?" Trump wrote.
Trump added that Murdoch "should also apologize to those anchors who got it right, and fire the ones who got it wrong, or were afraid to speak up (of which there were many!). It's time to get rid of Fake News, and call it like it is!"
Trump's Thursday post on Truth Social is not the first time he has written on the topic.
"There was so much Voter Fraud & Irregularities in the 2020 Presidential Election that it amazes me how weak and ineffective Fox News is at portraying itself in the lawsuit against them," Trump wrote on Tuesday.
He went on: "They look too scared and frightened to reveal the massive amounts of voter fraud & Irregularities already found, and it would actually help them in the lawsuit. Instead Fox News wants to silence its anchors and reporters, the reason so many of their viewers fled. The Election was that of a Third World Country!"
Earlier the same day, Trump wrote that Murdoch is "throwing his anchors under the table, which also happens to be killing his case and infuriating his viewers, who will again be leaving in droves—they already are."
Fox has not publicly commented on Murdoch's deposition, but lawyers for the company have argued that some of its on-air commentators might have believed Trump's claims.
"Just as Fox News hosts did not take the President's claims at face value, they did not take Dominion's denials at face value either," Fox attorneys wrote in a brief filed in the suit.
George Ajjan, an international political strategist, told Newsweek that Trump's attacks on Fox News could result in negative consequences for his 2024 presidential campaign.
"When Trump was at the pinnacle of his power, he commanded near-universal loyalty on the political right and used the specter of questioning fealty to great effect," Ajjan said. "But the circumstances have dramatically changed and Trump has been met with growing resistance from a chorus of Republicans, even those formerly solidly behind him, who crave a forward-looking approach that will usher in victory once again."
Ajjan continued, "His efforts to re-litigate the 2020 election have fallen on increasingly deaf ears and antagonizing potential kingmakers at Fox News would seem more like self-sabotage than the substance of a viable candidacy."
Newsweek reached out to Trump and Fox for comment.