Trump Digs Legal Hole 'Deeper and Deeper,' Kirschner Says After FBI Raid
Former federal prosecutor Glenn Kirschner said Friday that Donald Trump has been digging his legal hole "deeper and deeper" after news broke that there were possibly classified documents related to nuclear weapons included in the list of records the FBI sought when the federal agency raided the former president's Florida home on Monday.
The FBI, with the approval of Attorney General Merrick Garland, carried out a search warrant of Trump's Mar-a-Lago resort residence looking for top secret (TS) and sensitive compartmentalized information (SCI) as well as other classified documents. The Washington Post reported on Thursday that records related to nuclear weapons were sought by the federal agents, but Trump has described that reporting as a "hoax."
Kirschner, a legal analyst for MSNBC and NBC News who has repeatedly called for Trump's indictment, released a video on YouTube and Twitter on Friday discussing the Post's reporting and the implications of the raid.
"We just learned something from The Washington Post that just sort of takes your breath away," the attorney said. "Among the documents that Donald Trump stole from the White House, we have to call it what it is, those documents didn't belong to him. [They] belonged to the United States of America and were supposed to be transmitted to the National Archives."
The legal expert added that "among those documents, it looks like there may have been classified information about nuclear weapons systems." Kirschner continued to outline the reporting and said how Trump's actions regarding the documents could lead to potential criminal charges.
"Everything Donald Trump does just digs his own legal hole deeper and deeper and deeper," Kirschner said. "And we just need to have indictments rain down into that open hole—charging Donald Trump for his many crimes."
The warrant, which became public on Friday afternoon, cited potential violations of federal laws 18 USC 2071—Concealment, removal or mutilation, 18 USC 793—Gathering, transmitting or losing defense information, and 18 USC 1519—Destruction, alteration or falsification of records in Federal investigations. Notably, 18 USC 793 is part of the Espionage Act, which legal experts had suggested over the past couple days Trump may have allegedly violated.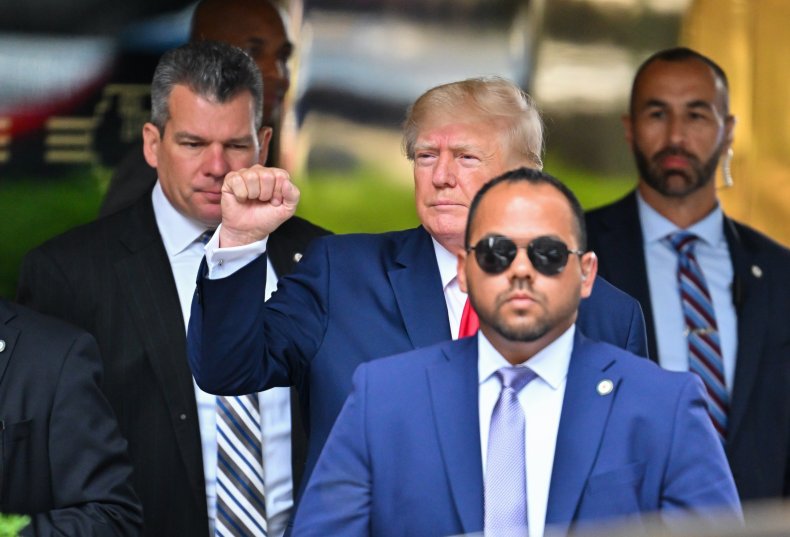 "Nuclear weapons issue is a Hoax, just like Russia, Russia, Russia was a Hoax, two Impeachments were a Hoax, the Mueller investigation was a Hoax, and much more. Same sleazy people involved," Trump wrote on his social media platform Truth Social, responding to the Post report.
Later on Friday, he went on to say that the raid was unnecessary and that he had been cooperating with authorities in the investigation. He also said that he had declassified all the documents.
"Number one, it was all declassified. Number two, they didn't need to "seize" anything. They could have had it anytime they wanted without playing politics and breaking into Mar-a-Lago," the ex-president wrote.
While presidents have wide latitude to declassify information, there are specific federal regulations outlining a process for doing so. Some legal experts have said that some of the documents recovered by the FBI might have been classified in a way that does not allow for a president to unilaterally declassify them.
News first broke in early February that Trump had improperly taken classified documents to Mar-a-Lago, with the National Archives and Records Administration (NARA) confirming that it had been searching for 15 boxes of records. Trump did not deny the story at the time, saying that it was a mix-up as his staff hastily moved him out of the White House.
After the boxes were returned to the NARA, the collection led to additional concern that the former president still had additional classified materials. Federal investigators began interviewing Trump staffers to determine what had been taken from the White House. The interviews, and a broader investigation overseen by a U.S. attorney, resulted in a grand jury subpoena served against Trump in late May to produce specific documents.
After the documents were not turned over, the FBI and the Justice Department chose to take the unprecedented step of carrying out a search warrant against a former president. A federal judge, as is normal process, approved the warrant, believing that the FBI had demonstrated probable cause.
Newsweek reached out to Trump's press office for comment.