Trump Wouldn't Win Election Today Because of Sexual Misconduct Allegations, Democrat Says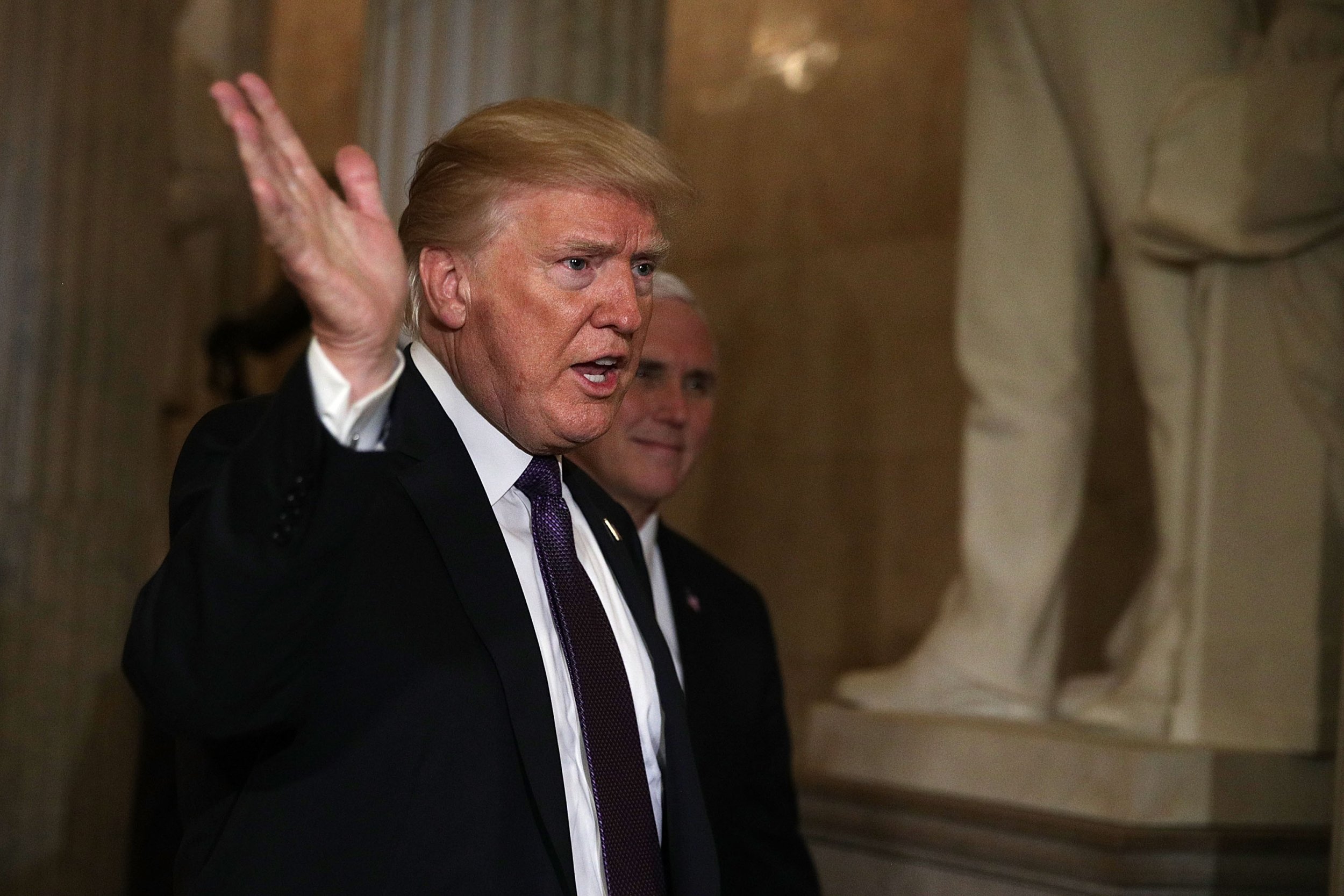 Donald Trump would not win the presidential election if it were held today because of the numerous sexual allegations against him and the "Me Too" movement that has swept the country in recent weeks, Democratic Congresswoman Jackie Speier said Sunday.
Related: Full List of Republicans and Democrats Facing Sexual Misconduct Scandals (Warning: It's Long)
More than a dozen women came forward during last year's presidential campaign to accuse Trump of sexual assault or harassment. He was also caught on an infamous "Access Hollywood" recording bragging about sexually assaulting women. Yet, just weeks later, he was elected president following a victory over Hillary Clinton. However, in the wake of a wave of women coming forward across almost every industry with accusations of sexual misconduct, Speier said that the result would now be different.
"If the president was running today, I bet he would not be elected because I think we have had a huge cultural shift that is 40 years in the making," the California representative CBS' "Face the Nation. "But I think all of us are grateful now that there is a new day for women in the workplace where they do not have to put up with sexual advances that are unwanted, that they do not have to live and work in a hostile environment and that's going to be good for all of us in the workplace."
Speier's comments come after a week in which sexual misconduct allegations have rocked the world of politics. Republican Senate candidate in Alabama Roy Moore has been hit with multiple allegations of preying on teenage girls as young as 14. On Thursday, Democratic Senator Al Franken was accused of forcibly kissing and groping a Los Angeles radio host during a 2006 USO tour. While Franken swiftly apologized for his actions, Moore has vehemently denied the allegations against him and has painted them as a smear campaign intended to destroy his chances in next month's election.
Similarly, there has been a notable contrast in the president's reactions. Trump forcibly condemned Franken in multiple tweets but has remained silent on the accusations against Moore. The White House has said that Trump's position is that it is down to the voters of Alabama to decide.
In Franken's case, the Minnesota Senator has called for an Ethics Committee investigation into his actions, a move that has similarly been backed by both the Republican and Democratic leaders in the Senate. Speaking on Sunday, Speier said that an investigation into Franken needs to run its course before making any decision on whether he should be expelled.
"I think it's appropriate for the Ethics Committee to do an investigation, Senator Franken has agreed to that as well," she said. "I also think it has to be determined if there was a pattern of sexual harassment. Incidents have to be severe or they have to be ones that happen over a period of time. So we'll wait and see what the investigation determines."
Also this week, a hearing was held in the House in which several members detailed the extent of sexual misconduct on Capitol Hill. During the hearing, Speier said that she knows of two current members of Congress who have engaged in sexual harassment.
As well as dealing with emerging allegations, previous accusations of sexual misconduct have been brought back into the spotlight. Along with those that have besieged Trump, former President Bill Clinton's history is being similarly relitigated. Most notably, Democratic Senator Kristen Gillibrand, who occupies Hillary Clinton's old Senate seat, said that Bill Clinton ought to have resigned the presidency over his sexual relationship with White House intern Monica Lewinsky, if it happened today.
Clinton also faced accusations of sexual harassment and even of rape. While Speier did not say that he should have resigned, she did suggest that his accusers should have been treated differently.
"First of all let's remember that he did face impeachment," she said. "It wasn't as if it was just tossed to the side, he faced impeachment. I think the victims who came forward were not treated as they should have been. They should have been believed, because, as I've pointed out, most victims are telling the truth."