Trump Endorses 'Strong' McCarthy Despite Boos at Rally, Sparks MAGA Outrage
Former President Donald Trump endorsed House Minority Leader Kevin McCarthy's reelection bid on Saturday despite pushback from his base.
McCarthy faced the ire of many Republicans after audio tapes leaked in April showed him criticizing Trump. Following last year's Capitol riot, McCarthy said he planned to recommend Trump resign from office. He has since described the reporting as "totally false and wrong."
Meanwhile, Trump has attacked McCarthy, a California Republican, as having an "inferiority complex," accusing him of using tough language in public statements, but privately being more supportive.
The squabble did not stop Trump from endorsing McCarthy, however, praising him as "an outstanding Representative for the people of California" in his endorsement on his social media platform Truth Social Saturday evening.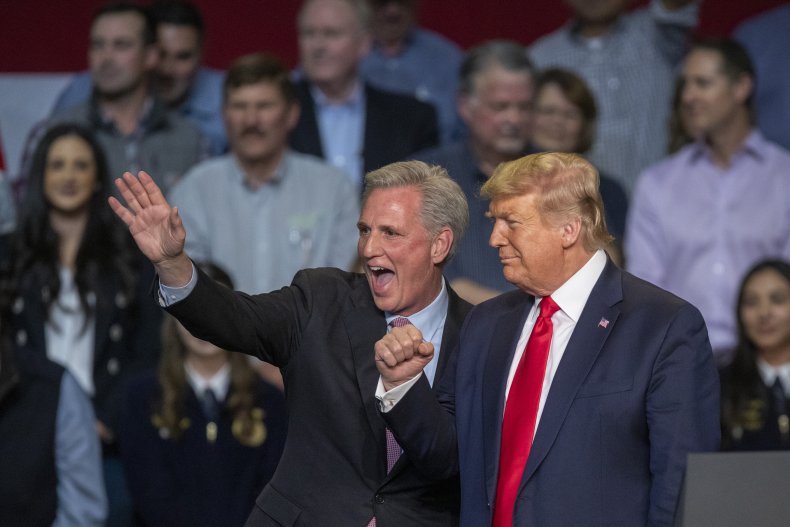 "In Congress, Kevin is a tireless advocate for the people of Bakersfield and the Central Valley," wrote Trump. "He is working incredibly hard to Stop Inflation, Deliver Water Solutions and Hold Joe Biden and Nancy Pelosi Accountable for their catastrophic failures and dereliction of duty."
'Dumb' Trump Endorsement
Trump supporters fumed over the endorsement on social media. It's his latest endorsement to face scorn from his own supporters in a sign that while he continues to hold considerable influence in the Republican Party, his sway may have limits even among his most enthusiastic supporters.
"Trump endorsing Frank Luntz bunk buddy Kevin McCarthy, instead of using his political capital to undermine bad GOP leadership, is a sign that Trump has not learned much after all this time about who is and is not America First," tweeted conservative journalist Pedro L. Gonzalez.
"Trump's endorsement of RINO traitor Kevin McCarthy is as f'ng dumb as his endorsement of Dr. Oz, just what the hell?" tweeted Twitter user @RealMike56.
"Trump's endorsement of swamp rat, Kevin McCarthy, makes me think that he has learned absolutely nothing from his past mistakes. If he were to be re-elected, he will most likely surround himself with the same losers and backstabbers, as he did in his first term," tweeted @Patriota_81.
The endorsement comes only one week after McCarthy was booed during a Trump rally in Wyoming, which was held to support Harriet Hageman, who is challenging incumbent Representative Liz Cheney, who voted to impeach the former president, in the GOP primary.
Several of Trump's endorsements ahead of the midterm elections have received pushback from some of his voters. His endorsements of Dr. Mehmet Oz and J.D. Vance in Pennsylvania and Ohio's Senate races faced criticism from conservatives who doubted the candidates' commitments to Trump's policies.
McCarthy represents a solidly conservative district that is unlikely to become competitive in November, though he has drawn several Republican and Democratic challengers hoping to unseat him.
Newsweek reached out to Trump's office for comment.