Donald Trump Slams Fani Willis After Prison Comments: 'Witch Hunt!'
Donald Trump has once more attacked Fulton County District Attorney Fani Willis after the Georgia prosecutor warned her 2020 Election investigation may result in prison sentences.
In a statement, the former president reverted to his usual tactic of describing his phone call with Georgia Secretary of State Brad Raffensperger, where the former president asked him to "find" 11,780 votes to reverse the state's results, as "perfect" and the investigation into whether the call amounted to election interference as a "political witch hunt."
Trump also criticized the crime rate in Atlanta, adding that the city leads the country in "murders and heinous crimes, especially on a per capita basis—even worse than now-fabled Chicago."
"Yet the District Attorney there is spending almost all of her waking hours, which aren't many, on attempting to prosecute a very popular president, Donald J. Trump, who got more votes in 2020 than any sitting president in the history of the United States," the former president said.
"She is basing her potential claims on trying to find a tiny word or phrase (that isn't there) during an absolutely PERFECT phone call, concerning widespread Election Fraud in Georgia, with Secretary of State Brad Raffensperger and many lawyers and other officials who were knowingly on the line, had no problems with the call, and didn't voice any objections or complaints about anything that I said on the call which could be construed as inappropriate. A strictly political Witch Hunt!"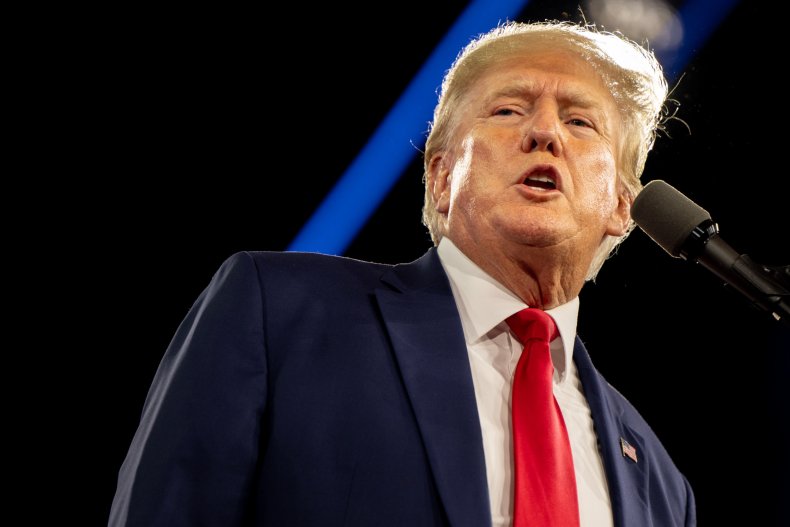 In July, Georgia news site 11 Alive reported the murder and assault rates per 100,000 people are higher in Atlanta than Chicago.
Trump's remarks came as Willis warned at least 17 people already being investigated as part of her probe are facing jail, as her team has collected evidence to suggest serious crimes were committed in attempts to overturn the 2020 election results.
"The allegations are very serious. If indicted and convicted, people are facing prison sentences," Willis told The Washington Post.
As well as Trump's phone call with Raffensberger, Willis' investigation is also looking into a "multi-state, coordinated plan" by the Trump campaign to influence and overturn the results of the 2020 election.
Among those targeted as part of the investigation include Trump's lawyer Rudy Giuliani and 16 other people who were part of the plot to create false documents wrongly declaring the former president had beaten Joe Biden in Georgia in 2020.
Dozens more people have also been subpoenaed to give evidence in front of a special grand jury that convened as part of the inquiry, and have been hearing from witnesses for the past few months.
Willis did not state whether she intends to charge the former president in connection to her probe. Trump could be forced to testify in front of the special grand jury, with a decision possibly made "late this fall," Willis told The Post.
Newsweek has contacted the Fulton County District Attorney's Office for comment.