Trump and Giuliani's Unsecured Calls Mean Kremlin Likely Knows More Than Impeachment Inquiry: CIA's Ex-Russia Ops Chief
President Donald Trump's alleged ongoing use of an unsecured phone line means his apparent calls with Rudy Giuliani were likely listened in on by Russian intelligence services, who now know more about them than the impeachment inquiry, according to a former CIA veteran.
In its impeachment report, the House intelligence committee published the phone logs of Guliani, Trump's personal lawyer, which show regular contact with the White House and a number listed only as "-1", suspected—but not confirmed—to be the president.
Trump and Giuliani are accused of coordinating in an alleged scheme to coerce Ukraine into interfering with the 2020 election to the president's advantage, by tainting his political rivals with spurious corruption investigations. Both men deny any wrongdoing. Trump faces impeachment.
According to The Washington Post, Trump is still, despite the efforts of some of his most senior aides, frequently using his personal and unsecured cell phone for calls, making him vulnerable to security breaches by foreign intelligence services.
One former senior official in the administration alleged to the Post that Trump was "totally paranoid" about the idea of using a secured White House line because it would mean daily logs of his calls, including the identities of those he spoke to. So he continued using his cell phone.
John Sipher, who spent 28 years with the CIA, including time as station chief in Moscow and running its Russia operations, told The Post the Trump-Giuliani calls may have "given the Russians ammunition they can use in an overt fashion, a covert fashion or in the twisting of information."
What's more, Sipher said that the Russians would be tracking Giuliani's calls—and probably know more about them than the impeachment inquiry.
"Congress and investigators have call records that suggest certain things but have no means whatsoever of getting the actual text," Sipher told the Post. "I guarantee the Russians have the actual information."
The White House and Giuliani did not respond immediately to Newsweek's requests for comment.
"The mere fact I had numerous calls with the White House does not establish any specific topic. Remember, I'm the President's attorney," Giuliani tweeted after the House intelligence panel published his phone logs.
On Thursday, House Speaker Nancy Pelosi, a California Democrat, announced that articles of impeachment will be brought against Trump after weeks of evidence-gathering by the inquiry.
"The facts are uncontested," Pelosi said in her statement.
"The president abused his power for his own personal political benefit at the expense of our national security, by withholding military aid and crucial Oval Office meeting in exchange for an announcement of an investigation into his political rival."
"Our democracy is what is at stake," Pelosi continued.
"The president leaves us no choice but to act because he is trying to corrupt, once again, the election for his own benefit. The president has engaged in abuse of power undermining our national security and jeopardizing the integrity of our elections.
"His actions are in defiance of the vision of our founders and the oath of office that he takes to preserve, protect and defend the Constitution of the United States."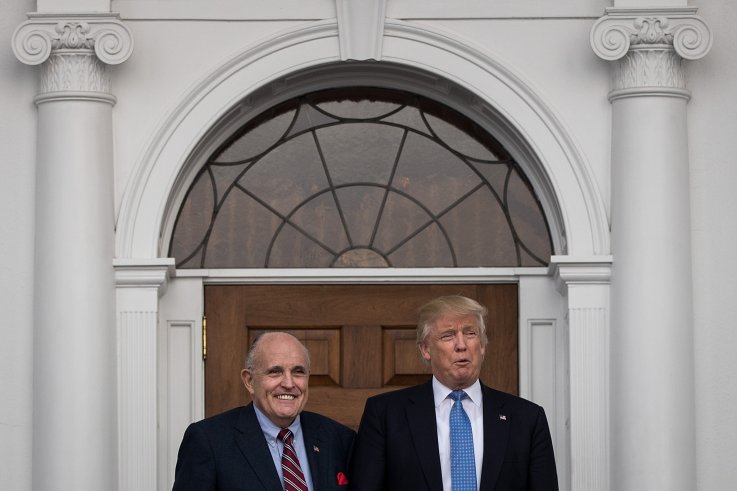 Trump and Giuliani's Unsecured Calls Mean Kremlin Likely Knows More Than Impeachment Inquiry: CIA's Ex-Russia Ops Chief | Politics