Trump Grand Juror Backs Away From Spotlight Amid Heavy Scrutiny
The forewoman of the special grand jury in Fulton County, Georgia has kept a quiet online profile as she's gone on a wide-ranging media tour this week.
On Tuesday, Emily Kohrs was identified as one of the jurors on the panel that spent eight months investigating whether former President Donald Trump and his associates sought to overturn the results of the 2020 election in Georgia.
Kohrs has given a number of interviews in recent days to news outlets like the Associated Press and The New York Times and appeared on CNN and NBC News—a decision that drew criticism from Trump himself as well as legal experts who fear it may have jeopardized Fulton County District Attorney Fani Willis' probe.
However, she appears to have kept her role as the only currently publicly-identified juror away from her social media pages, according to a Newsweek investigation.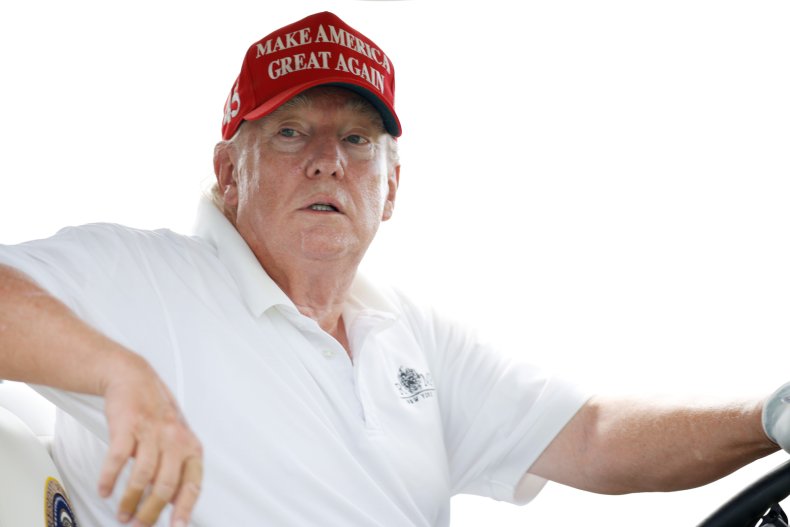 Earlier this week Kohrs' LinkedIn page previously stated that she worked for Atlanta-based court reporting agency, Elizabeth Gallo Court Reporting (EGCR). However, that page has since been taken down.
The removal of her Linkedin coincides with an EGCR press release addressing Kohrs' stated employment with the agency. On Thursday morning, EGCR told Newsweek that Kohrs has no current employment with the agency.
"While we understand the interest of the press in obtaining information, we are unable to make further comments as we are obligated to protect the privacy and confidentiality of current and past employees," EGCR said in a statement.
Individuals who are friends with Kohrs on Facebook also told Newsweek that she has not posted about the special grand jury, both during the probe and since she's been identified as a juror, on her account, nor has she addressed the media appearances she's done in recent days. The last posts on her page are birthday wishes from the summer.
While screenshots of her Facebook profile shared with Newsweek indicate that Kohrs doesn't often post on the social media site, her online silence comes in contrast to the bombshell interviews she's given and her vocal comments about potential indictment recommendations against Trump and other high-profile Republicans.
Some of Kohrs' former acquaintances were unaware that she had been in the news when Newsweek originally contacted them for comment.
Kohrs has also not responded to any of Newsweek's repeated requests for comment, nor does it appear that she's doing any additional interviews with members of the press at this time.
Kohrs has been widely condemned since speaking to other outlets.
On Wednesday, Trump blasted Kohrs, calling her "an extremely energetic young woman" who is "going around and doing a Media Tour revealing, incredibly, the Grand Jury's inner workings & thoughts."
At the same time, others have raised concerns that by speaking out on the probe, Kohrs could jeopardize the outcome of the special grand jury. Special grand juries in Georgia are not authorized to make indictments but can recommend charges to Willis, who may then impanel a traditional grand jury, which has the power to indict.
Former federal prosecutor Elie Honig described Kohrs's interviews as "a prosecutor's nightmare," telling CNN's Anderson Cooper that he predicts Trump's legal team will make a motion to dismiss any indictment based on her decision to speak about the investigation to the public.
"She's not supposed to be talking about anything, really. But she's really not supposed to be talking about the deliberations," Honig said.
Neama Rahmani, a former federal prosecutor and president of Los Angeles-based West Coast Trial Lawyers, also told Newsweek that the recent media tour "feeds into Trump's argument that the grand jury investigation is a political witch hunt by a Democratic district attorney and the left-leaning mainstream news media."
However, Rahmani said the possibility of a Trump indictment will ultimately depend on whether a traditional grand jury will be impaneled.
Legal analyst Lisa Rubin agreed, tweeting that "Kohrs's pursuit of her fifteen minutes is not likely to preclude anyone indicted and convicted from serving their term of years."
"For all the talking she did, she didn't say much," Rubin said.