Former President Donald Trump is set to stump for several candidates that he has endorsed during a rally in Alaska on Saturday as polls find his picks are trailing in several key races.
Trump, seeking to maintain his grip on the Republican Party, has made several endorsements in Alaska, which is a traditionally conservative state. He endorsed former Governor Sarah Palin in the open House race, Kelly Tshibaka in her bid against incumbent GOP Senator Lisa Murkowski, and incumbent Governor Mike Dunleavy.
Despite his endorsement, Palin and Tshibaka may be in for tough races, according to a Alaska Survey Research poll that was conducted from July 2 to July 5, which surveyed 1,201 likely voters.
Alaska uses a ranked-choice voting system, meaning that voters get to rank the candidates in order of their preference. Each round, the candidate with the fewest number of votes is eliminated until a candidate receives more than 50 percent of the vote. Primaries in Alaska are also non-partisan. Both the primary and special election will be held on August 16.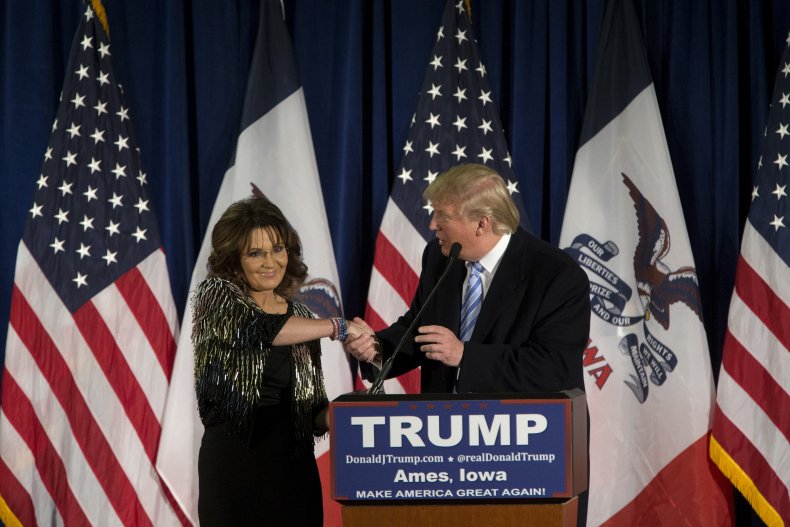 Palin Eyes Comeback, But Faces Uphill Battle
Palin, who served as governor from 2006 to 2009, is running in the special election to fill the seat that was previously represented by Congressman Don Young, who died in March. She faces Nicholas Begich, a Republican, and Mary Peltola, a Democrat. Independent Al Gross pulled his name from the ballot and endorsed Peltola.
Polling suggests that while Peltola receives the backing of most Democrats, Republicans are split between Palin and Begich. The first round of voting will likely determine which Republican will advance to the second round against the Democrat.
In the poll's first round, 31 percent of respondents chose Begich as their first choice, while 29 percent chose Palin. Still, the race between the two Republicans remains tight. Polling of a head-to-head matchup between Peltola and Palin has not been conducted, but if Palin advances, she could benefit from Alaska's conservative lean.
Begich is favored to hold onto the seat for Republicans, winning 57 percent of the vote compared to Peltola's 43 percent in the second round of voting, according to the poll.
Democrats Boost Murkowski Against Trump-Backed Challenger
In the Senate race, Trump endorsed Tshibaka, who has touted herself as a conservative alternative to Murkowski, who is a more moderate Republican, who invoked the ire of the former president by voting to convict him from office after the January 6 riot at the United States Capitol last year.
The two are joined on the ballot by Democrat Patricia Chesboro and Dustin Darden, who is running as a member of the Alaskan Independence Party, among other candidates not included in the poll.
In the first round of voting, just under 43 percent of respondents backed Tshibaka—while 35 percent supported Murkowski. Darden won the fewest number of votes, while Chesboro was eliminated in the second round. In the second round, Tshibaka won more support again, holding an 11 point lead over Murkowski.
However, in the third round of voting, Murkowski appears to win the support of Democratic and independent voters who may help propel her to victory. She won 52.2 percent of the vote, compared to Tshibaka's 47.8 percent.
Meanwhile, the poll found that Dunleavy is set to easily win reelection, winning more than 50 percent on the second round of voting.
Updated 07/10/2022 6:22 p.m. ET: This story was updated with additional information.