Trump's Last Hope of Winning Election is That Polls Are Devastatingly Wrong
Should President Donald Trump win a second term in the White House, his consistent attacks on polls will be validated: somewhere down the line they will have been wrong.
Last time out Democratic candidate Hillary Clinton was heavily tipped for victory, emphasizing the upset when Trump was victorious.
In 2016, those analyzing the race took some solace in that Trump did lose the popular vote—proving national polling right that Clinton would get more votes overall.
However, his victory came from pulling together the requisite Electoral College votes—and this time out, as Trump trails Democratic presidential candidate Joe Biden in surveys, people are looking to be more conscious of how this might again facilitate a route to glory.
This has prompted a focus on state polling, looking at routes to 270, however even accounting for this it would take results being off for Trump to secure the wins needed to cobble this number together.
"Based on polling right now, if Trump should win the electoral college, it would be a devastating blow to the polling industry. None of the major pollsters could claim that they got it right," pollster Frank Luntz told Newsweek, suggesting such a result could see the polling industry itself thrown into jeopardy.
"Pollsters will be forgiven if they make a mistake. But if they make two in a row, they're done."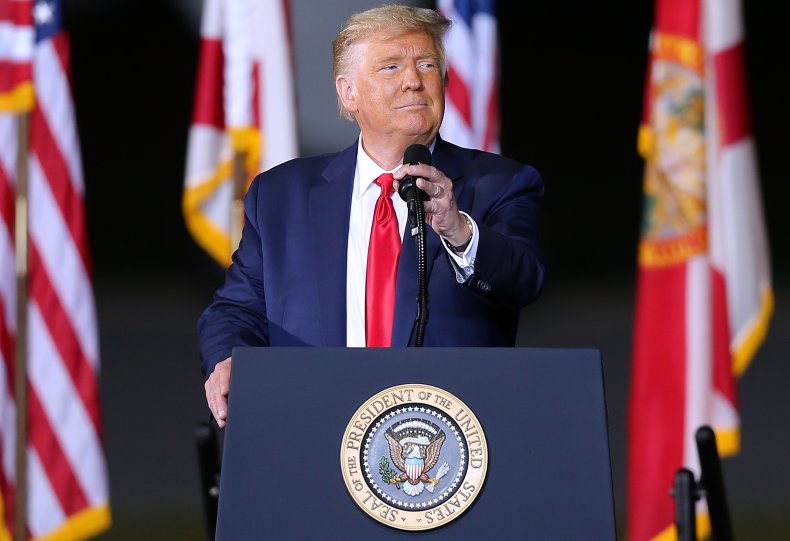 Chris Jackson, head of Ipsos Polling in the United States, told Newsweek that while Trump still has a path open to 270, should this happen, unless there is a significant switch in polls in the coming days, it would likely indicate a sizeable polling error somewhere down the line.
"Trump has a path to winning the sunbelt states (FL, GA, AZ, NC) based on where polls stand now. Beyond that he'd still need to take one Biden-leaning state to win," Jackson said.
"For that to happen, we would need to see at least one Midwestern state with a larger poll error than was seen in 2016."
On upsets in the Midwest, Jackson said: "We'd need to see a large swing in this last week or a significant error for Trump to take Michigan or Wisconsin at this point."
While a route to 270 cannot be ruled out for Trump, it would likely take a significant upset of him winning a major Midwest state which is leaning to Biden in order to bolster his numbers. Trump trails in both those states, as in several other key states.
With seven days to go until Election Day, Trump is behind in national polling by 9.1 points, according to FiveThirtyEight's tracker. His lead in national polls is significantly wider than Clinton's was at the same point in 2016.
As well as lagging in polling forecasts also place him as the underdog to Biden in terms of their estimates of who is most likely to win.
Should polls be wrong, there will be several points of speculation as to why this might be.
A report from the American Association for Public Opinion Research assessing polling from 2016 looked at several reasons which could explain why Trump's support was underestimated. These included late deciding voters disproportionately backing him or respondents giving one answer then voting another way.
The hypothesis of "shy Trump" supporters is also touched upon, in people potentially having not told pollsters they intended to vote for him despite planning to do so, though there was said to be little evidence to support this.
It was also proposed there could have been an issue with "nonresponse bias" in that a segment of Trump's support base might simply not have been participating in surveys.
How responses were weighted was also questioned last time out, with questions raised over how respondents' varying levels of education were taken into consideration in terms of how this could impact their vote.
Trump has consistently suggested polls are "fake," insisting he is headed to another victory.
Newsweek has contacted the Trump campaign for comment.