Trump Hugely Popular in States With Key Senate Races
More than a year since he left the White House, Donald Trump remains the most popular Republican figure in states with high-profile 2022 races.
New surveys from Morning Consult found roughly 8 in 10 Republican voters in Georgia, North Carolina, Ohio and Pennsylvania still have a favorable view of the former president—a potentially good sign for Republicans as Trump attempts to exert his influence over the midterm election cycle as the party aims to regain control of Congress.
In each state, Trump was viewed more favorably than House Minority Leader Kevin McCarthy, Senate Minority Leader Mitch McConnell and former Vice President Mike Pence.
Trump received the most support in North Carolina, where 87 percent of GOP voters said they had a positive view of him. Trump has endorsed Ted Budd in the primary race, and a poll released last week showed Budd ahead of former North Carolina Governor Pat McCrory.
But experts told Morning Consult that Trump's popularity doesn't necessarily directly translate into votes for his picks.
"It's one thing to say, 'Trump is popular,' and quite another to say, 'voters will do whatever they are told every time,'" political strategist Gail Gitcho told the company.
In Georgia, 86 percent of Republican voters back Trump. The former president's political power will be tested in the Peach State as two of his picks for office differ in the polls: former football star Herschel Walker is dominating the Republican field for Senate while David Perdue is behind in the gubernatorial primary.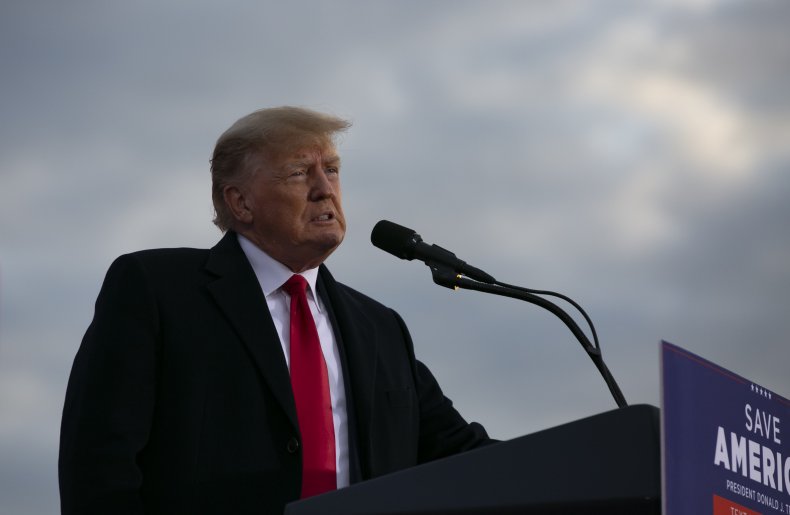 Trump made headlines over the weekend for endorsing Dr. Mehmet Oz for Senate ahead of the Republican primary in Pennsylvania.
"This is all about winning elections in order to stop the Radical Left maniacs from destroying our Country," Trump said about Oz, a former television personality, in a statement released Sunday. "I have known Dr. Oz for many years, as have many others, even if only through his very successful television show. He has lived with us through the screen and has always been popular, respected, and smart."
Meanwhile, candidates in Ohio's Republican primary for Senate are vying for a Trump endorsement. Polling released in late February showed that the former president's position could affect the outcome of the race.
Morning Consult surveyed at least 855 Republican registered voters in each state between March 1 to March 20, 2022. The polls have a margin of error of plus or minus 3 percentage points.
Newsweek reached out to Trump's Save America PAC for comment.