Will Trump Be Impeached, Removed Via the 25th Amendment or Resign?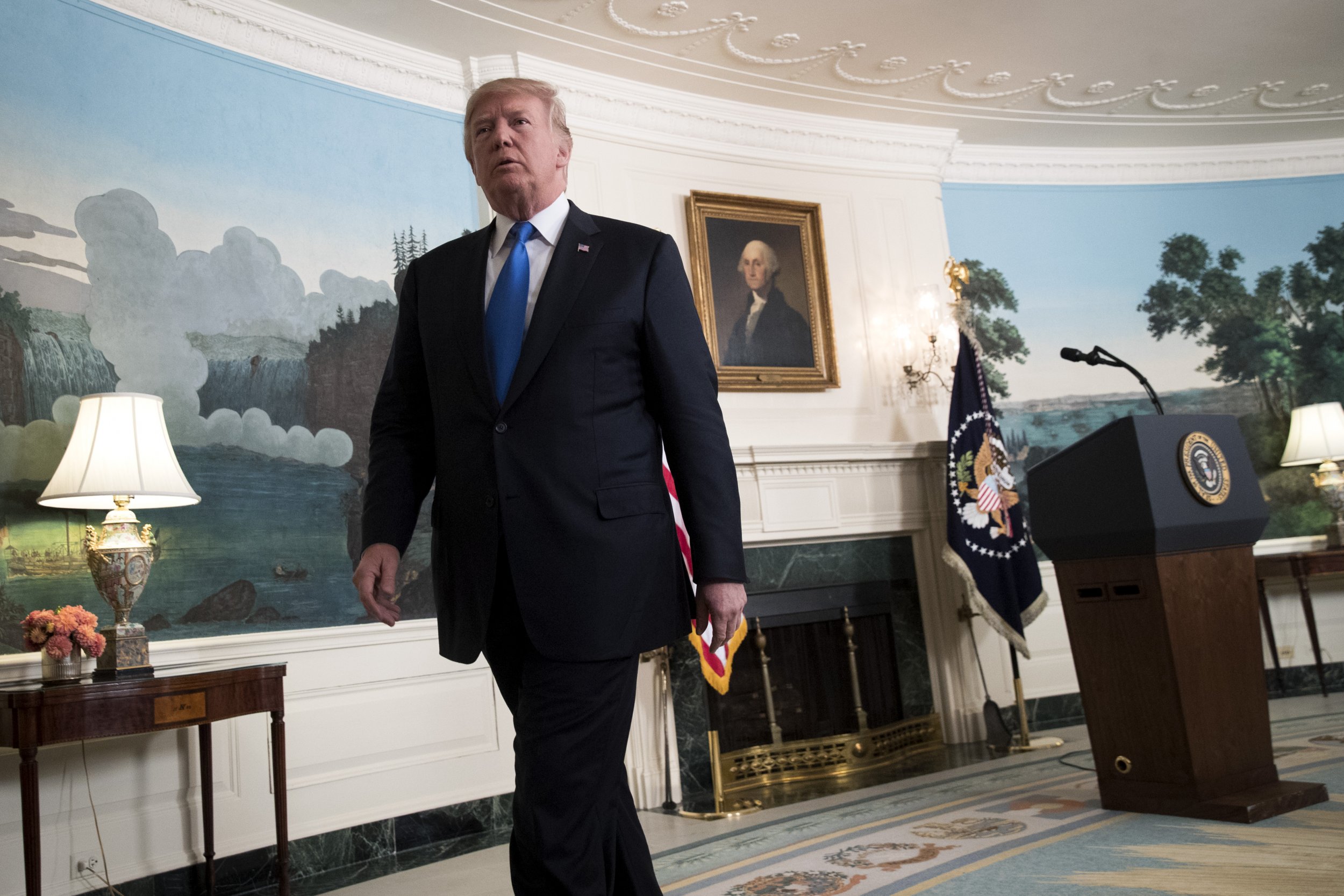 How is the Trump presidency likely to end? It is a question that has been asked more frequently by more people about President Donald Trump than about any other commander in chief in modern history. This week has again seen musings thrust back to the forefront about how the most unorthodox, unpredictable and unpopular president in modern history could exit the White House.
Related: Impeaching Trump becomes more likely every time he criticizes Republicans​
For some, his impeachment should already be on the table. On Wednesday, Representative Al Green of Texas became the second Democrat to introduce articles of impeachment against Trump on the House floor, accusing him of "betraying his trust as president."
A day later, another House Democrat made her latest call for Trump to be removed from office.
"Republicans should step up to the plate and confront the fact that this president appears to be unstable," Representative Maxine Waters of California said on MSNBC Thursday. "I believe that really has been collusion [with the Russians], and I do think that special counsel [Robert] Mueller is going to connect those dots. But I think there's enough now that we all know...that we should be moving on impeachment."
Even though Mueller has yet to reach a conclusion, Democrats have accused Trump of being eligible for impeachment on various grounds. Included among them are his response to the deadly violence following a white nationalist rally in Charlottesville, Virginia, as well as accusations that he obstructed justice in his firing of James Comey as FBI director.
Others are focusing on different ways to remove Trump from the White House. In August, Democratic Representative Jackie Speier called for Vice President Mike Pence and Trump's Cabinet to declare him unable to discharge the powers of the presidency and to use the 25th Amendment to remove him from office.
The possibility of a majority of Trump's Cabinet voting to do so has been brought back into the spotlight this week. An anonymously sourced Vanity Fair article claims chief strategist Steve Bannon, prior to his firing, told Trump that the 25th Amendment posed the greatest risk to his presidency. As well as contending that Trump's response to the 25th Amendment being brought up was to inquire, "What's that?" the article says Bannon, who was ousted from his role in August, has told people that Trump has only a 30 percent chance of making it to the end of his first term.
There have been hints of rebellion among Trump's Cabinet. An NBC News report last week claimed that Secretary of State Rex Tillerson threatened to resign and, in a meeting with Trump's national security team and Cabinet officials, described the president as a "moron."
Following the report, however, Tillerson gave a swift—and extraordinary—statement in which, while failing to deny he derided the president, declared his total faith in Trump. There has been little sign of Trump's Cabinet members being willing to distance themselves from him publicly, let alone vote to oust him from the White House.
It would likely take an act as extraordinary as authorizing a nuclear strike against North Korea, something Trump has threatened amid calls for diplomacy to prevail among those surrounding him, for his Cabinet to truly feel there was a need to take desperate action.
It is something that the Republican chairman of the Senate Foreign Relations Committee, Bob Corker, who has announced that he will not be running for re-election in 2018, hinted at last week. Corker said Tillerson, Defense Secretary James Mattis and Chief of Staff John Kelly "are those people that help separate our country from chaos."
Corker's comments represented an unparalleled condemnation of his party's president. It was followed Wednesday by Nebraska Senator Ben Sasse questioning whether Trump was reneging his oath to defend the First Amendment after his latest attack on the media. Still, those sorts of public rebukes remain the exception rather than the norm, and there has yet to be widespread dissension.
In just over a year's time, that may not be necessary to impeach Trump. To do so would require a majority vote in the House of Representatives, and the Democrats look to be gaining momentum in the race to control the chamber after the 2018 midterm elections.
Yet in order for Trump to be convicted in the Senate, which failed to happen with the only previous presidents to be impeached—Bill Clinton and Andrew Johnson—a two-thirds vote would be required. That looks unlikely to happen anytime soon, as Republicans control that body.
There is, of course, one other means to cut short Trump's presidency: He could follow the course of action already taken by multiple members of his Cabinet and resign. It is something that Trump's co-author on The Art of the Deal, Tony Schwartz, has already predicted.
As for Trump and his closest allies, though, they insist that not only will he see out his first term, he will be there for the full eight years.