Trump and Kim Jong Un Are Both Sucking Up to China's Xi Jinping Amid Nuclear Tensions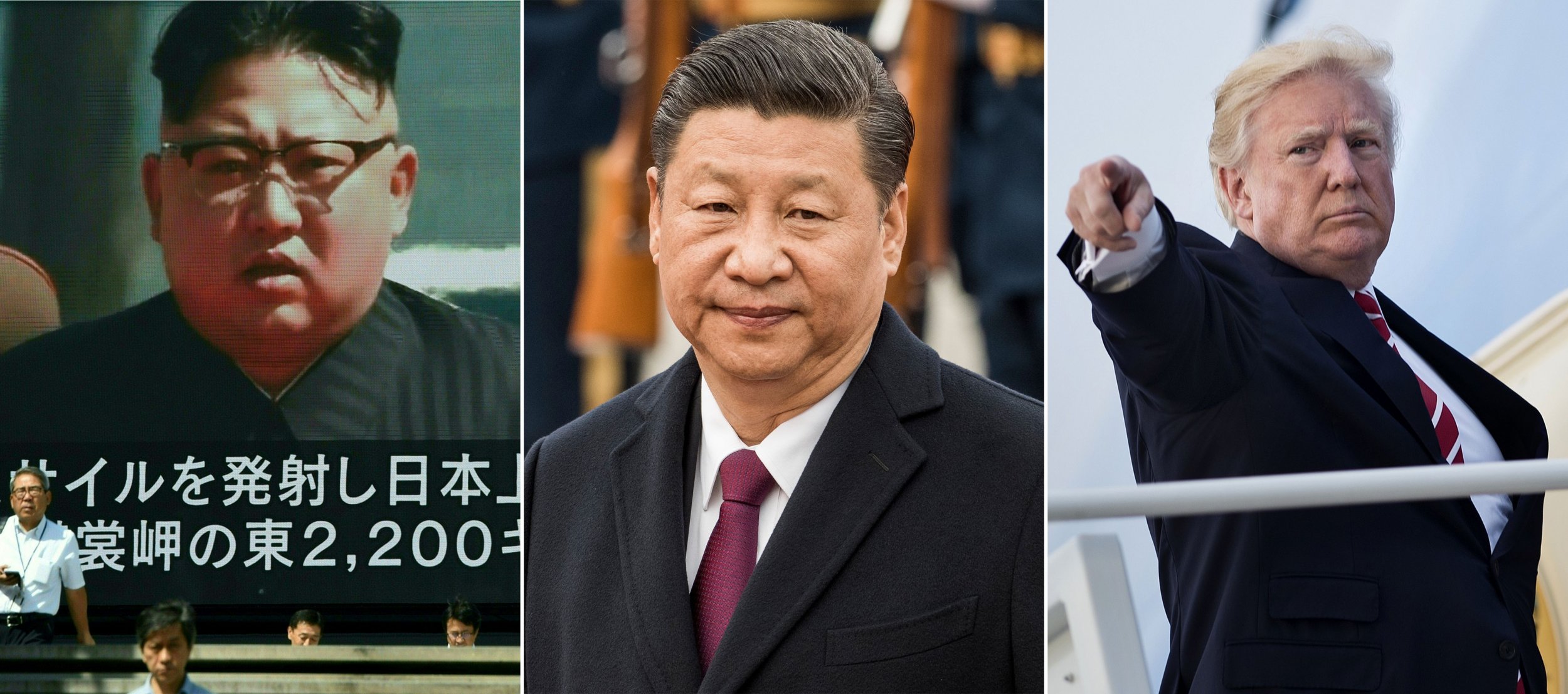 Updated | President Donald Trump and North Korean leader Kim Jong Un are both sucking up to Chinese President Xi Jinping amid heightened tensions over North Korea's nuclear program.
Xi recently solidified his position as one of the most powerful leaders in China's modern history when his name and political outlook were enshrined in the constitution of China's ruling Communist Party during its congress.
The Chinese president, who has led the country since 2012, had a second five-year term confirmed during the congress and has no clear successor. Xi is now seen by many as the most influential leader in China since Mao Zedong.
On Wednesday afternoon, Trump praised Xi's "extraordinary elevation" in a tweet.
Trump also boasted about his relationship with Xi during an interview with Lou Dobbs that aired on Wednesday evening.
"He's a powerful man. I happen to think he's a very good person," Trump said of Xi, a leader who's accused of numerous human rights violations and is widely described as an iron-fisted authoritarian.
"People say we have the best relationship of any president-president, because he's called president also," Trump added. "Now, some people might call him the king of China. But he's called president."
Trump is set to meet with Xi during his first trip to Asia as president next month, so perhaps he's attempting to butter up the Chinese leader before the visit.
Meanwhile, Kim Jong Un also congratulated Xi on his "great success."
Kim's Wednesday message "expressed the conviction that the relations between the two parties and the two countries would develop in the interests of the peoples of the two countries," North Korea's state-run media said on Thursday. "The Chinese people have entered the road of building socialism with the Chinese characteristics in the new era [under Xi]."
Xi and Kim are reportedly not too fond of each other, making his warm message somewhat surprising.
"Xi Jinping cannot abide Kim Jong Un," Kevin Rudd, the former Australian prime minister who has close ties in Beijing, said during a speech in Stockholm in August. "You don't have to travel far in Beijing to hear words of derision about Kim's personality and leadership style. They universally refer to him as 'Fatty Kim,' or, in more polite circles, 'the Young Gentleman'—but rarely as 'the Leader.'"
A defector who formerly was a high-level North Korean economic official recently said during an event at the Asia Society in New York City that Kim referred to Xi as a "son of a bitch" during a meeting and claimed Pyongyang is deeply distrustful of China.
But both Trump and Kim have an interest in gaining Xi's favor as the U.S. and North Korea continue to clash over Pyongyang's nuclear program. And there's a very simple reason for this: China is North Korea's top trading partner and most powerful ally.
Trump has repeatedly called for China to put more pressure on North Korea as it becomes increasingly aggressive and refuses to cease its long-range missile tests. The president had some success in getting China to agree to economic sanctions on North Korea via the United Nations, but it still continues to trade with Pyongyang.
"By any metric, China has heightened sanctions on North Korea," Victor Cha, senior adviser and Korea chair at the Center for Strategic and International Studies, told Newsweek. "One year ago, if I had told you China would sanctioning oil, coal, as well as sectoral goods like seafood and textiles, and that their banks would be cutting off North Korea, you would have laughed. Yet that is where we are today. Of course, there is more China can do which I am certain will be an agenda item in Trump's trip to Asia."
China has defended its continued economic relationship with North Korea, however, and maintains the trading is permitted by U.N. Security Council sanctions that pertain to "humanitarian needs."
"The Security Council pointed out that the relevant resolutions should not inflict negative impacts on the livelihood and humanitarian needs of North Korea," a foreign ministry spokesman, Geng Shuang, told ABC News.
China has an interest in keeping North Korea around as a buffer against American influence in the region, as the U.S. is close allies with both South Korea and Japan. But North Korea's contentious and dramatic nature has often put Beijing in a difficult position.
As North Korea has ramped up its long-range missile tests and refused to give up on its nuclear program, Trump and Kim have engaged in a heated war of words.
In late September, Trump threatened to "totally destroy" North Korea if the U.S. was forced to defend itself or its allies. North Korea has responded with a slew of provocations, including threatening to test a hydrogen bomb over the Pacific Ocean. This would represent Pyongyang's seventh nuclear test. On Wednesday, the North Korean government said the U.S. must take this threat "literally."
This article has been updated with comments from Victor Cha, senior adviser and Korea chair at the Center for Strategic and International Studies.