Judge Tells Trump Lawyers They Wasted 'Countless Pages' Defending Him
A New York judge has chastised Donald Trump's lawyers for filling thousands of pages of court documents while arguing their case against New York Attorney General Letitia James' lawsuit.
On Wednesday, New York Supreme Court Justice Arthur Engoron questioned why the 16 defendants in James' $250 million lawsuit against The Trump Organization and the former president felt it necessary to submit such lengthy court filings, many of which run more than 300 pages, while repeating the same lines of defense.
James is investigating allegations The Trump Organization inflated or undervalued the worth of a number of assets to obtain benefits such as better bank loans and reduced tax bills.
In September 2022, James announced she is suing the former president, three of his children—Donald Jr., Ivanka and Eric Trump—and two senior executives at the real estate business over the claims.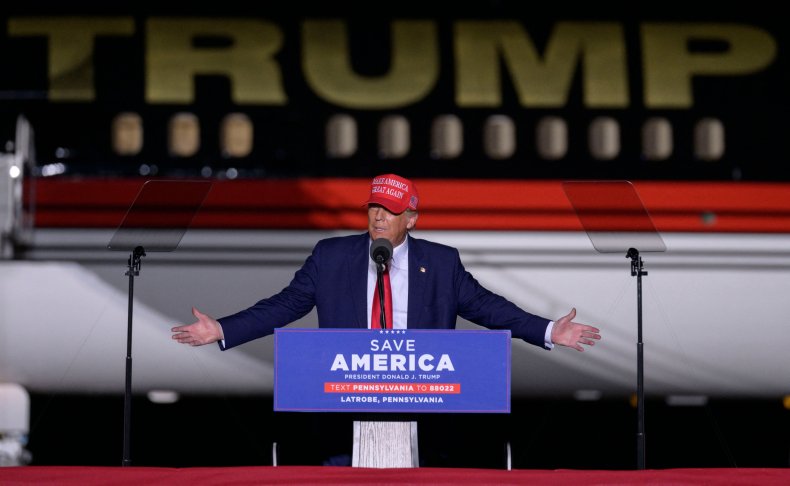 In January, all the defendants in the suit filed papers which argued that James cannot sue the Trump Organization because it doesn't actually exist legally, and instead is shorthand for hundreds of corporate entities.
"To the extent a response is required, Defendant specifically denies the definitions of 'Trump Organization' and 'Defendants,'" the court filings submitted on January 26 state.
"While the shorthand 'Trump Organization' is utilized by Defendants for branding and business purposes, no entity as such exists for legal purposes."
In one 306-page filing submitted on January 26, the defense that "no entity as such exists for legal purposes" called The Trump Organization is repeated nearly 375 times.
At a hearing in New York on Wednesday, Engoron hit out at the amount of paper the defense team submitted while making their case about The Trump Organization.
"I don't know how many countless pages—if I was good at math I would have been an accountant—were wasted," the judge said, reported Insider.
Engoron also appeared to hit out at the defense that The Trump Organization does not actually exist.
"In my 35 years practicing law, I have never, never... seen a pleading with such excess verbiage as the 300-page-or-so answers of the 15-or-so answers to the complaint," the judge said, via The Daily Beast.
While The Trump Organization, Inc. is a registered corporation in New York, it comprises more than 500 corporate entities. Hundreds of these companies bear the Trump name, such as their golf courses and hotels.
In December, two of these entities—the Trump Corporation and the Trump Payroll Corp—were found guilty of carrying out a 15-year-long tax fraud scheme to defraud tax authorities, rather than the umbrella company itself.
Elsewhere, Judge Engoron firmly stated that the civil trial stemming from James' suit, which ran in parallel to Manhattan District Attorney Alvin Bragg's criminal investigation into The Trump Organization, will begin in October as scheduled.
"I am determined to start the case on time," Engoron said. "Come hell or high water, and pardon my French."
James' lawsuit alleged the former president falsely inflated his net worth by billions of dollars to "unjustly enrich himself and cheat the system."
Trump has denied the allegations, and repeatedly described James' probe as a "witch hunt."
The Trump Organization has been contacted for comment.
It is not the first time a judge has criticized Trump's lawyers. In January a judge scolded Trump and his attorney Alina Habba for filing a series of "frivolous" lawsuits against the former president's perceived political enemies. U.S. District Court Judge Donald Middlebrooks sanctioned the pair for their abuse of the judicial process, ordering them jointly to pay nearly $938,000 in legal costs for the 31 defendants.