Trump Responds to Meme Saying He's the 'Savior of Western Civilization'
Former President Donald Trump reposted a meme calling him the "savior of western civilization" and appeared to respond to the suggestion favorably on his Truth Social platform.
Trump shared a post from a Truth Social user with the username @AQPatron early on Friday morning that included an image showing the former president and the phrase "They told me I could be anything I wanted so I became the savior of western civilization."
"Thank you. We have a long way to go, but we will get there!" Trump responded in what was likely a nod to his potential return to government.
Trump launched a new campaign for the White House shortly after the November midterm elections and he has been leading among potential Republican primary voters in most polls. The meme was in a thread of other users praising Trump for pursuing a second term, including one of Trump next to an American flag with the caption: "Donald J. Trump is the only one qualified to be President of the USA!"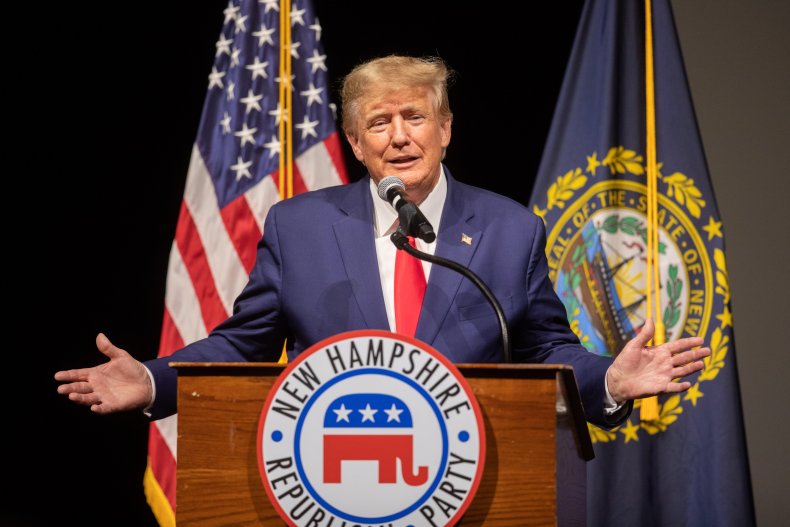 So far, Trump is the only GOP candidate to officially announce a presidential run but former South Carolina governor and former U.S. ambassador to the United Nations Nikki Haley is expected to formally launch her own campaign next week.
Haley previously said she would not seek the Republican nomination if Trump was running but subsequently changed her position and will become the second GOP hopeful to weigh into the race with the first primaries a year away.
A YouGov/The Economist poll conducted of 409 adults from February 4 to 7 found Trump with 42 percent in a potential GOP primary, while Haley garnered just 5 percent, behind Florida Governor Ron DeSantis at 32 percent and former Vice President Mike Pence at 8 percent.
Neither DeSantis nor Pence have announced their intention to run in 2024 but speculation has been rife that both men will mount their own challenges to Trump.
DeSantis is widely considered the greatest potential threat to Trump's chances of winning his party's nomination for a third time.
A Monmouth University Poll conducted from January 26 to February 2 found that 53 percent of 566 Republicans said they support DeSantis as their presidential candidate, compared to 40 percent who would vote for Trump.
In a potentially concerning finding for Trump, the Monmouth poll also found that evangelical Republicans prefer DeSantis in a potential primary race by 51 percent to 44 percent. That group was crucial to Trump's 2016 election victory.
Additionally, the survey showed that DeSantis beat Trump in major voting demographics, including "strong" Republicans, those who lean Republican, those who describe themselves as "very conservative" and moderate voters.
Meanwhile, some Democrats are urging President Joe Biden to formally jump into the 2024 presidential race following praise for his second State of the Union address on Tuesday.
Tad Devine, a longtime Democratic strategist, said Biden "should move as quickly as possible."
Biden has said it is his intention to run again and that Vice President Kamala Harris will be his running mate but he has not yet made a formal announcement.
Newsweek reached out to Trump's office for comment.