Trump Movement Poses 'Existential Threat' to America: New York Times Editorial Board
The New York Times editorial board wrote in a New Year's Day op-ed that former President Donald Trump's movement poses an "existential threat" to the future of the United States.
"In short, the Republic faces an existential threat from a movement that is openly contemptuous of democracy and has shown that it is willing to use violence to achieve its ends. No self-governing society can survive such a threat by denying that it exists," wrote the board of the prominent newspaper.
Trump and his Republican allies continue to claim that the 2020 election was "rigged" or "stolen" to install President Joe Biden in the White House. The conspiracy theory has been consistently discredited and debunked by leading election experts, and no evidence has emerged substantiating the allegation. Nonetheless, the misinformation is believed to be factual by the majority of conservative voters, according to numerous polls.
On January 6, 2020, hundreds of Trump supporters violently stormed the U.S. Capitol in an apparent effort to prevent the formal certification of Biden's Electoral College victory. The rioters were largely animated by Trump's false claims of widespread fraud in the last presidential election, carrying out the attack after he urged them at a nearby rally to head to the Capitol and "fight like hell."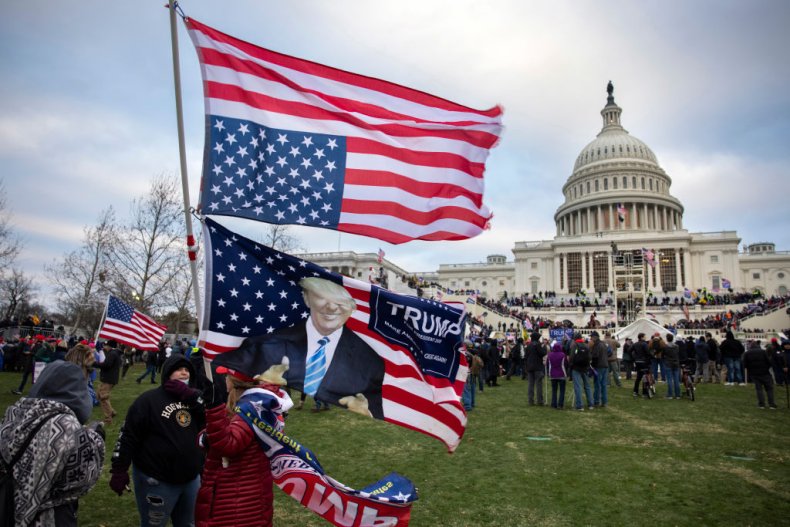 Although hundreds of the Trump supporters have been arrested and prosecuted for their actions, the former president has repeatedly defended the events of that day as "a protest." Trump and prominent conservative allies—such as MyPillow founder Mike Lindell and former White House strategist Steve Bannon—continue to promote the so-called "Big Lie" that the election was stolen. The conspiracy theory has led GOP lawmakers in state legislatures across the country to propose and push through election reforms that critics have warned could make it easier for the will of voters to be overturned in the future.
"A healthy, functioning political party faces its electoral losses by assessing what went wrong and redoubling its efforts to appeal to more voters the next time," the New York Times piece continued.
"The Republican Party, like authoritarian movements the world over, has shown itself recently to be incapable of doing this. Party leaders' rhetoric suggests they see it as the only legitimate governing power and thus portrays anyone else's victory as the result of fraud—hence the foundational falsehood that spurred the Jan. 6 attack, that Joe Biden didn't win the election," the editorial board wrote.
Polling conducted in December by YouGov for the University of Massachusetts at Amherst found that only 21 percent of Republicans believe that Biden "probably" or "definitely" legitimately won in the 2020 election. Meanwhile, nearly half (46 percent) said that Biden's win was "definitely not legitimate," while another 25 percent said it was "probably not legitimate."
Survey data released by CNN in September revealed that almost 60 percent of GOP voters think it is "important" as part of their political identity to agree with the false claim that Trump won in 2020. Another poll conducted last year by Suffolk University and USA Today found that nearly 70 percent of Republicans did not view Biden as the legitimately-elected president.
The New York Times editorial board cautioned that Trump and his supporters' disbelief in the country's democratic process should not be underestimated.
"Countless times over the past six years, up to and including the events of Jan. 6, Mr. Trump and his allies openly projected their intent to do something outrageous or illegal or destructive," the editorial board wrote. "Every time, the common response was that they weren't serious or that they would never succeed. How many times will we have to be proved wrong before we take it seriously? The sooner we do, the sooner we might hope to salvage a democracy that is in grave danger."
Several prominent Republican lawmakers have pushed back against Trump's claims, but most of them have received substantial backlash from fellow members of the GOP. The former president has supported primary challengers against many Republicans who have defended the integrity of the 2020 election results, and a number of anti-Trump Republicans in Congress have chosen to retire or not seek re-election.