Trump's Approval Rating Is Lower Than Mueller's on the Russia Investigation
President Donald Trump has a lower approval rating than special counsel Robert Mueller's on the Russia probe, according to a new poll—though Americans felt investigators still have a lot left to prove.
A Washington Post/Schar School poll of 841 Americans found that just 33 percent of Americans said they were inclined to believe Trump's version of the facts, compared to 56 percent who believe Mueller.
Only 35 percent of Americans approved of Trump's response to the investigation, while 52 percent disapproved. The president has dismissed the Mueller investigation as a politically motivated "witch hunt."
Mueller is investigating Russian interference in the 2016 election. Among other things, investigators are exploring potential collusion between the Trump campaign and Russia and examining if the president has attempted to obstruct justice by interfering with the probe.
The special counsel has notched up indictments and convictions of some of those closest to Trump, including the president's former fixer Michael Cohen, his former campaign chairman Paul Manafort, and most recently his friend and adviser Roger Stone.
Despite Trump's criticism of the investigation, a majority of Americans believed Mueller is motivated by finding the truth rather than politics.
The Post's poll found that 57 percent of Americans thought Mueller wants the truth, compared to 36 percent who believed he is motivated by hurting Trump politically.
However, Americans were fairly split on what Mueller's investigation has proven so far, with many suggesting they needed to see more evidence of wrongdoing.
It was 43-43 percent on the question of whether Mueller had or had not proven Russian interference in the election. On proving that members of Trump's campaign lied about their contacts with the Russians, the results were 43 percent had proven against 45 percent had not.
The divide was bigger on Russia collusion, with 54 percent who said Mueller had not yet proven the Trump campaign coordinated with the Russian government to help the president win the election, compared to 34 percent who said this allegation had been proven.
And the divide was sharper still on the issue of obstruction. Just 28 percent of Americans polled said they thought Mueller had proven that Trump interfered with the investigation in a way that amounts to obstruction of justice.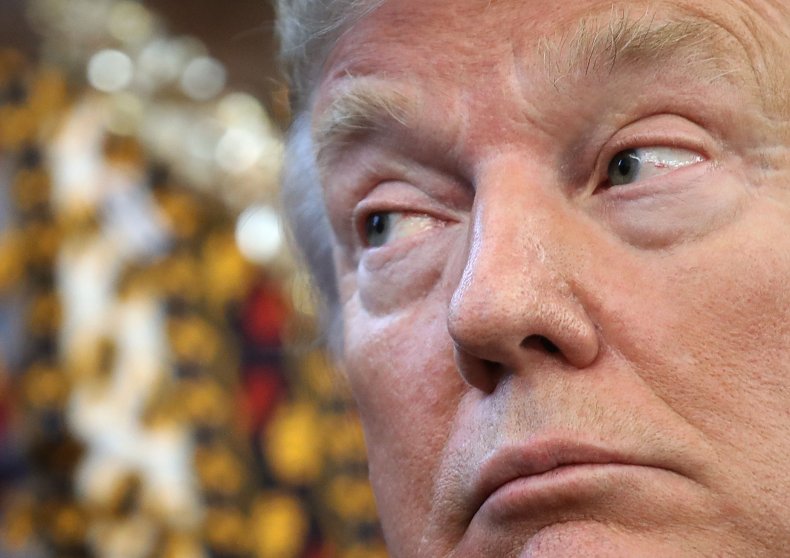 Mueller's investigation is ongoing, though reportedly nearing its conclusion. It is not clear yet if the justice department will release Mueller's final report in full. But the overwhelming majority of Americans—81percent—believed Mueller's report should be made public.
Should that final report conclude that Trump either authorized his campaign to collude with Russia or attempted to obstruct justice, then a majority of Americans would support Congress impeaching the president.
The White House did not respond immediately to a request for comment.