Trump Calls Fox News 'Fake News' For Covering 'Bad' Polls Showing Him Losing 2020 Election
President Donald Trump's frustration with several recent unflattering polls boiled over Monday night as he labeled Fox News "fake news" for discussing polling data showing him losing badly in 2020.
Trump continued lashing out at pollsters and news organizations Monday over "fake polls" showing him losing in several key states including traditionally Republican strongholds during presidential elections. The president took the rare step of criticizing his favorite cable news network, Fox News, blasting anchor Bret Baier for covering the "bad" polls. Fellow Fox News host Howard Kurtz appeared on Monday's Special Report program and questioned why the president "spent 30 hours" with ABC News host George Stephanopoulos during a recent interview.
Trump's Monday Twitter diatribe marks one of the few times he has labeled a Fox News figure "fake news," although it has occurred several times this year.
"@FoxNews Polls are always bad for me. They were against Crooked Hillary also. Something weird going on at Fox. Our polls show us leading in all 17 Swing States. For the record, I didn't spend 30 hours with @abcnews, but rather a tiny fraction of that. More Fake News @BretBaier," Trump tweeted Monday, mistakenly tagging the Australian Broadcasting Corp. and not its American Broadcasting Company (ABC) counterpart.
Earlier on Monday, Trump 2020 campaign press secretary Kayleigh McEnany appeared on Fox & Friends to denounce her own organization's damning polls, which were leaked to ABC and NBC News. She initially labeled the polling data "fake news" before being corrected and changing that designation to "old news," claiming the polls were from months before.
Trump has a lengthy, years-long record of labeling news organizations and journalists "fake news," including Fox Business Network and Fox News reporters.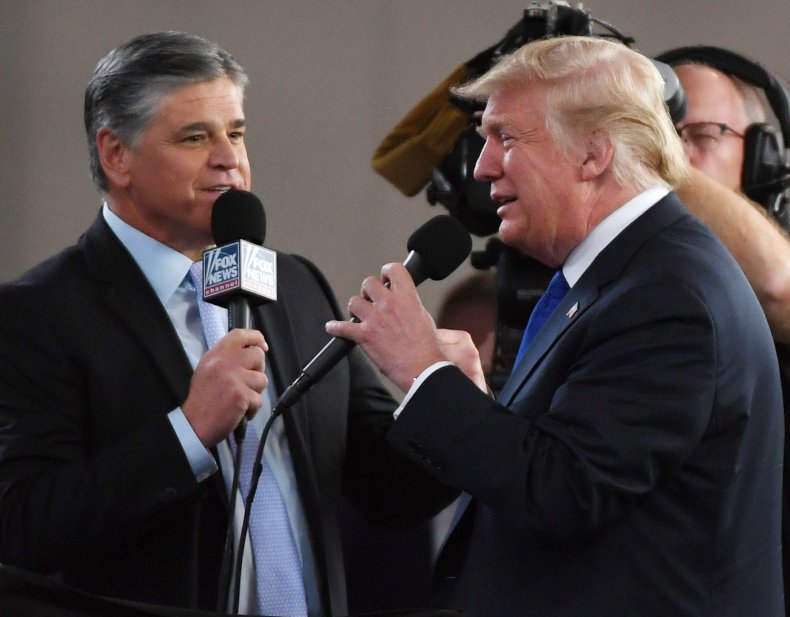 The president has previously criticized Baier, one of Fox News' "straight news" daytime anchors, complaining he and co-moderator Martha MacCallum were "so smiley and nice" during a town hall which painted Vermont Independent Senator Bernie Sanders in a highly flattering light.
Last month, Trump encouraged Pennsylvania rally attendees to boo Fox News for even having Democrats at the town hall.
"Last night I watched Alfred E. Neuman," Trump told supporters at the Montoursville rally in May. "What's going on with Fox, by the way? What's going on there? They're putting more Democrats on than you have Republicans. Something strange is going on at Fox, folks. Something very strange."
"Did you see this guy last night? I did wanna watch. I always have to watch the competition, if you call it that. And he was knocking the hell out of Fox. And Fox has put him in. Somebody's gonna have to explain the whole Fox deal to me," the president continued.
In March, the president appeared on Fox Business Network's Mornings With Maria and accused host Maria Bartiromo of pushing "fake news" that she "shouldn't have brought up." Bartiromo had simply asked why Trump was reviving a feud with late Republican Senator John McCain, who had died nearly six months prior.
And in January, Trump said Fox News' John Roberts and Gillian Turner "have even less understanding of the Wall negotiations than the folks at FAKE NEWS CNN & NBC!" after what he viewed as critical coverage of his government shutdown. The president has also lashed out at Fox News anchors Chris Wallace and Shepard Smith for not offering him high enough praise.
Trump praises the Fox News hosts who routinely praise him, particularly the primetime and weekend night opinion hosts including Sean Hannity, Jesse Watters and Jeanine Pirro.
Despite many media critics and journalists routinely remarking on Trump's cozy relationship with Fox News, he ridiculed the cable news network on several occasions during the 2016 campaign for what he viewed as "biased" coverage.
".@FoxNews has been treating me very unfairly & I have therefore decided that I won't be doing any more Fox shows for the foreseeable future, Trump tweeted in September 2015.
"Wow, you are all correct about @FoxNews - totally biased and disgusting reporting," Trump lashed out in March 2016. "I am having a really hard time watching @FoxNews," Trump claimed in September 2015.