Trump Praised During 'Telerally' for Choosing SCOTUS Justices to Oppose Roe
Nebraska gubernatorial candidate Charles Herbster credited former President Donald Trump for the possible blow to abortion rights by cementing the Supreme Court's conservative majority.
During a "telerally" Thursday, Herbster and Trump played up the candidate's conservative credentials in anticipation of next week's primary election. Days earlier, a leaked Supreme Court opinion spelled a potential end to national abortion protections. Herbster's remarks suggest the fallout from the opinion, which is shaping politics nationally, could benefit Trump.
The owner of several agricultural businesses and frequent GOP donor, Herbster was endorsed by Trump in October as the former president continues to play party kingmaker.
"He is the greatest president personally in my lifetime," said Herbster during the telerally. "And I want to tell you a few reasons why I made that statement. He made campaign promises and he kept all of his promises."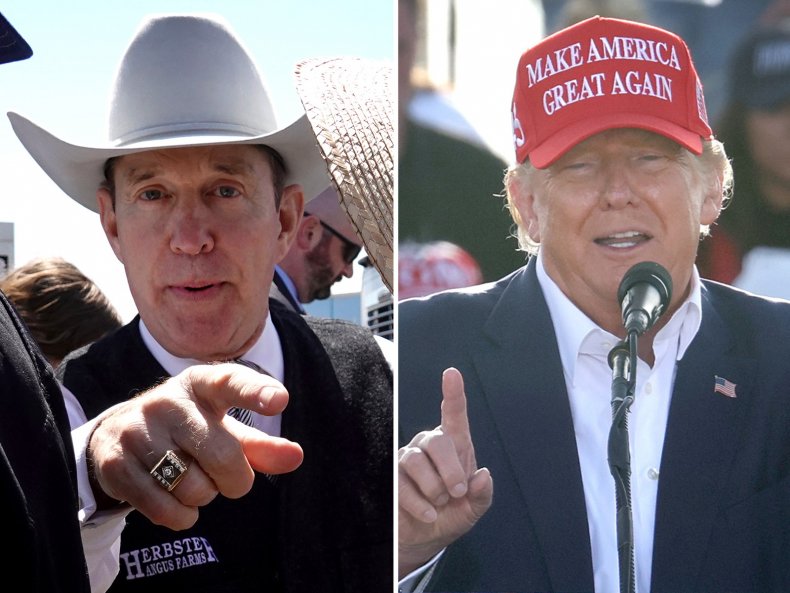 Those reasons, said Herbster, included Trump lowering taxes, taking an aggressive trade stance with China, reworking trade agreements, as well as his hawkish immigrant policies.
"Perhaps the most important fact was that he was able to nominate three strong conservative justices on our Supreme Court, which in the next few days, probably will give us the opportunity to overturn Roe v. Wade," said Herbster.
However, Trump high court appointee Neil Gorsuch in 2017 vowed to be independent, saying if the then-president asked him to overturn Roe, he would have "walked out the door." He also said he respected precedents, but sidestepped questions about Roe.
Republican Senator Susan Collins has said Brett Kavanaugh, also a Trump appointee for the Supreme Court, told her that Roe was "settled law," comments he echoed during his confirmation hearings. Trump appointee Amy Coney Barrett avoided directly answering questions about her view of Roe in 2020.
Anti-abortion evangelical Christians have been a key part of Trump's base. During his first presidential run in 2016, Trump proclaimed that he is against abortion. He also pledged to nominate multiple justices to the Supreme Court, who he said would undo the landmark Roe decision and leave abortion up to the states.
Trump went on to successfully nominate three justices to the Supreme Court, giving it a 6-3 conservative majority.
Franklin Graham, an influential evangelist, lauded news of the leaked opinion showing the Supreme Court poised to strike down Roe, calling it "an answer to many years of prayers."
During the telerally, Trump also praised Herbster, calling him "a diehard MAGA champion," shorthand for the "Make America Great Again" slogan. Additionally, Trump called Herbster "pro-life, pro-God." Trump brought up other culture war flashpoints, saying Herbster will stand up for parental rights and against critical race theory, and "will keep men out of women's sports."
Trump also, without evidence, said Herbster had been subjected to "false and malicious claims," a likely reference to multiple accusations of sexual assault.
"It's nonsense," said Trump. "Charles is a fine man who I've known so long, and he's innocent of those despicable charges."
Newsweek has reached out to Trump for comment.