Trump Praises Moderate Dems for Taking 'Total Advantage' of Progressives in Negotiations
Former President Donald Trump praised moderate Democrats for what he described as them taking "total advantage" of progressives in negotiations over President Joe Biden's Build Back Better social spending bill.
Progressives and moderate Democrats—mainly Senators Joe Manchin of West Virginia and Kyrsten Sinema of Arizona from the latter group—have been at odds for months as they've negotiated what will be included in the final budget reconciliation package as well as how much the final price tag will be. Biden and Democrats now appear close to a deal, however, with the initial $3.5 trillion proposal scaled down significantly to $1.75 trillion.
The former president gave his assessment of the Democrats' talks on Saturday.
"It's wonderful to see the moderate Democrats take such total advantage of the ultra Liberal Progressives in the House. They promised the Progressives everything and are giving them nothing. No wonder AOC +3 are so angry!" Trump said in the statement shared by his spokesperson Liz Harrington.
Despite Trump's assessment, Representative Pramila Jayapal, the chair of the Congressional Progressive Caucus, has spoken favorably of the framework of the package unveiled by the White House last week. At the same time, she has admitted that progressives are not getting everything they wanted.
Jayapal specifically lamented that paid leave appears to have been stripped from the bill, but she touted other achievements for her caucus.
"We had four other priorities, and every single one of those four priorities, in some shape—you know, some not as strong, but in some shape, did make it into the bill. So really, if you think about it, out of something like, you know, nine priorities, we got seven or eight of them," the Washington Democrat told NPR in an interview from Friday.
Manchin and Sinema have drawn public frustration from progressives as well as Biden during the lengthy negotiations. However, Biden noted in a CNN town hall last week that "every" Democratic senator "is a president" in an evenly divided Senate. In order for the reconciliation bill to pass through the legislative chamber, all 50 members of the Democratic caucus must vote in favor.
Both Manchin and Sinema initially expressed opposition to the bill's $3.5 trillion price tag, despite progressives' assurances that the entire legislation would be paid for. Manchin later forced the White House to strip some key climate change provisions from the bill, raising concerns about how they would impact the coal industry in his state. Sinema also opposed some of the tax increases on the wealthy intended to be in the package.
Whether Democrats have finally come to an agreement remains to be seen. Axios reported on Saturday that Democratic House leaders are planning to pass the $1.75 trillion package as early as Tuesday. It would then go to the Senate for approval.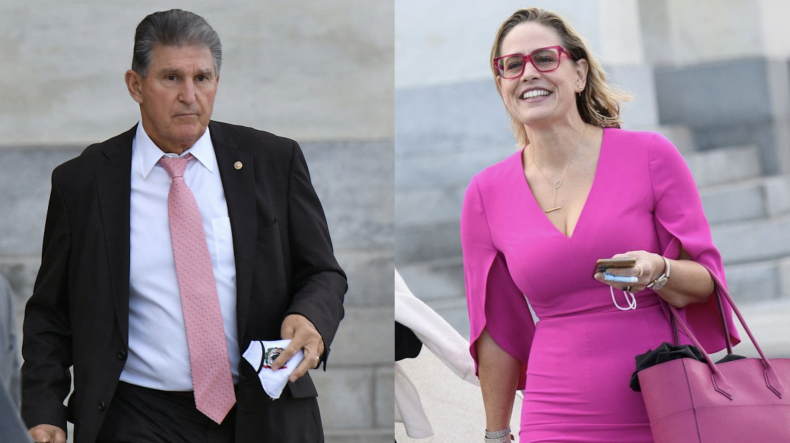 Trump's Saturday statement seems at odds with another one he made at the beginning of October. The former president described progressives as "a true powerhouse" after they successfully postponed a vote on separate $1.2 trillion bipartisan infrastructure legislation supported by Manchin and Sinema. The Democratic block has maintained since the outset of talks that they will only vote in favor of the infrastructure bill if it's passed in tandem with the reconciliation package.
"The Progressives gain far more power with the legislation being currently talked about by failing than if it passes. It makes them a true powerhouse," the former president said in an October 1 statement.
Newsweek reached out to Manchin's and Sinema's press representatives for comment but did not immediately receive responses.