Trump Putting U.S. in 'Really Big Trouble,' Says His Ex-National Security Adviser
A former senior national security adviser to former President Donald Trump warned that he is putting the U.S. on a path to "tyranny," saying the country is in "really big trouble."
Fiona Hill served as Trump's senior director for Europe and Russia on his White House National Security Council from April 2017 until July 2019. The former top adviser to the ex-president has repeatedly raised concerns about his leadership, drawing parallels to Russian President Vladimir Putin and other authoritarian leaders.
"The United States is really in trouble," Hill warned Thursday during an interview with MSNBC.
She pointed to parallels between Trump's movement and right-wing populist leaders around the world.
"This is a path that it's very hard to turn back on. Once people start to forget that they're supposed to be in the service of the country, once they forget their loyalty to the country... —once they put all of that first, then we're in really big trouble," the former Trump administration official said.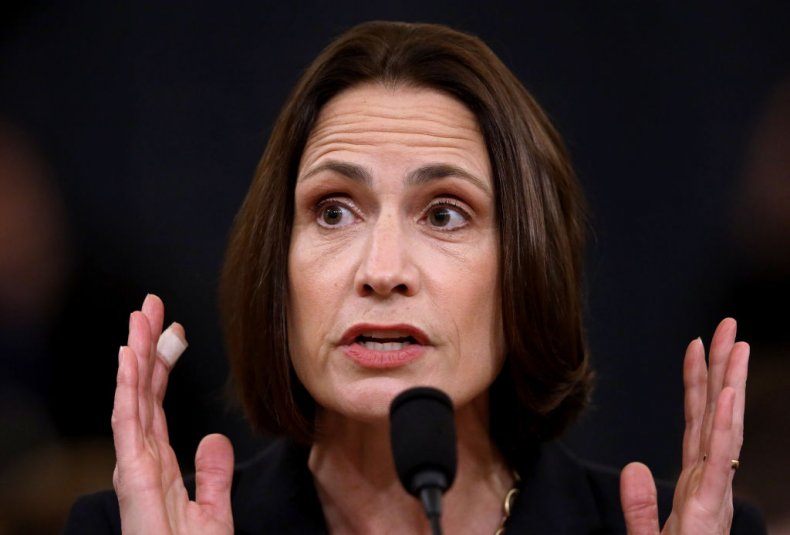 Later in the interview, Hill explained that many Trump supporters see themselves in the former president. They believe he represents them while other lawmakers have not, she assessed.
"I think it's just very hard for Americans to step back and realize that they have themselves enthralled, people who have voted for him, to an individual," Hill said. "They don't want to admit it to themselves and any criticism about Trump is a criticism about them. He's kind of like an avatar in a big video game, in a reality game. But in real life, you know, President Trump is taking us in the direction of tyranny. This is no joke."
In a recent interview with Molly Jong-Fast of The Daily Beast on an episode of The New Abnormal podcast, Hill compared Trump directly to Putin. She explained how the former president admired the powerful Russian leader.
"He saw Putin as the kind of epitome of the badass populist, frankly, you know, the kind of person that he wanted to be: super-rich, super-powerful, no checks and balances, and essentially being able to stay in power forever," she said.
The Russian president has maintained power as either prime minister or president since 1999—for over 20 years. Putin is routinely criticized for jailing political opponents and critics. Those who attempted to take a stand against him and his authoritarian leadership have been allegedly poisoned and killed.
Although Trump lost the November 2020 presidential election to President Joe Biden, he remains the de-facto leader of the Republican Party. Recent polling suggests that he is well-positioned to become the GOP nominee for president in 2024—if he decides to formally announce another White House bid.
Polling published Wednesday by Morning Consult showed Trump with a wide lead of more than 30 points over any other potential GOP contender for the 2024 presidential nomination. Trump was backed by 47 percent of Republican voters while just 13 percent said they'd prefer former Vice President Mike Pence. Only 12 percent said they'd support Florida Governor Ron DeSantis.
Overall, just over two-thirds (67 percent) of Republicans said they want Trump to run again in 2024. And 82 percent of GOP voters said they continue to view the former president favorably.
Despite losing to Biden, Trump and his allies continue to insist that the election was "stolen" or "rigged." They have not provided evidence substantiating this extraordinary allegation, but polling suggests that most Republicans believe the false claim.
September polling conducted by CNN and SSRS showed that 78 percent of Republican voters believe that Biden did not actually win. Furthermore, more than half (54 percent) think that this inaccurate belief is supported by solid evidence.
Newsweek reached out to Trump's press office for comment but did not immediately receive a response.